In a setting as enchanting as Delray Beach, it's no surprise to find a myriad of romantic eateries in the city. You may have a tried-and-true date night tradition at the same handful of restaurants, but you might consider branching out to experience something new! The following restaurants in Delray Beach provide an intimate and romantic environment, sophisticated menus, expert service, and carefully curated wine lists and handcrafted cocktails. They each offer the perfect setting and pristine menus to make for an unforgettable evening with the one you love.
New American | 32 East Atlantic Avenue | Make a Reservation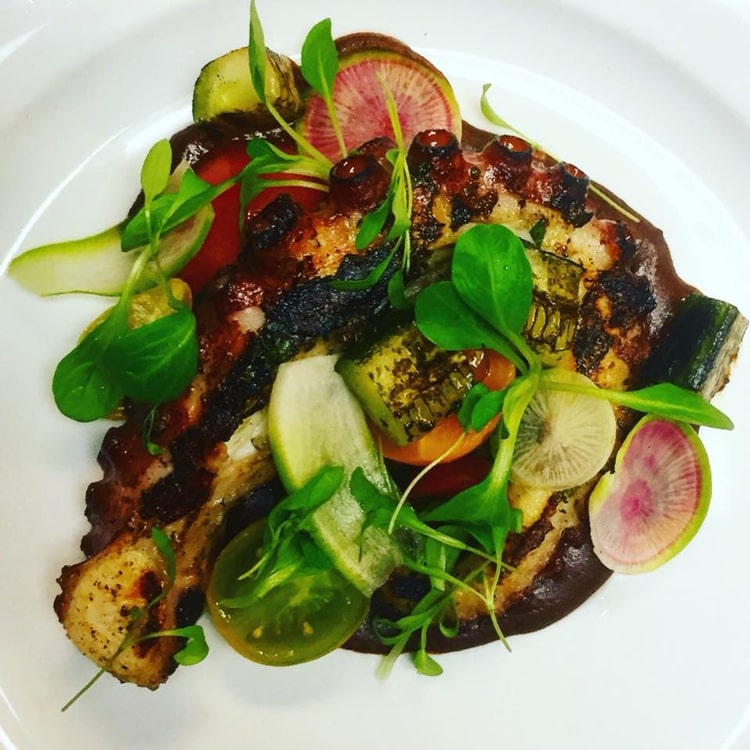 Photo Courtesy of 32 East
For over 20 years, 32 East has been a popular date night destination along the vibrant Atlantic Avenue. Chef John Thomas creates an innovative menu that changes daily, featuring only the freshest seasonal ingredients from around the country. A full-service bar, award-winning wine list and the overall enchanting atmosphere of 32 East completes the dining experience.
Italian | 42 Southeast 2nd Avenue | Make a Reservation
Just take one look at the gorgeous interior of Olio and you'll feel both inspired and welcomed. This combination restaurant, wine cellar and boutique serves an elevated, eclectic menu and an array of drink offerings, including fine wines, spirits and specialty cocktails. Their menus focus on Italian cuisine, but there is something to please every palate at Olio.
American | 52 North Swinton Avenue | Make a Reservation
Feel at home at Dada, located in an offbeat house built in the 1920s. The eclectic interior and revolving artwork complement the creative cuisine, which is always sustainably sourced. Their menu is as unique and exciting as the beautiful atmosphere the restaurant has worked hard to create since they opened their doors in 2000.
American | 50 South Ocean Boulevard | Make a Reservation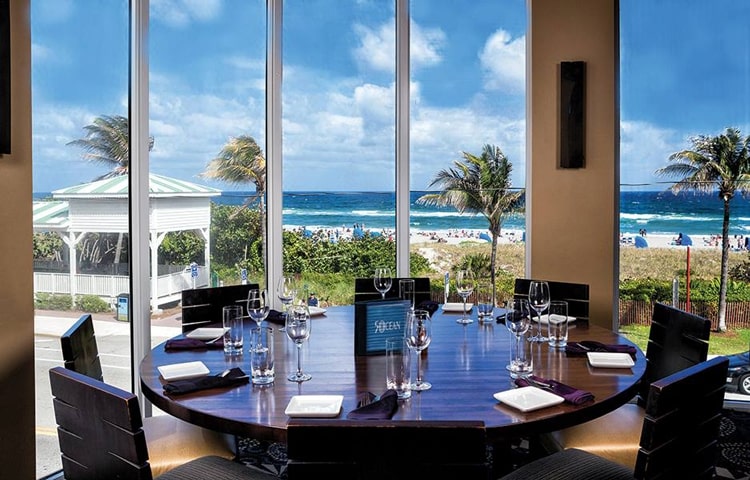 Photo Courtesy of 50 Ocean
Enjoy a romantic lunch overlooking the ocean or a cozy night in the inviting space of 50 Ocean, located along the beach in Delray. The restaurant's panoramic second-level floor-to-ceiling windows provide an unmatched dining experience for guests. In addition to the remarkable views, 50 Ocean has an exceptional contemporary menu featuring fresh local seafood, tropical salads, and uniquely crafted desserts presented by a knowledgeable four-star staff.
American Steakhouse | 821 Southeast 5th Avenue | Make a Reservation
Fifth Avenue Grill provides a classic, American steakhouse experience in a romantic and inviting atmosphere. This polished eatery offers select seafood and steak dishes in addition to a wonderful curated wine list with wines from all over the world, from Napa Valley to Spain. The interior of Fifth Avenue Grill is warm and inviting, creating the perfect setting to enjoy the company of your loved one.
Italian | 119 East Atlantic Avenue | Make a Reservation
Tramonti provides the finest in luxury and sophistication, exceeding even the highest of expectations. The fine dining experts and professionals at Tramonti achieve this through carefully selecting sources and ingredients, creating culinary masterpieces, providing unparalleled service, and maintaining a gorgeous atmosphere in which to enjoy it all. Explore their Italian-focused menu to see what's in store at this renowned Delray eatery.
Mediterranean | 411 East Atlantic Avenue | Make a Reservation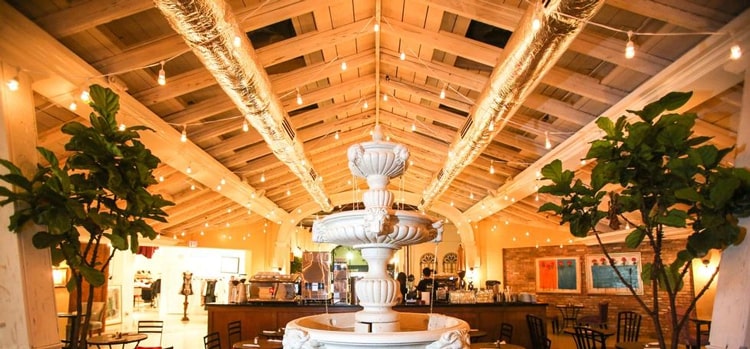 Photo Courtesy of Caffe Martier
Caffe Martier is where classic meets eclectic. With European flair, Caffe Martier combines blends of traditional Mediterranean styles with New Age tastes. Their new dinner menu by award-winning chef Jovito Robledo was crafted to complement their award-winning cocktails. And of course, top the evening with coffee and desserts — something Caffe Martier is known for. Try their Tiramisu with a white mocha at the end of your romantic evening.
American | 106 South Swinton Avenue | Make a Reservation
Step back in time with a visit to Sundy House, a historic Queen Anne-style home built in 1902 with a bed and breakfast, renowned restaurant, and lush gardens. The restaurant serves an amazing menu featuring a diverse yet simple collection of classic American dishes. Enjoy hand-crafted cocktails in the Atrium Bar, dine in the unique Fresco or Mediterranean rooms, and have dessert under a canopy of twinkling lights in the Taru Garden. Plus, you can make it a staycation by staying at the Sundy House bed and breakfast!
American Steakhouse | 29 Southeast 2nd Avenue | Make a Reservation
Prime provides the ultimate environment for a swanky and romantic evening. The elegant interior features chandeliers, marble flooring, dazzling hand-painted murals, and upscale decor. This steakhouse prepares the best of land and sea, serving certified USDA prime beef, sushi and seafood of the highest quality. Relax in the luxe bar, dining room, an intimate indoor or outdoor private dining area, the tropical garden, or the lounge area with nightly live entertainment.
American Steakhouse | 432 East Atlantic Avenue | Make a Reservation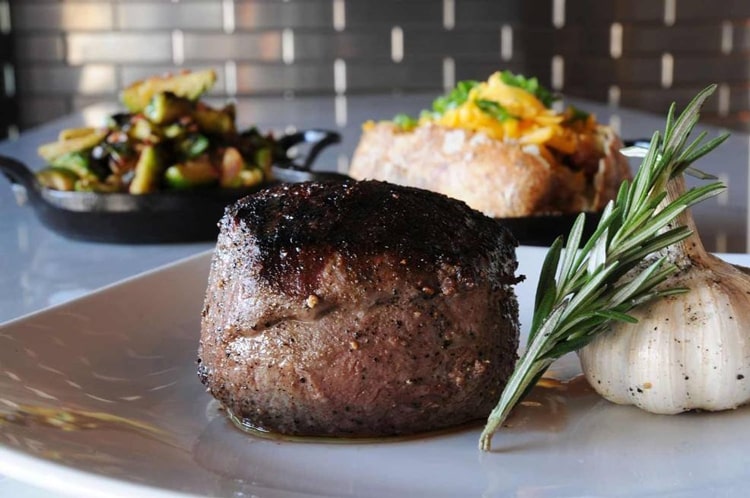 Photo Courtesy of Cut432
For over five years in downtown Delray, Cut432 has put a modern twist on the beloved American steakhouse. In a contemporary and lively setting, cut into the perfect steak sourced from the country's top ranchers and artisanal producers. While Cut432 is known for their exceptional steaks, they also offer a raw bar, seafood specialties, and American classics, including chicken, pork chops, ribs and lamb. Whatever dish you choose, complement it with one of their small-production craft spirits, a glass of wine, or a craft beer.
American | 187 Northeast 2nd Avenue | Make a Reservation
The Grove is an intimate eatery combining a refined yet soulful menu with a modern atmosphere and approach. You will discover a selection of creative and innovative dishes on their menus, which change almost entirely every two weeks, as evolution keeps them inspired and keeps locals excited to try new offerings. The wines represented are meant to complement the food at The Grove, which selects mostly small producers from around the world.
Mediterranean | 200 Northeast 2nd Avenue #107 | Make a Reservation
Wine aficionados will love going to Joseph's Wine Bar and Cafe, an elegant bistro in Pineapple Grove with a focus on wine. Their love for wine is especially obvious when you see the stunning walls lined with bottles sourced from all around the globe. Their collection features over 2,000 bottles you can choose from, in addition to an extensive wine selection by the glass. Complement your wine choice (or vice versa) with a bite to eat. Joseph's serves delicious Mediterranean-inspired cuisine, from shareable bites like hummus to marinated chicken kebabs to enjoy as a full meal.
New American | 169 Northeast 2nd Avenue | Make a Reservation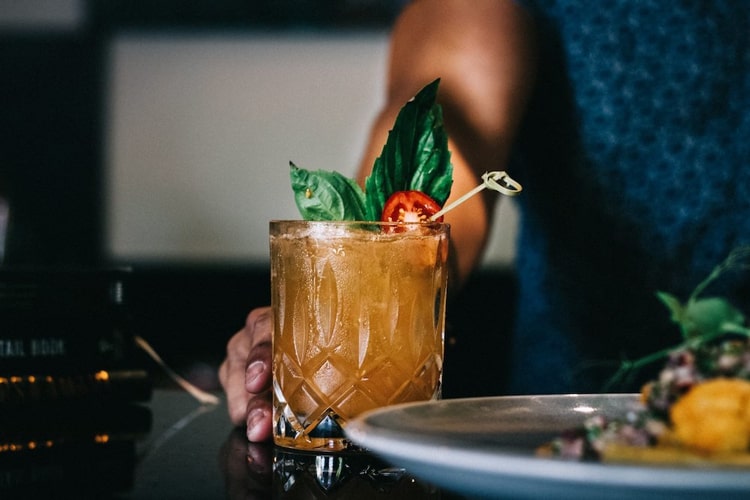 Photo Courtesy of Max's Harvest
Nestled in the artistic Pineapple Grove district, Max's Harvest employs a creative approach to dining, seen plainly in their thoughtfully crafted drinks, globally inspired cuisine, and beautiful atmosphere. Max's Harvest uses seasonal, locally grown ingredients from trusted farmers, ranchers, producers and purveyors. Their local focus, relaxing atmosphere and attention to detail makes them a wonderful date night spot.
Italian | 522 East Atlantic Avenue | Make a Reservation
This bright and trendy pizzeria is a perfect option for a laid-back yet sophisticated date night experience. Scuola Vecchia, which means "old school" in Italian, is living up to its name by upholding timeless, age-old traditions. It is the only restaurant in South Florida certified by the Associazone Pizzaiuoli Napoletani, which oversees and maintains the highest standards in the art of making authentic Neapolitan pizza. Their delicious pizzas are cooked directly in a wood-burning oven on volcanic stone, giving them a distinct taste.
Bon Appétit!
Select one of these enchanting eateries for your next date night experience. Your significant other will be delighted!