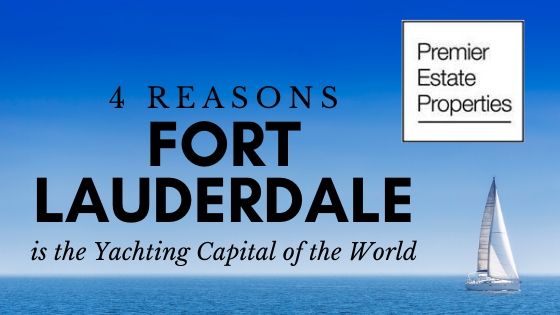 Florida is a destination drawing people from around the world to buy an oceanfront property. With more miles of coastline than nearly every other state, the Sunshine State is a boater's paradise.
Fort Lauderdale, a gem of the Gold Coast, is considered the Yachting Capital of the World. Florida has hundreds of sunny days, dozens of beaches, and thousands upon thousands of boat owners from Pensacola down to Key West. Why then does Fort Lauderdale specifically take the title for the yachting capital?
Our REALTORS® love getting out on the water and highlight four reasons why Fort Lauderdale rightfully has earned the title of Yachting Capital of the World.
Why Fort Lauderdale is the Yachting Capital of the World
A Strong Yachting Community

Weather and shoreline aside, one of the top reasons why Fort Lauderdale is a hub for yacht owners is because the yachting community spent years investing in this area. And that investment has truly paid off!

Currently, there are over 100 marinas within the city and more than 50,000 registered yachts in the vicinity. There are countless businesses dedicated to yachts and their owners, providing everything from maintenance and remodeling to charter and event services.

Location, Location, Location

Enjoy year-round boating when you and your yacht call Fort Lauderdale home. Fort Lauderdale is only a few miles from Port Everglades, one of the busiest cruise terminals on the globe. It's also within a few hours from Miami and West Palm Beach — two other cities that draw millions by the year.

Fort Lauderdale International Boat Show

A visit to the annual Fort Lauderdale Boat Show will convince you that it is a nautical event truly unlike any other. For over half of a century, this week-long celebration brings thousands of visitors to the "Venice of America." This exhibit showcases the latest and most magnificent boats, yachts, equipment, products, accessories, and services in the industry.

The show features over three-million feet of exhibition space, six miles of floating docks, 1,200 exhibitors and even more boats on display. It's easy to see why visitors flock to the Fort Lauderdale International Boat Show and living in Fort Lauderdale makes this show easy to attend.

Homes Built with Boaters in Mind

With boating playing such a huge role in the community, many of the oceanfront homes are designed with a boater's interests in mind. Many Fort Lauderdale homes for sale either provide personal or private water access, or they are located within a few miles from the nearest marina.

Owning a home in Fort Lauderdale, your yacht or boat is never more than a couple of minutes from the open ocean. When you select a Fort Lauderdale home for your family, your selecting a home for your boat as well!
Our Estate Agents know that your luxury boat wasn't made to sit idly in the marina. Let us help you find waterfront Fort Lauderdale homes for sale that provide you with the easy, convenient access to canals, the Intercoastal and the Atlantic. Contact us today, and we'll schedule appointments for you to tour the lavish waterfront homes located in the Yachting Capital of the World.