The seaside town of Delray Beach is known for its collection of exquisite eateries, serving everything from seafood to steak, plus a number of creative concepts. Visitors and locals alike flock to the picturesque Atlantic Avenue, dotted with airy cafes, charming shops, and a number of entertainment venues. Delray Beach has a plethora of sushi restaurants in its midst, serving hand-rolled creations packed with the finest ingredients. Consult this list the next time you're craving sushi — or simply read it now to induce a craving!
Yama Japanese Restaurant has it all — a well-rounded menu, a pleasant atmosphere (with outdoor seating!), and friendly service. Yama serves a variety of sushi rolls, from the more exotic signature rolls to simple classic rolls, and everything in between. You can even order a sushi dinner plate, which features an assortment of various sushi rolls and miso soup or a salad with ginger dressing. Enjoy your meal out on the airy outdoor patio or in the cozy interior at Yama. Don't miss happy hour every day from 4–6 p.m.!
Lemongrass Asian Bistro takes a unique approach to the style, flavors and ingredients they use, creating new and innovative recipes. They aim to introduce guests to the flavors that grew through the emergence of Asian cuisine throughout South Asia. The space at Lemongrass is modern and inspiring, providing a refreshing setting for enjoying their creative rolls and other authentic dishes. The menu is packed with a wide selection of options, including sushi rolls, small plates, dumplings, soups, salads, street wok, curry, and a number of specials.
This unassuming strip mall bistro in the heart of Delray Beach packs a powerful punch. Thai food lovers rejoice because Chaiyo serves a full Thai menu in addition to a robust sushi menu. Choose from rolls à la carte, Temaki hand-rolled sushi, a sushi boat to share, plus a variety of katsu, teriyaki, and tempura dishes. Whether you're craving Pad Thai or a light and refreshing California roll, Chaiyo Thai Bistro is an excellent choice!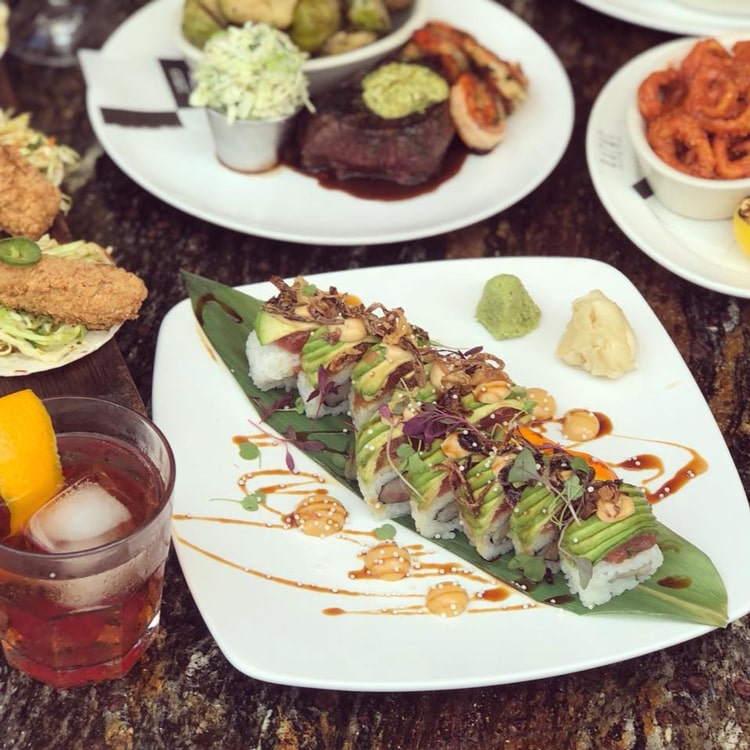 Photo Courtesy of RACKS
RACKS is an upscale seafood restaurant known for their exceptional raw oyster bar. So it's likely you may have missed the wonderful sushi menu at RACKS, featuring Grade A sushi from unique concoctions to your classic everyday rolls. Options include the Tuna Lover, the Garlic Crab California Roll, the Atlantic Pearl Roll, the Viper Roll, and more. The nouveau-nautical décor perfectly complements the responsibly sourced ocean-to-table menu at RACKS, creating a refreshing and inspiring dining experience. Head to the bar towards the back of the restaurant, where you can watch as expert chefs roll sushi by hand and shuck oysters in front of your eyes!
4801 Linton Boulevard Suite 5B-8B
You may be wondering what a Greek restaurant might possibly offer in the realm of sushi. But make no mistake — Taverna Trela is intended to be on this list. In addition to the usual suspects you can anticipate from a Greek restaurant, like pita wraps, gyro platters, hummus, and other specialties, Taverna serves a full sushi menu. Keep things fresh with the Nature Roll, made with cucumber, asparagus, cream cheese, avocado, lettuce, carrot, and scallion. Or indulge with any of the many tempura options served with their signature "bomb sauce".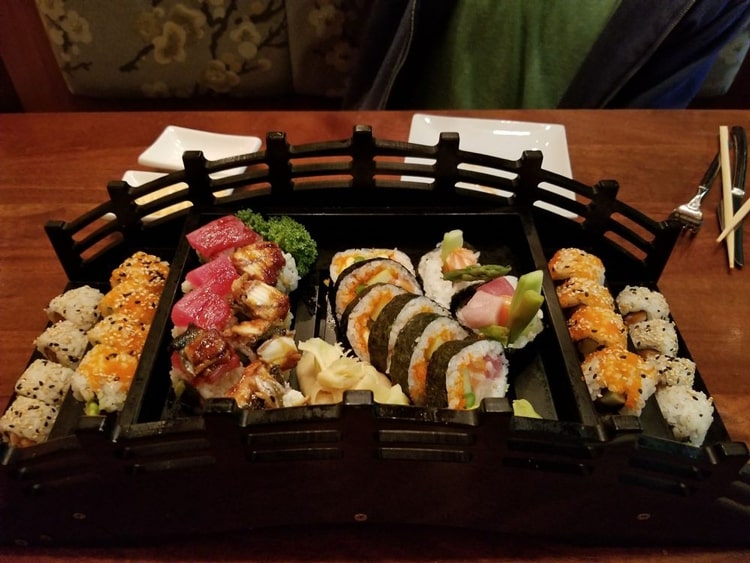 Photo Courtesy of Ziree Thai & Sushi on Yelp
Nestled on a corner in the Atlantic Grove Complex along the vibrant Atlantic Avenue, Ziree Thai & Sushi is an excellent destination for a fresh lunch or post-shopping dinner. The elegant Zen-like décor perfectly complements the authentic Thai dishes and fresh sushi at Ziree. Many of the sushi recipes have been handed down through generations at this family-owned restaurant. Whether you're stopping by for lunch or dinner, you will feel welcomed and treated just like family at Ziree Thai & Sushi!
Who rolls your favorite sushi in town?
What is your favorite sushi hotspot in Delray Beach? Let us know in the comments below!