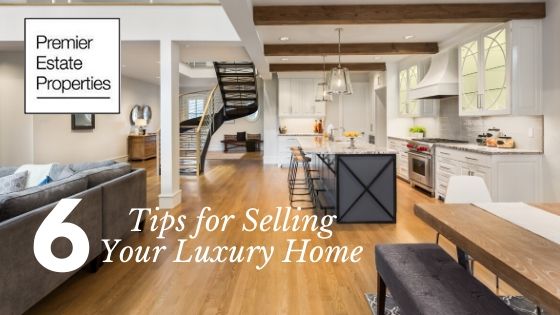 Have you decided it's time to say goodbye to your investment and sell your luxury property? As with any asset, you want to recoup as much as possible, and our Estate Agents are here to help. It's important to note that selling a luxury home is different than listing a traditional property in several ways. To get the most from your investment, follow these six tips when listing your property among the Boca Raton luxury homes for sale.
How to Sell Your Luxury Home
Enlist Help

An agent that specializes in luxurious properties will be your greatest resource. Not only do they know the ins and outs of advanced real estate transactions, but they also understand the unique nuances involved in marketing, staging, showing, and negotiating. Seek their expert opinion and let them guide you through the process.

Price It Correctly

Recall your frame of mind any time you've purchased a luxury property — you knew what you wanted and what you were willing to pay. Buyers in the luxury home market desire a property with specific features that are priced reasonably. Instead of asking for the highest offer possible, study the area and list your home for a competitive amount.

Market It Modernly

Your luxury home is like no other on the market, and it calls for an equally unique marketing strategy. If you're asking a buyer to invest in your property, then you must also invest in your efforts to attract them. You'll need to list your luxury home online with high-quality photos and a virtual walkthrough. This listing should showcase the unique features of the home like the wine cellar or home theater. Print marketing should be used for every listing as well.

Add Incentives

We always recommend having your home professionally staged for photographs and private viewings. Also, consider items in your home you're willing to part with. If you have pieces of furniture or décor that you don't have a place for in your other homes, you can use these incentives as added perks for homebuyers. A grand piano, large imported rug, farmhouse dining room table, or other specialty pieces that accentuate the space may be too perfect for a buyer to pass up. Plus, it will be one less thing you'll have to move out!

Tend to Your Exterior

Buyers who are looking at Florida luxury homes are often choosing this area for the weather. Regardless of if your property is on the water or not, you want to make sure that the entire exterior looks as presentable as the interior. You want to create an atmosphere where potential buyers imagine themselves getting on the water or soaking up the Florida sun by the pool. Just as you hired a professional staging company, hire a specialty landscaping company that can cause your curb appeal to skyrocket.

Be Willing to Negotiate

You are a motivated seller. They are motivated buyers. Both of you appreciate the aesthetic appeal of the property, and both of you want to see it cared for by someone who can treat this home that way it deserves. As you consider your offers, be willing to negotiate. This is a great time to come to the table with your incentives and hopefully come to a mutually beneficial arrangement.
Let's find the perfect buyer for your luxury home. Contact us today to get started!