Fitness is the utmost priority for many South Florida residents. In fact, Fort Lauderdale recently ranked number 12 on the list of the 50 healthiest cities in the country! This statistic is reflected in the many healthy eateries and juice bars across town, as well as the wide variety of gyms and classes that span our region. While each of these gyms boasts a unique flair and an army of top-notch personal trainers ready to whip you into shape, we believe that working out on the beach is good for the mind as well as the body. We rounded up some of our favorite workout classes or facilities on the beach, so you can work on your fitness to the soundtrack of rolling waves and seabirds, and enjoy views of the sweeping Florida sky.
The Gym Fort Lauderdale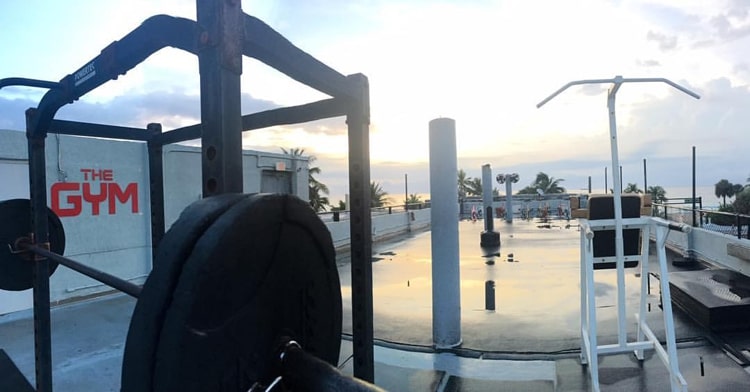 Photo courtesy of the Gym
The Gym certainly is a gem when it comes to workout facilities, boasting an open-air rooftop with panoramic views of the Atlantic Ocean and Intracoastal Waterway. While the views are spectacular at any time of day, many choose to get their sweat on in the early hours or right before dinner, which allows them to witness the South Florida sky during sunrise or sunset. Workout your way with a wide array of free weights, stationary bikes, benches and other equipment, or enlist a personal trainer to hold you accountable. You also have the option to enroll in a group fitness class, or take advantage of the full-service indoor gym when the weather turns sour! Afterward, enjoy cooling down with a leisurely walk on the beach. 3001 SE 5th St, Fort Lauderdale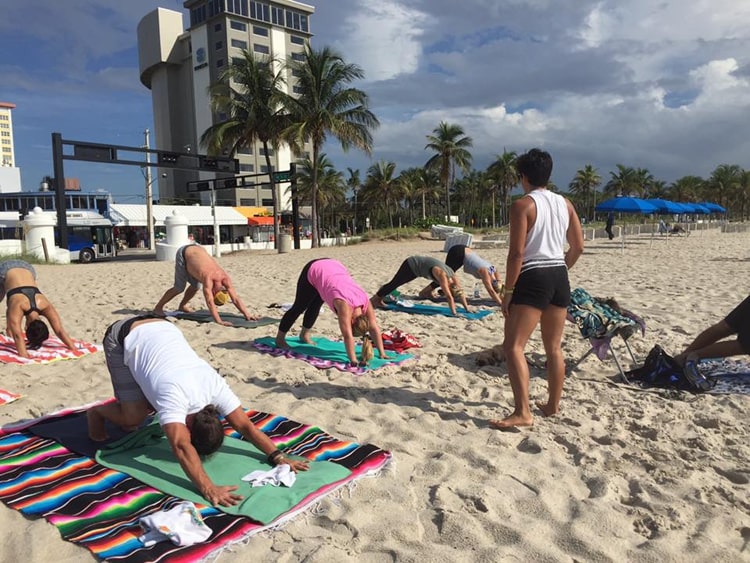 Photo courtesy of Fort Lauderdale Beach Yoga
There is nothing more invigorating than participating in a yoga flow on the sand, under the sun, with the sound of crashing waves in the background. Luckily, this option is available to you every Thursday, Saturday and Sunday year round, thanks to Fort Lauderdale Beach Yoga. The best of Fort Lauderdale's yoga instructors will guide you through challenging hatha flow classes in the morning, or help you wind down your day with a yin meditation class at sunset (during the summer months). While donations are encouraged, you will not be bound by any membership fees, and are free to come enjoy the class of your choice at your leisure. Classes Take Place on the Fort Lauderdale Beach one block South of Sunrise Blvd, Next to Lifeguard Station #13
Take control of your own workout routine at the calisthenics park on the beach. This free, public workout facility is built into the sand, and includes all of the equipment you need to design your own full-body workout under the sun and by the water. Enjoy challenging yourself and reaching new goals on the high bars, incline benches, and low bars, and then cool off with a quick dip in the Atlantic. 1100 Seabreeze Blvd., Fort Lauderdale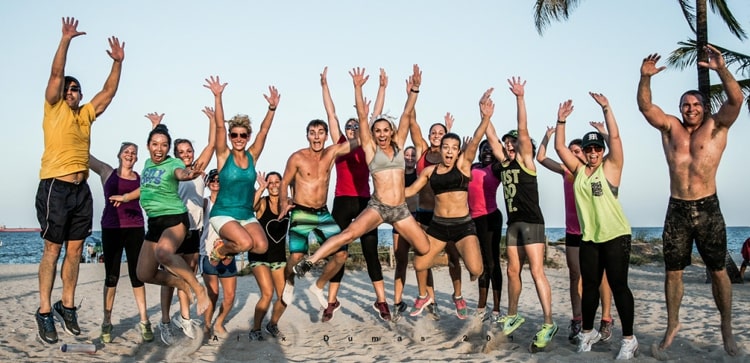 Photo courtesy of Alex Dumas Photography via Fitness With Maria
Maria Pontillo is a legend when it comes to fitness in Fort Lauderdale. With a doctorate in physical therapy and certifications for yoga and fitness training, she is an expert in providing her clients with a total body workout that is as effective as it is fun. While you can catch her workouts online in the comfort of your own home any time, we believe the beach fitness classes are not to be missed. The infamous Sweaty Sunday Funday Beach Workout occurs once a month at the Fort Lauderdale Beach Park, and includes a 15-minute dynamic warm up, a 30-minute circuit workout on the sand, and a 15-minute yoga stretch to cool down. Workouts are just a bit better when you have the Atlantic Ocean as a backdrop. 1100 Seabreeze Blvd., Fort Lauderdale
Outback Fitness Gym
Located on the second level of the Bahia Mar Beach Resort is Outback Fitness, a state-of-the-art fitness center equipped with high quality equipment and an entire wall of free weights to help you get the best workout you can imagine. While breaking a sweat, look out the windows and enjoy panoramic views of the Intracoastal Waterway and Fort Lauderdale Beach! Venture outside and you will find the space for the ultimate Cross Training-by-sea workout classes, and plenty of outdoor equipment to keep you occupied. To amp it up even more, consider booking a personal training appointment with Geoff Thomas by calling 754.423.6927. 801 Seabreeze Blvd., Fort Lauderdale
Sunrise Paddleboards | Paddleboard Fitness 101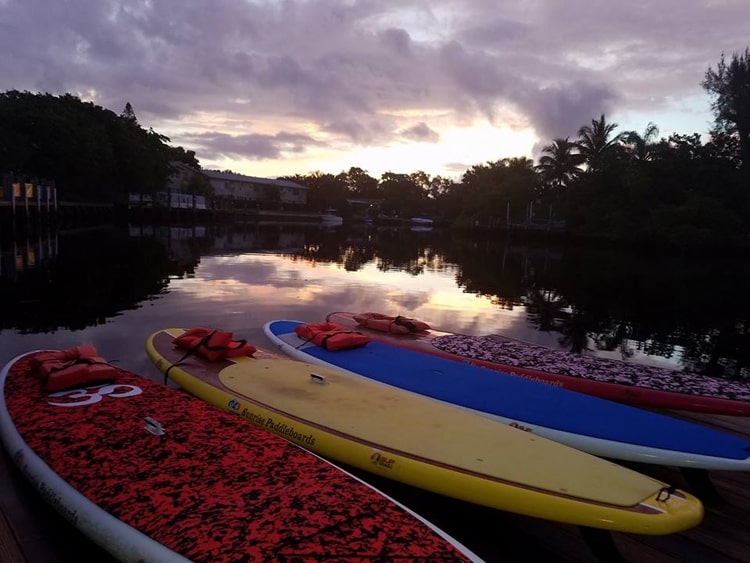 Photo courtesy of Sunrise Paddleboards
If you have mastered the art of working out in the sand, maybe it is time to step it up a notch and venture into the waves. Stand up paddle boarding is one of the most popular fitness options for Florida locals, offering the chance to work your abdominals, arms, and legs, work on your balance, and enjoy panoramic vistas of the beach from the water. Sunrise Paddleboards invites you to build paddle boarding into your workout routine with paddle board fitness 101 – a two-hour class that will teach you how to incorporate cardio and strength into your paddle boarding routine. The top-notch fitness instructors will cater to your individual needs and fitness goals, and help you design a water-based workout that is challenging, fun and effective. Looking for something a little more zen? Sunrise also offers paddle board yoga classes! 2520 N. Federal Highway, Fort Lauderdale
If you have ever had the joy of staying at the W Hotel, then you know that it is a luxurious experience. Naturally, the staff wants the best for their guests, and have designed a series of boot camp, yoga, and personal training classes on the water that are completely free for those staying in the hotel. Luckily, the classes are also open to the public (as long as you make a reservation at least six hours in advance). Each class is led by a certified instructor who is trained to help you take your fitness to the next level. During class, enjoy incredible views of the rolling waves and sweeping skies. 401 North Fort Lauderdale Beach Blvd, Fort Lauderdale
Happy Training!
For more fitness inspiration, check out our list of the top indoor and outdoor activities to stay fit in South Florida. Where are your favorite places to get fit in Fort Lauderdale? We would love to hear about them in the comments!