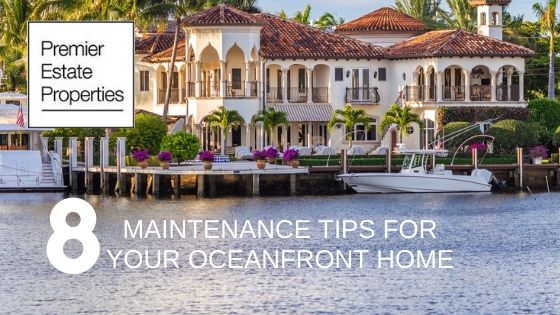 Homeownership comes with some serious responsibilities to make sure your home stays in top condition. Many of these maintenance tasks are similar no matter where you live, but owning an oceanfront house comes with some unique challenges. Our Estate Agents understand this and we're committed to not only connecting our clients with great waterfront Boca Raton luxury homes for sale but making sure those homes remain in impeccable condition. Here's what you need to know about maintaining your Florida waterfront home.
Oceanfront Home Maintenance Tips
Use Resistant Materials.

Saltwater corrodes and erodes just about any type of building material. Still, some materials are better suited than others to this harsh environment, so it's essential to use them any time you have repairs done. For example, fiberglass window and door frames will withstand wind and rain more effectively, and stainless steel will stand up to salt damage better than other metals.

Protect Your Metal.

Any metal part of your home—even stainless steel—will eventually succumb to salt crystal buildup and corrosion if you let it. Periodically apply WD-40 oil or silicone spray to metal parts to protect them from the elements. You might be surprised just how many metal components your house has! Don't neglect your hinges and door locks. If you have metal tools in your garage, keep them sealed in plastic bags to prevent rusting.

Watch for Termites.

Waterfront homes are often the first to attract swarms of termites, so be extra vigilant to avoid these pests. Consider hiring a professional pest control company for preventative measures.

Monitor the Humidity Level.

Owning a home near the water comes with higher humidity levels than other areas. Not only can this be uncomfortable during the hot summer months, but it also brings a higher risk of mold, mildew, watermarks, and other symptoms of high humidity. It's a good idea to install a dehumidifier in your home. Consider a whole-house dehumidifier as part of your HVAC.

Keep Your Windows Clean.

On homes near the beach, windows need to be cleaned regularly to keep them from becoming pitted and hazy. Try to clean them once a week, or hire a window cleaning company to do so. Use shatter-proof glass if you have ocean-facing windows that receive high winds.

Maintain Natural Finishes.

Paint peels faster than average on a house near the water—especially if it's saltwater—and may need to be stripped and repainted as often as once every two years. Consider using natural siding with a clear or tinted stain. Wood will still need stained roughly once every 24 months, but it's much easier and less expensive to maintain than painted surfaces.

Use Area Rugs.

Beachfront houses often see more in-and-out foot traffic than other homes, and all those footprints bring mud, sand, dirt, and other debris. Rather than wall-to-wall carpeting, maintain hardwood floors and use area rugs that can easily be shaken outside.

Maintain Native Landscaping.

Fill your yard with plants native to your region that tolerate high moisture and salt levels. Talk to a local landscaping company about finding and maintaining the right plants.
Are you looking for more information on maintaining an oceanfront, luxury property? Want to find a great waterfront house to call your own? Contact us today to learn more. Our team has years of experience in the Boca Raton area, and we're here to help every step of the way in your luxury home search.