Residents of South Florida know that there's no better place to call home. Our luxe, beachside communities – with acclaimed restaurants, breathtaking scenery and top-notch amenities – represent the best in upscale living. Nevertheless, it is always nice to take a break from your daily routine and discover something new. You do not have to travel very far for the ultimate vacation experience – the Florida coastline boasts some of the most romantic and luxurious resorts in the country. Whether you are planning for a special occasion or holiday down the road, or just looking for a quick escape, these eight resorts will provide the perfect getaway!
Address: 34 Goldenrod Circle, Santa Rosa Beach, FL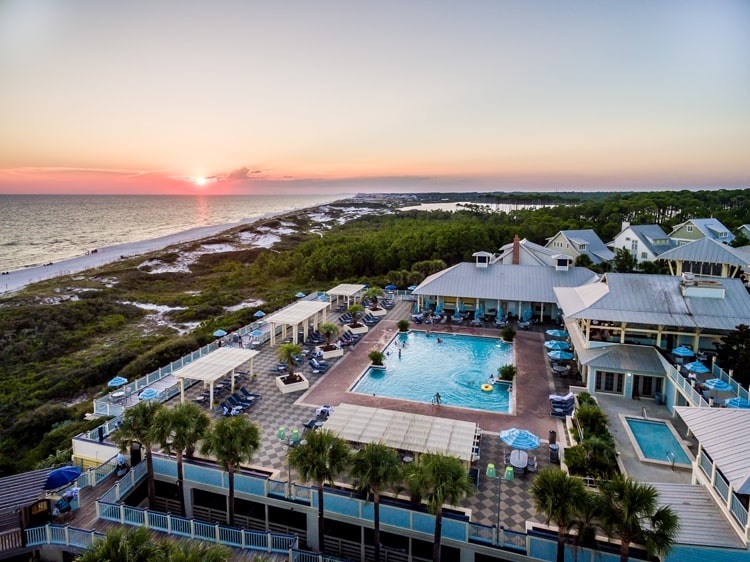 Photo courtesy of The WaterColor Inn
The WaterColor Inn overlooks the pristine, white sands of Santa Rosa Beach, Florida, and allows easy access to popular destinations including Seaside and Rosemary Beach. Although, we would argue that the WaterColor Inn is a destination in and of itself! Enjoy spreading out on more than 500 acres of lush grounds and expertly designed accommodations, and engaging in any number of activities, from tennis and shopping to boating and meandering through the gardens. After a full day of Florida adventuring, retire to the resort and indulge in a seafood meal plucked fresh from the ocean!
Address: 28500 Overseas Highway, Little Torch Key, FL
An excursion to this exclusive luxury resort will make you feel like you have journeyed to Tahiti or Bali, even though it lies just 120 miles from Miami. Tucked offshore of Little Torch Key and accessible only by boat or plane, the resort is about as hidden away as it gets. Here, you will find no phones, no TVS, and no shortage of fun things to do. Stay in a private, romantic suite or thatched roof bungalow, each surrounded by exotic blossoms and Jamaican palms, and covered in romantic touches like private outdoor showers and jetted tubs, cloud-like king sized beds, and verandahs opening up to the sparkling ocean. If you ever decide to venture out of your own room, you will have access to a meditative zen garden, oversized hammocks gently swaying in the trees, and an endless flow of champagne.
Address: 45 NE 21st Avenue, Deerfield Beach, FL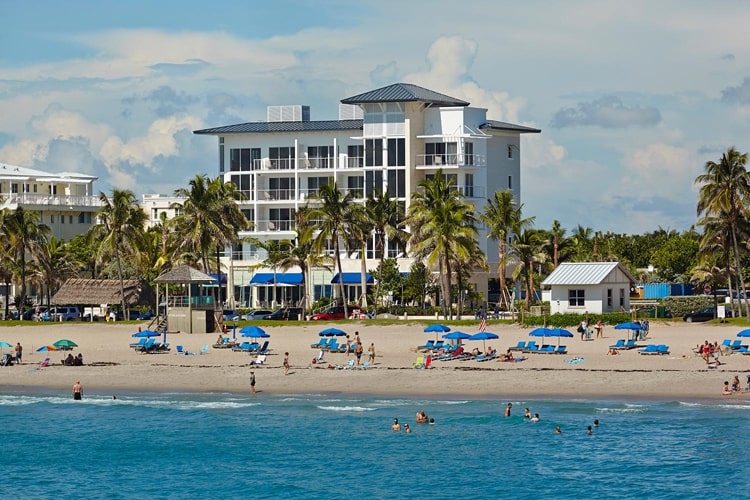 Photo courtesy of the Royal Blues Hotel
Conveniently located halfway between Miami Beach and Palm Peach, the Royal Blues Hotel boasts just 12 oceanfront suites. The exclusive and limited accommodations mean that you will receive unparalleled service – for example, each guest is welcomed to the hotel with champagne from the lobby's wine lounge. Indulge in an oceanfront escape unlike any other, and surround yourself with like-minded luxury seekers, fine dining, modern art, and unbeatable vistas.
Address: 245 Front Street, Key West, FL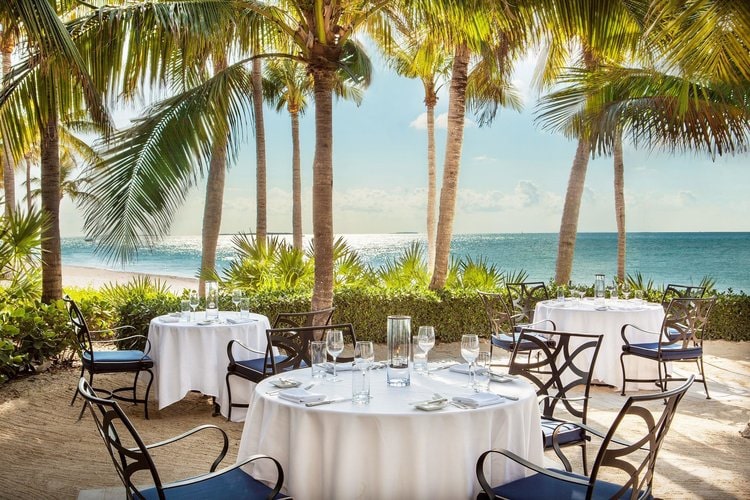 Photo courtesy of the Sunset Key Cottages
The Sunset Key Cottages actually sit on their own private, 27-acre island just minutes from Key West. Choose between a private Victorian-style home for just you and your loved one, or up to a four-bedroom cottage for a full family getaway. Either way, you will be treated to the tranquility and charm that comes with access to your own island. Each cottage offers views of the sparkling turquoise waters from your balcony, but you will also have access to diving, snorkeling, sailing, fishing, a full-service spa, waterfront dining, and swimming in the spacious, Sunset Key pool.
Address: 123 Beach Road, Islamorada, FL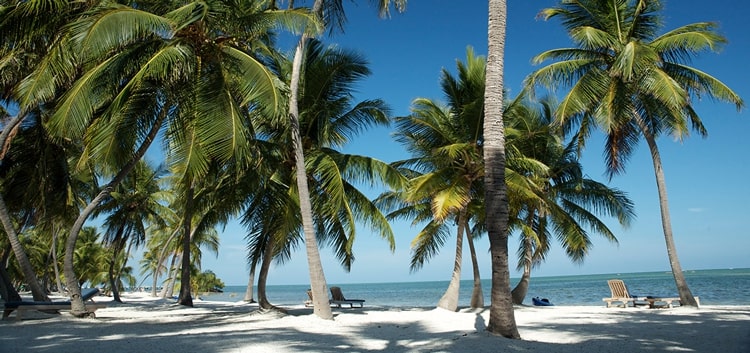 Photo courtesy of the Moorings Village
The Moorings Village is the winner of multiple Conde Nast reader's choice awards, including best Florida Keys resort. Just a few days here, and we have no doubt that this resort will be a winner in your mind, too! The 18-acre getaway is situated by the water on what once was a coconut plantation. Guests can stay in one of the 18 cottages and homes, all of which lie just a few steps from the pristine white beaches of the Florida Keys. All of the space means that you will feel like you are on your own private island! During the day, enjoy snorkeling and diving in one of the best reefs in the keys, kayaking along the coastline, or casting a line in the "sport fishing capital of the world." Afterward, you can retire to your private abode and enjoy unparalleled luxury.
Address: 1 South County Road, Palm Beach, FL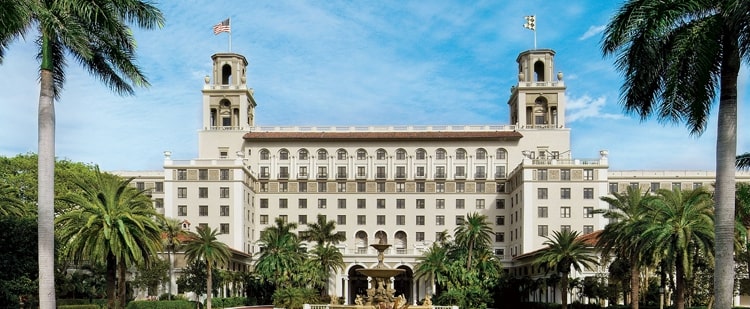 Photo courtesy of the Breakers
Founded on the sands of Palm Beach in 1896, The Breakers resort has set the standard for beachside resorts for more than a century. The hotel actually suffered from two fires, but re-emerged each time more opulent than ever before. The current construction was completed by the same famed, New York-based designers that created Manhattan's most desirable hotels, including the infamous Waldorf Astoria. Their expertise shines through in every rich detail of the hotel. Though the resort itself is magnificent, it is tough to beat the accessibility to top-notch activities and amenities that the Breakers offers. Come stay awhile, and enjoy unbeatable culinary experiences, private bungalows, a full-service spa, four different pools, five whirlpool spas, and a half mile of private beach.
Address: 17875 Collins Avenue, Sunny Isle Beach, FL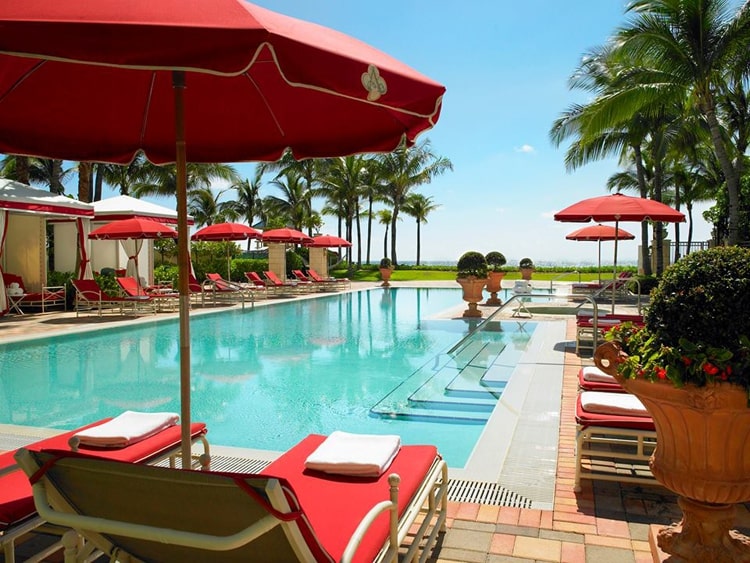 Photo courtesy of Acqualina Resort
Acqualina Resort has consistently ranked among the best resorts in the country, even earning the #1 spot on Tripadvisor. When you take a step onto the spacious grounds, with unparalleled amenities and views of the sparkling turquoise waters, it is not difficult to see why. If the beachfront dining, luxurious pool and full service spa do not immediately draw you in, you will be taken with the grand Mediterranean-style architecture, 400 feet of private shoreline and breathtaking scenery! Florida residents receive 15% off of their room rate and complimentary add-ons.
Address: 4750 Amelia Island Parkway, Amelia Island, FL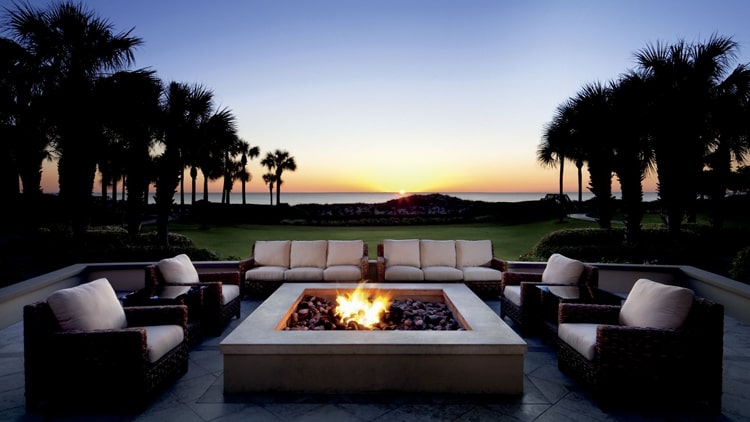 Photo courtesy of the Ritz-Carlton Amelia Island
This luxe, barrier-island resort is situated on 13 miles of pristine beaches in North Florida, so even though you have not left the state, you will feel like you are worlds away. Here, Southern charm and Florida elegance collide, resulting in an enchanting experience that will call you back year after year. You will have access to four award-winning restaurants, a full-service spa, on-site tennis facilities, an 18-hole championship golf course, and breathtaking scenery. There is no better place to relax and adventure.
Time to Start Packing!
Where are you planning your next Florida vacation? Let us know in the comments!