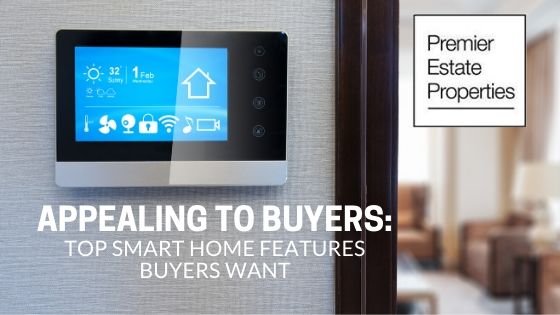 When a buyer is purchasing luxury real estate as an investment, vacation destination, or second home, they want to make sure that their investment is protected. The most popular smart home features, like security, lighting control, smart thermostats, and smart locks can make it easier to keep your property safe. Our Estate Agents know the smart home features buyers want, and we've got the expert tips on smart devices to consider for your luxury home.
5 Smart Home Features for Your Luxury Home
Smart Security System for Home Safety

If you're looking for a leg up when competing with other high-end Boca Raton luxury homes for sale, then a smart security system is the perfect place to start. A smart security system allows you to keep an eye on the home from anywhere, with window sensors, door sensors, cameras, and motion detectors that cover every inch of the home. There are a wide variety of smart security systems available, including some that integrate many of the other smart systems we'll cover on the list. You can also consider additional security systems, like smart locks where your smartphone doubles as your key.

Make Climate Control a Breeze with a Smart Thermostat

Whether you're managing an investment, keeping an eye on your second home, or want your current home to be the right temperature, a smart thermostat is key. Smart thermostats allow you to control the temperature of your home from anywhere. The best models can even learn your daily schedule so that the home is always the right temperature.

Smart Lighting for Security and Convenience

We all know that a home that looks occupied is a less appealing target for would-be thieves. Keeping the lights on is the easiest way to make an empty home look occupied. Smart lighting adds an extra layer of security to the property, allowing you to control lighting from anywhere and make the home appear occupied when nobody's there. Make your first home look occupied even when you're out of town, or keep investment properties safe, secure, and well-lit from a distance.

Simplify Cooking and Kitchen Maintenance with Smart Appliances

While smart home tools related to security tend to rank near the top of the list for buyers, smart devices that make life more enjoyable around the home rank a close second. Smart appliances are a great place to start because every buyer wants an attractive, efficient, luxurious kitchen. Smart appliances provide online connectivity, make it easier to keep up with maintenance, handle key tasks automatically, and often use less energy. If you're looking for a smart device that will enhance the appeal of your kitchen, then a smart fridge is often the perfect place to start.

Smart Entertainment Devices Attract Younger Buyers

While not a necessity, stereo systems can be the icing on the cake for attracting younger buyers interested in luxury homes. These devices make it easier to enjoy leisure time, thanks to extensive streaming options and online connectivity.
Whether you're buying or selling high-end real estate, our experienced team has the knowledge and resources to help you close the deal. Contact us to sell or buy Boca Raton luxury homes for sale.