Avid golfers from all over the nation travel to South Florida to experience the prestige and beauty of the region's impeccable courses. Specifically, Fort Lauderdale is a popular destination for golfers of all skill levels as there are plenty of renowned courses in and around the city. These impressive Fort Lauderdale golf courses boast the amenities, well-manicured landscapes, and idyllic natural settings to create the ideal golf experience. Join us as we embark on a virtual golf cart tour of the best public and private golf courses in and around Fort Lauderdale. Who knows? You may find a new course worth visiting! Looking for a private course specifically? Check out these prestigious private golf courses in South Florida!
Private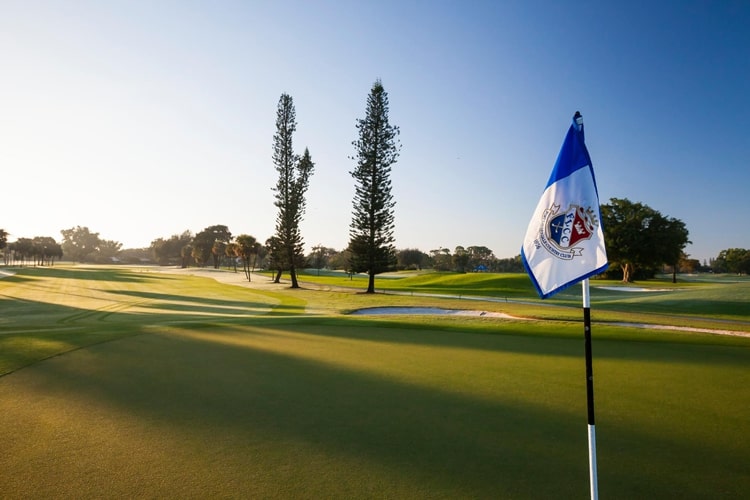 Photo Courtesy of Fort Lauderdale Country Club
Established in 1926, Fort Lauderdale Country Club is proud to be the oldest private country club in Broward County. Their rich history of service to their members makes them a trusted course in the area as they proudly "provide their members and their guests with a lifestyle of the highest quality through the traditions of golf." The club's emphasis on and care for their golf courses is evident as they are the only private club in the county that offers 36 holes of manicured championship golf. Members enjoy the leisurely sport in a forested park-like setting as the fairways are lined with stately indigenous trees and colorful flowers. With their two full and well-maintained courses, competitive tournament schedule and popular ladies golfing program, Fort Lauderdale Country Club is one of the most desirable golf courses in Fort Lauderdale and throughout the South Florida region.
Public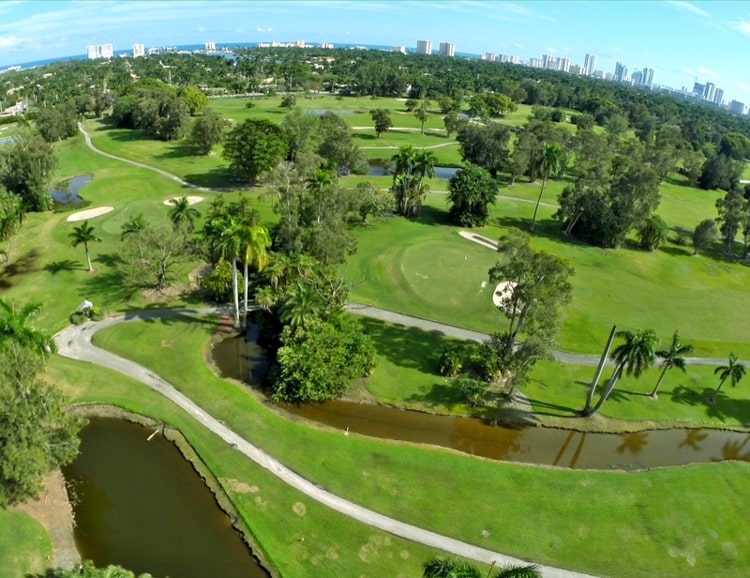 Photo Courtesy of Hollywood Beach Golf Resort
Considered one of the finest public courses in the region, Hollywood Beach Golf Resort's 18-hole golf course was designed in 1924 by renowned architect Donald Ross. The tree-lined par-70 course features a layout of five par-3, 10 par-4, and three par-5 holes. There are no homes located on the course, which provides uninterrupted views, pure immersion in nature, and a feeling of privacy and exclusivity. On-site amenities at the club include a well-stocked pro shop, locker rooms with complete shower facilities, and a courteous professional staff to tend to any of your needs. Amenities are centrally located in the middle of the 110-acre course, providing a worlds-away experience for guests.
Private
Grande Oaks Golf Club is a premier private club in Davie offering an exceptional golf experience for its tight-knit community of golfers. Members enjoy hours of play on the pristine newly renovated Raymond Floyd-designed 18-hole championship course, accompanied by a gorgeous plantation-style clubhouse and a number of other amenities. This pristine par-71 course measures 6,680 yards to the tips. The recent renovation added Celebration and Tift Eagle grass, new tees, reshaped bunkers, and slight contours to the greens, which makes for a challenging yet pleasurable golf experience. All tees at Grande Oaks are perfectly square and aligned to the center of the landing area, which provides a variety of distances from which to play. This offers immense flexibility for golfers, who may choose a relaxing game one day and a more challenging one the next.
Private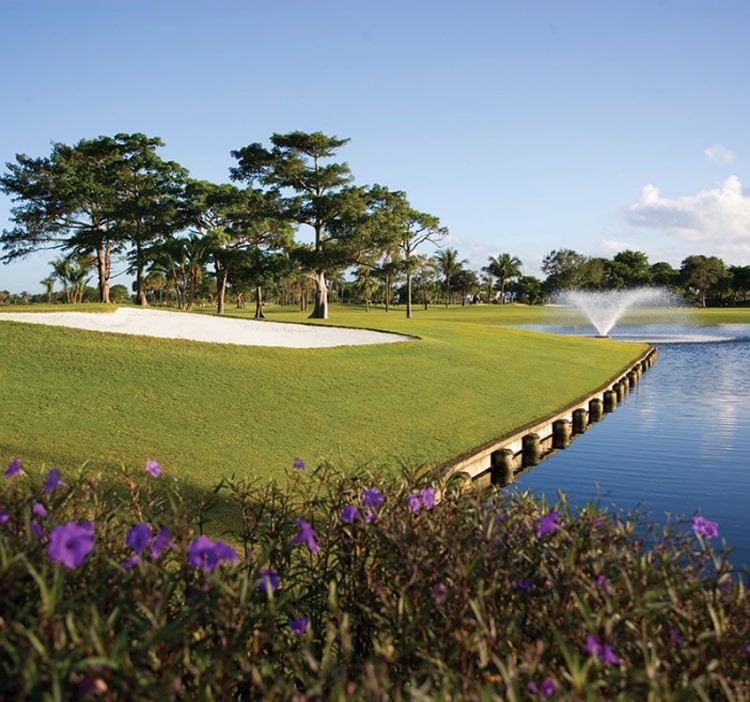 Photo Courtesy of Coral Ridge Country Club
Rich in history and tradition, Coral Ridge Country Club was developed and designed by the legendary golf course architect Robert Trent Jones, Sr. and his wife Ione D. Jones.
The championship 18-hole golf course is a timeless masterpiece designed in 1954 and is described today as beautiful, challenging and meticulously maintained. Mr. Jones always touted the course as an "easy bogey, but a hard par" due to the undulating greens that are precisely bunkered; however, the traditional runway style tee boxes offer an array of course lengths and difficulties so players of all ages and skill levels enjoy the course.
In the fall of 2015 the Club opened a 9-hole, par-3 course designed by famed golf course architect Rees Jones. This course offers a variety of yardage, with holes ranging from 70 yards to over 200 yards, as well as undulated and multi-tier greens.
In addition to the golf facilities, this private, Members-only Club boasts 11 tennis courts, a 25-meter heated swimming pool, outdoor patio terrace and a 22,000 square foot clubhouse.
Public
This spectacular 18-hole public golf course in Weston features a classic Joe Lee design. Bonaventure Golf Club boasts wide fairways lined with palm trees and sparkling water features, including the best waterfall in the region (located at hole 3!). The classic course runs along the edge of the Florida Everglades with mature trees, lush vegetation and freshwater lakes teeming with wildlife. Players of all skill levels will encounter an enticing challenge at Bonaventure, complemented by beautiful natural surroundings throughout. This public course is an idyllic location for all types of events, including weddings, corporate meetings, family reunions and other special occasions. The resort and spa offer 500 rooms for convenient accommodations and immediate access to the club's prestigious golf facilities.
Semi-Private

Photo Courtesy of the Club at Emerald Hills
Recognized as one of the "Best Places to Play" by Golf Digest, the Club at Emerald Hills is one of the most renowned courses in the region. The club was opened in 1969 and was originally designed by Bruce Devlin and Robert Von Hagge. Visitors will rejoice to discover that the Club at Emerald Hills is located less than a mile from the Fort Lauderdale-Hollywood International Airport, which means you can travel from the runway to the fairway in a matter of minutes. The course features a blend of undulating greens, contoured bunkers, and hills — all meticulously maintained for a challenging and enjoyable golf experience. The Club at Emerald Hills has hosted a number of competitions, including the PGA Tour Doral and Honda Open Qualifiers, the U.S. Open, the U.S. Senior Open, the U.S. Amateur, U.S. Mid-Amateur, and U.S. Public Links qualifiers.
Semi-Private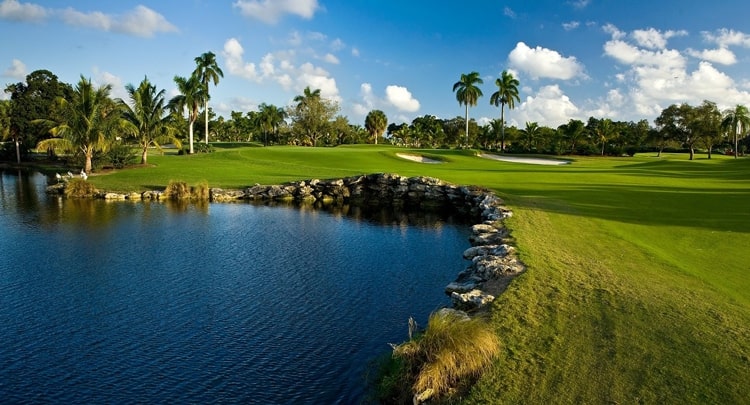 Photo Courtesy of Jacaranda Golf Club
Granted four stars by Golf Digest and host to many PGA, USGA, and FSGA championship events, Jacaranda Golf Club is considered one of the best courses in the area. The club features 36 holes of championship golf, including manicured course conditions and a picturesque setting to enjoy it all. Jacaranda has two four-star rated courses, the East Course and West Course, each of which feature blue lagoons, tranquil palms, and towering palm trees. The West Course is a bit shorter but is no less challenging than the East Course. The complexity and versatile design of each course set them apart in the golfing community. The club is semi-private, offering all the exclusivity of a private country club while remaining open to public golfers. The customer-focused staff, pristine course, and luxurious amenities make for an unforgettable golfing experience at Jacaranda Golf Club in the heart of Plantation.
Private
Lago Mar Country Club is considered one of the finest private country clubs in the area. The club is known for their exceptional golf and tennis programs, exciting social calendar and beautiful grounds. Situated in a scenic environment, Lago Mar's 18-hole course boasts well-mowed fairways, bunkers, greens and water hazards. The course is regarded as one of the best in the region, and even hosts a number of championships and competitions throughout the year. With a comprehensive pro shop, a team of professional staff members and an array of services for junior golf members, Lago Mar makes sure all of your specific golfing needs are taken care of, no matter your skill level.
Is it a hole in one?
Let us know which of these courses catch your attention! Or let us know which Fort Lauderdale courses are worth adding to the list.