We are proud to announce the selection of Joseph Liguori, Carmen D'Angelo and Gerard Liguori, Broker/Owners of Premier Estate Properties as America's Top 100 Real Estate Agents® for 2019! Recognition to this prestigious, invitation-only list is reserved only for the nation's most esteemed and skilled real estate brokers within the real estate industry selling estates in the high-end market. Members are selected through a rigorous comprehensive multi-phase selection process involving proprietary algorithms. A broad array of criteria and data are analyzed for each candidate, including the real estate professional's total yearly sales volume, notable above-market value sales, luxury home sales, efficiency rating for closing sales, lifetime professional experience, client satisfaction ratings, and notable recognitions, among many other proprietary factors. Based on these criteria, a rating for each individual is established indicating their relative effectiveness in closing high-value sales above market value in comparison to other real estate professionals in their region. Accordingly, the most efficient and effective real estate professionals among the community are then identified for selection among America's Top 100 Real Estate Agents®.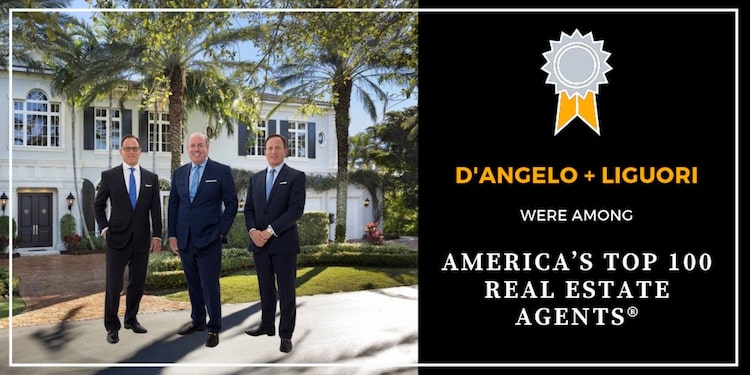 It is the mission of America's Top 100 LLC to recognize annually and on a lifetime basis the most qualified and accomplished professionals in various fields of practice, including realtors, attorneys, doctors, dentists, accountants, engineers, and architects (among other professionals). Only the top 100 qualifying real estate professionals in each region receive this honor and are selected for membership among America's Top 100 Real Estate Agents®. With these extremely high standards for selection, less than one percent of active professionals in the United States real estate industry will receive this honor. This is truly the most exclusive and elite level for agents and brokers to reach in the community.
About D'Angelo | Liguori
Carmen N. D'Angelo Jr., Gerard P. Liguori and Joseph G. Liguori are brokers and owners of Premier Estate Properties. This experienced team has collectively closed over $3.5 billion in sales during their 29 years in the South Florida ultra-luxury real estate market. For the eleventh year, each of these three remarkable performers has been ranked as one of America's top real estate professionals by The Wall Street Journal and RealTrends, a prestigious National award ranking them in the top 1 percent of the more than 1.1 million REALTORS ® nationwide. These are highly skilled, seasoned veterans with a long list of outstanding career achievements, including the majority of record-breaking sales in their market. Carmen, Gerard and Joseph are known for exacting personal service and accessibility at a moment's notice. The three have garnered the trust and confidence of an impressive roster of repeat clients, both here and abroad. This is a significant honor and we are so proud of this successful team. Congratulations to the D'Angelo | Liguori Team!