The holiday season is upon us! From fundraiser auctions to toy drives, and tree lightings to boat parades, there are so many ways to celebrate the holiday season in Boca Raton. Mark your calendars for these upcoming holiday events in Boca to experience the magic and wonder of the season to the fullest.
November 21 | 5:30–9:30 p.m.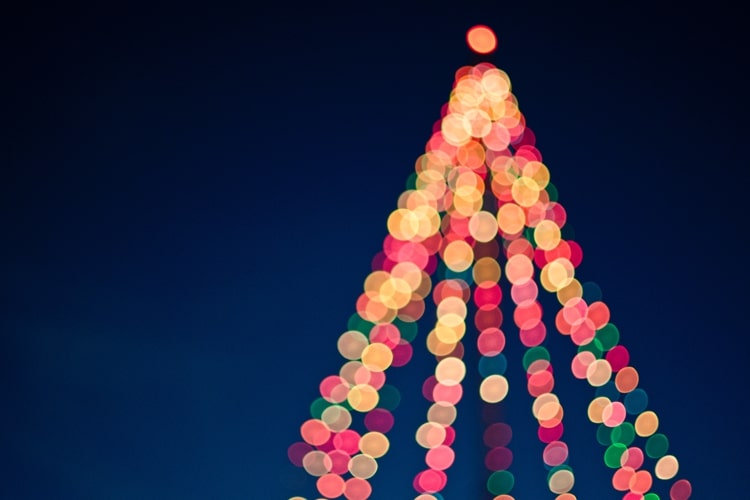 Kick off the holiday season at the City of Boca Raton's Annual Holiday Tree Lighting Ceremony at Mizner Park Amphitheater! The event will include free carnival rides, an artificial ice rink, a bounce house, Santa's Circus variety show, carolers, stilt walkers and other characters, aerial performances, letters to Santa station, photos with Santa, carnival food, and more. The highlight of the evening will be the ceremonial lighting of the City's tree, led by Major Scott Singer, accompanied by the simultaneous lighting of Mizner Park's tree at the south end of the center. The lighting will be followed by a spectacular fireworks show above the amphitheater. Admission to this event is free!
November 23 | 6 p.m.
Resort guests and members of the private Boca Raton Resort & Club are invited to witness the spectacular tree lighting and a special character parade the Friday after Thanksgiving. This year, the festivities will include an amazing performance by Shadowboxers, an American pop band who recently served as the opening band for Justin Timberlake's "Man of the Woods" tour. After the lighting, the character parade will fill the front courtyard with vibrant colors and merriment. Enjoy chocolate, cookies, and a special visit from Santa Claus — plus a surprise special guest!
November 29 | 5:30–9 p.m.
Boca Raton Marriott at Boca Center
Boca Chamber's Annual Holiday Auction is one of their most popular events of the year, drawing 300–400 people for an evening of networking and fun competition. Bid on exciting auction items to help the many successful programs at the Boca Chamber and to ensure the development of future programs. Take part in the live and silent auctions for a variety of desirable items while you enjoy culinary delights provided by some of Boca's best restaurants. Register for this delightful evening at the Boca Raton Marriott at Boca Center in advance. Each $35 ticket includes entry to the event, two drinks, and dinner by the bite.
December 2 | 6 p.m.
Kick off the first night of Chanukah at the Menorah Lighting in the front courtyard at Boca Raton Resort & Club. Join in the communal song and dance along with the ceremonial passing of the torch. Complimentary snacks and refreshments will be served, in addition to special goodie bags for kids.
December 2 | 10 a.m.–4 p.m.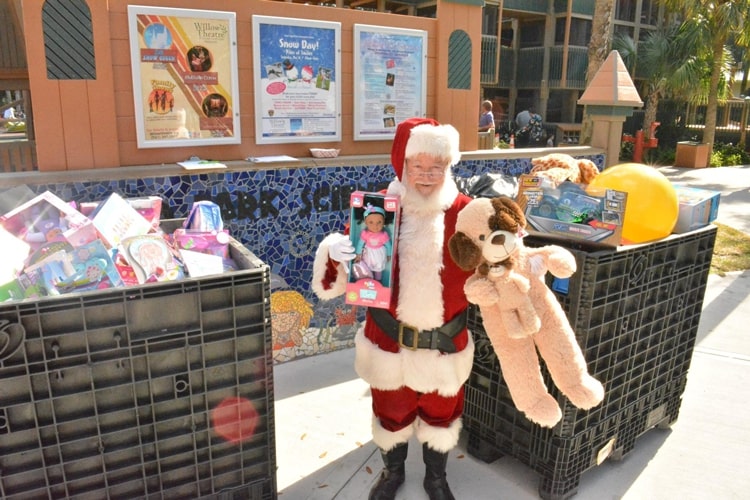 Photo Courtesy of the Boca Raton Toy Drive
Help spread holiday cheer to children in need by bringing new, unwrapped toys to the Boca Raton Toy Drive at Sugar Sand Park. Enjoy free carousel rides, delightful food and a visit with Santa. The drive collects toys for the Wayne Barton Study Center, an organization designed to enhance the health, welfare, and education of children in need within the community. There are multiple drop-off locations throughout Boca Raton, where you can drop off new, unwrapped toys leading up to the event on December 2.
December 5 | 7:30–9 p.m.
Federal Highway and Southeast 5th Street
Don't miss the 48th Annual Holiday Street Parade hosted by the City of Boca Raton. This year's theme is "Sights & Sounds of Broadway" and the parade will begin at Federal Highway and Southeast 5th Street, traveling north towards Mizner Park Amphitheater. This free, fun and festive event is the perfect cap to an evening spent shopping or dining at the area's many shops and restaurants.
December 7 | 5–9 p.m.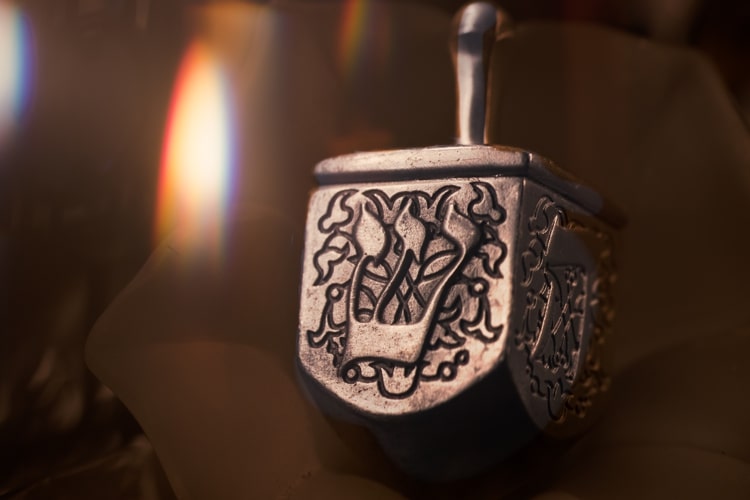 Temple Beth El of Boca Raton is celebrating Chanukah with its signature Chanukah Under the Stars event. This free community event allows members from the local South Florida Jewish community to come together to celebrate this joyous holiday. At 5 p.m., prior to the main service, enjoy a children's area with bounce houses, face painting, crafts and storytelling, followed by a Chanukah Tot Shabbat and songfest. During this time, there will be an array of dinner and snacks available for purchase, including traditional latkes. The Chanukah and Shabbat service will begin at 7:30 p.m. This event is free and open to the public!
December 9 | 5 p.m.
Join in the festivities with Florida Atlantic University's annual Tuba Christmas performance at Mizner Park. This traditional outdoor concert features holiday music performed by tubas and euphoniums. Doors open at 4 p.m. and this event is free and open to the public! Chairs and blankets are welcome, and chairs will be available to rent for $5 cash inside the venue. Purchase food and beverages inside the venue and enjoy delightful Christmas songs from this talented group.
December 9 | 2 p.m.
Lynn University presents its 16th Annual Gingerbread Holiday Concert at the Boca Raton Resort & Club, featuring musical classics of the season performed by the Lynn Philharmonia. General admission tickets are $35. Event proceeds benefit the Lynn Conservatory of Music, which provides scholarships to talented student musicians from all over the world. Visits and photos with Santa start at 2 p.m. and the Philharmonia performance is at 3 p.m.
December 6, 13, 20 + 27 | 6–8 p.m.
Each Thursday evening during the month of December, Palm Beach Charters is hosting special Intracoastal Mansion Holiday Lights Cruises. This two-hour cruise offers views of some of the most beautiful estate mansions and yachts along the Intracoastal in Boca Raton. Sit back, relax, sip on a beverage, and take in the inspiring sights of surrounding scenery decked out in holiday decor.
December 9 | 7–9 p.m.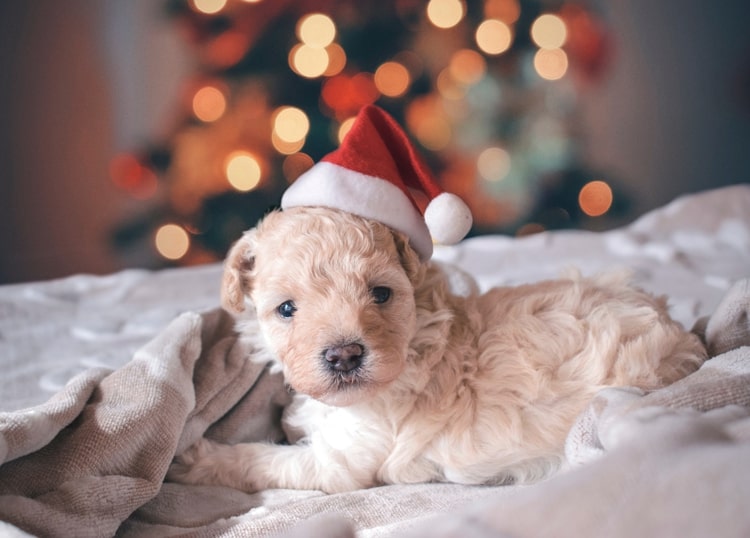 Make sure your four-legged family member is included in all of the holiday fun this year! Bring your pet to sit, stay and pose for a photo with Santa in the Nordstrom courtyard at the Town Center at Boca Raton on Sunday, December 9 from 7–9 p.m.
December 14 | 7 p.m.
Enjoy a family-friendly movie night under the stars at Mizner Park Amphitheater. This year's holiday movie is Elf, starring Will Ferrell and Zooey Deschanel. Guests are welcome to bring their own chair and blanket, but chairs will be available for rent for $5 each inside the venue. There is no cost to attend this free community event!
December 15 | 10 a.m.–4 p.m.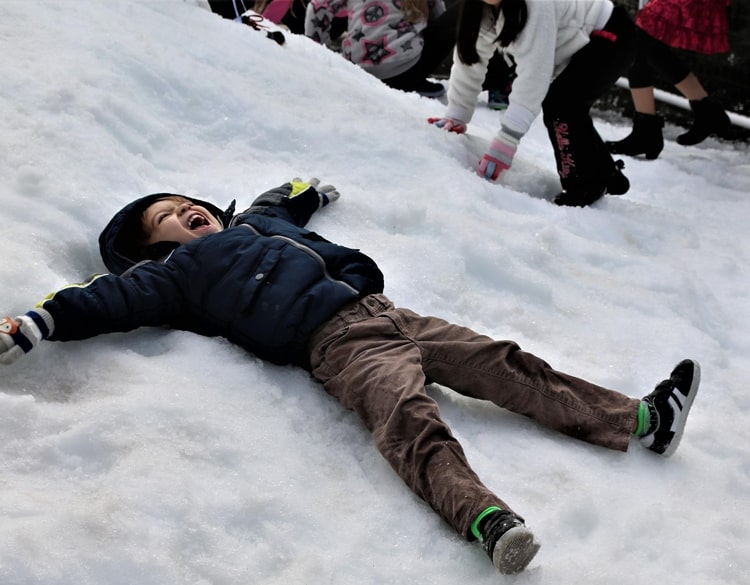 Photo Courtesy of Sugar Sand Park
Experience an unlikely phenomenon for South Florida — a snow day! Piles of Smiles will feature 25 tons of "real" snow for kids ages 5–10 to play in. Plus, enjoy an enormous slide, bounce houses, an obstacle course, visits with winter characters, a sock skating rink, food trucks and more! Advance registration is required for snow play; admission is $12 per child until December 3, and $15 beginning December 4.
December 22 | 6:30–8 p.m.
Intracoastal Waterway Starting at the C-15 Canal
Experience the holidays in true South Florida fashion at the City of Boca Raton's annual Holiday Boat Parade, featuring stunning boats decked out in holiday lights and decor. You may either enter your boat to participate in the parade or simply enjoy the parade from the western portion of Red Reef Park, the Wild Flower Property, or Silver Palm Park viewing areas. The parade will start in the Intracoastal Waterway at the C-15 canal and travel south to Hillsboro Bridge. Register your boat in the parade for free, and you could win a cash prize if your boat wins!
Happy Holidays!
What holiday events in Boca Raton are on your calendar each year? Let us know in the comments below!