Gemini is an exquisite ocean-to-Intracoastal compound on Manalapan's prestigious barrier island, offering a park-like botanical oasis unlike any other. The 16-acre gated property is reminiscent of an island, fronting 1,200 feet of the sparkling Atlantic Ocean in addition to 1,300 feet along the serene Intracoastal Waterway.
The centerpiece of Gemini is the 12-bedroom main residence, but the compound includes separate guest quarters, two four-bedroom beachside cottages, a seven-bedroom Mango House, a manager's house with four apartments, and manager's offices. With a grand total of just under 85,000 square feet, Gemini has 33 bedrooms, 34 full bathrooms, and 13 powder rooms. The property also hosts a pool, tennis court, basketball court, and even its own golf course. Priced at $195 million, Gemini was named the most expensive property for sale in the country last year. The jaw-dropping price tag is well placed for its obvious grandeur, historic value and unbelievable features. Let's take an exclusive look inside Gemini, a breathtaking property that exceeds all expectations.
Old Florida Design
Elegant with an effortless feel, the generously scaled main residence has a warm tropical wood motif that blends with brilliant stone finishes. The natural shell-stone columns and coral stone sheathes the entire façade as well as several interior walls to emit a timeless Old Florida feel.
Lush Foliage Throughout + Breathtaking Vistas
The property is surrounded by a dense canopy of lush tropical foliage, and enjoys uninterrupted ocean views, visible from the many loggias and balconies throughout.
A Resort-Style Pool + Entertainment Space
The stunning orchid loggia and grotto-like pool terrace hosts tasteful fountains, adding to the spellbinding setting amid walls of tropical jungle greenery that reach toward the sky.
Recreational Facilities Throughout
The sports complex features a regulation tennis court, half basketball court, playground, miniature golf course, and charming butterfly garden with a large-scale model train. Near the delightful Robinson Crusoe-style tree house, you will encounter a spa and cold plunge pool.
State-of-the-Art Technology
Commercial-grade amenities include the museum-quality climate-control systems, elaborate high-level security system, indoor/outdoor sound system, cell phone signal booster, and two elevators.
Meticulously Designed Gardens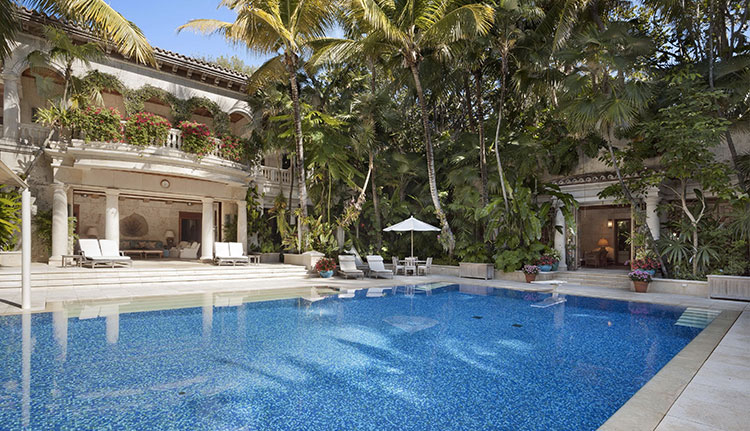 The gardens themselves are a naturalistic wonder, landscaped with some 1,500 species of tropical trees and plants including over 120 species of palms, plus ancient cycads, epiphytes, ficus trees, ferns, orchids, bromeliads and vines. Meticulously planned, the gardens are assembled with plants grouped according to their geography, ranging from various Caribbean islands to Central and South American regions.
A Professional Golf Practice Area Near the Beach
Gemini features its very own PGA-standard golf practice area alongside the property's private beach. Sand-carpeted paths weave throughout tropical foliage, and two passageways, one large enough for a golf cart, connect to the Intracoastal side where a dock and pier serve the shoreline.
A Rich History
The original home was designed by architect Marion Sims Wyeth, constructed in the 1940s for the Lambert pharmaceutical family. The property later became a winter retreat of Loel and Gloria Guinness, who was a fashion icon and socialite of her time. The current owners collaborated with noted Palm Beach architect Edson E. Dailey on a complete transformation of the property, which was completed in 2003. The entire residence was reconstructed and expanded to create a home as exquisite as it is well-engineered to withstand the elements.
See More
For more information on this prestigious compound, visit the Gemini online.