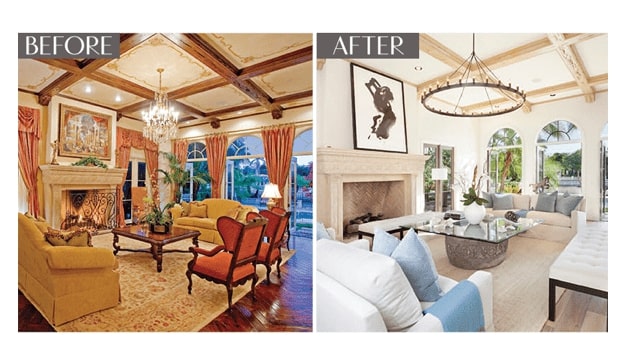 Click here to see more examples of proven results.
Too often luxury estate owners do not maximize their ROI. It takes more than accurate pricing to generate a sale. It takes keen insight into what buyers currently seek and the ability to transform an existing residence into one that compels affluent buyers worldwide to purchase.
Only Premier Estate Properties has the long-standing specialized expertise connections with top-tier interior designers a team of custom contractors, and the exclusivity with Los Angeles-based Meridith Baer Staging to transform luxury residences to sell faster and at a better price. Yours could be one of them.
Reimagine your residence with no upfront costs. Finance 100% of the costs for staging, painting, home repairs, renovations, landscaping through Premier Estate Properties' exclusive alliance with Home Staging Financial.
Now you can finance 100% of the costs of staging, painting, home repairs, renovations, and landscape upgrades to maximize the appeal of your luxury property with no payments until closing.
Research shows a professionally upgraded and staged residence sells 80% faster for 20% more. Let us help you expedite the sale and maximize your ROI.
See for yourself the difference professional staging can make with your luxury properties.
Have more questions for our experienced team about listing your estate among the Boca Raton homes for sale? Contact us today!