Boca Raton is a luxurious resort community with endless beaches, lavish estates and an overall exotic atmosphere. The beaches along the coast are known for their white sand and sparkling, crystal blue waters. They are conveniently connected by three city parks, Spanish River Park, Red Reef Park and South Beach Park. The county also manages a fourth park at the southern end of Boca called South Inlet Park. Get to know the attractive features of each Boca beach and plan your next adventure to these sparkling white sand beaches illuminated by the glorious Florida sunshine!
Red Reef Park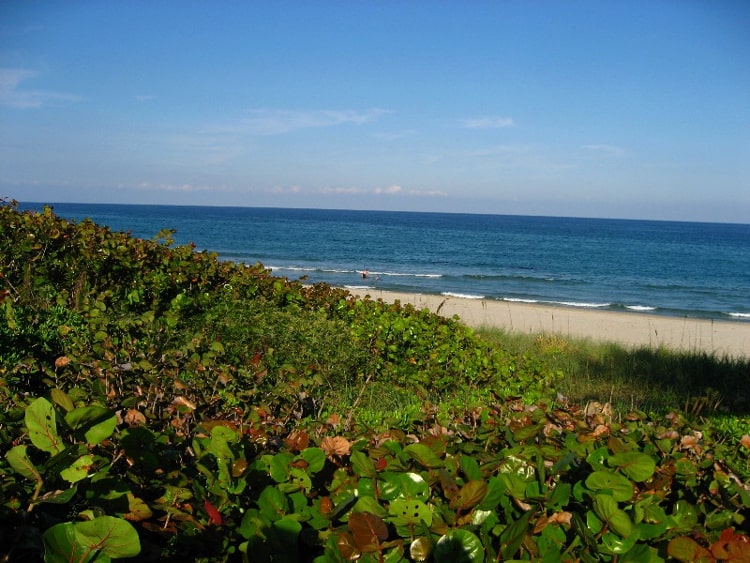 Photo Courtesy of Paul's Travel Pictures
Red Reef Park is perhaps the most popular beach in the city. However, if you go early in the morning or during a weekday, you are more likely to escape the crowds. This 67-acre oceanfront park offers a myriad of amenities amidst beautiful scenery, and even has its own nature center. This is an ideal destination for families because of the wide selection of kid-friendly attractions and features. The Gumbo Limbo Nature Center is a preserve with a boardwalk leading to a beautiful lookout, where visitors can explore an enchanting butterfly garden and observe tanks with sea turtles. Red Reef Park also provides pristine conditions for snorkeling, as the beach holds man-made limestone boulders creating reefs just 10 feet off the shore. Examine stunning marine life, including tropical fish, turtles, eels and stingrays. The Red Reef Executive Golf Course is a picturesque 9-hole course nestled between the ocean and Intracoastal Waterway, providing stunning water views for golfers. With a variety of features, including crystal clear teal waters for swimming, picnic tables and more, there is something for everyone to do at this beachfront park. In fact, the southern end of Red Reef Park is ideal for surfers!
South Beach Park
Photo Courtesy of Paul's Travel Pictures
South Beach Park is a smaller 24.5-acre beach with three swimming areas, and pristine areas for surfing, fishing and bird-watching. Aside from the beauty of this beach, visitors are located near some of Boca's most renowned attractions, including Mizner Park, the Boca Raton Resort & Club, and the Boca Raton Golf Club. This is a laid-back option for those desiring a quiet afternoon soaking up the sun and digging toes in the sand. Maximize your stay with a vacation or "staycation" at the Boca Raton Resort & Club, one of the most luxurious attractions in the region. This expansive 356-acre resort was designed by legendary architect Addison Mizner, and has reigned as an icon of elegance for more than 80 years. Bask in the wonder of a private beach, an award-winning spa, championship golf and tennis facilities, a luxury marina, and more — just steps from your luxe accommodations.
South Inlet Park
Just south of the Boca Raton Resort & Club lies the serene and quaint South Inlet Park. Local yachters and boaters are quite familiar with this park, as it is located alongside the Boca Raton Inlet connecting the Intracoastal Waterway to the ocean. Inlet rock barriers alongside the park attract unique sea life, making this an enjoyable area for snorkeling. Visitors may fish from the shoreline or the jetty, set up a picnic, enjoy the playground, lay in the sun, or go swimming in the beautiful ocean. This 11-acre park may be small but it has a lot in store!
Which Boca beach is your favorite?
We'd love to know your thoughts!