Our revolutionary new website is the technological equivalent of our responsive, results-driven, concierge service…and showcases our company's $1.4 Billion Estate Portfolio of million dollar-plus properties. In addition to its fresh look and feel, our new website offers enhanced functionality that provides a rewarding experience for both buyers and sellers. Allow us to introduce you to some of the innovative features you will now find at www.premierestateproperties.com.
Fresh, Modern, Responsive Design
Premier Estate Properties is dedicated to keeping current with the latest design trends, industry advances, and, of course, the latest technology. So utilizing modern design elements for our website was essential. You will see the results in our streamlined layout, updated fonts, full-screen panoramic aerial HD photography, cinematic videography, and much more. Additionally, our website's responsive new design means you will have an exceptional experience regardless of the screen size of your device.
New Improved Homepage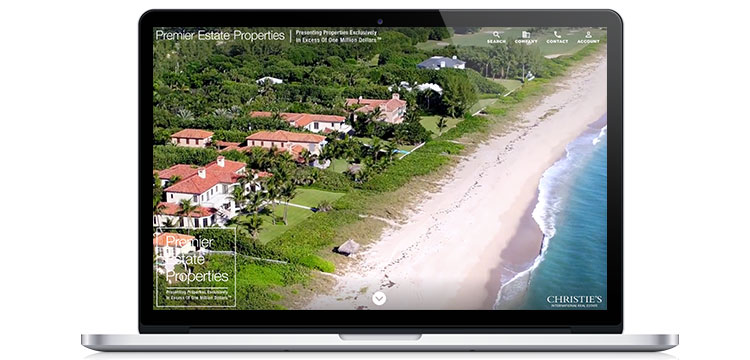 Our new homepage features a high-resolution, full-screen cinematic video debuting some of our coastal communities. It also highlights some of our industry-leading tools, including our luxury search feature, our Map Search, our Mobile App, email updates, and Market Snapshot
State-of-the-Art Mobile App
We have integrated a Mobile App with our online technology to enable you to search for ultra luxury properties even on the go. Just download this App free of charge from the App store for iPhone and iPad, or from Google Play for Android devices.
The Latest in Mapping Technology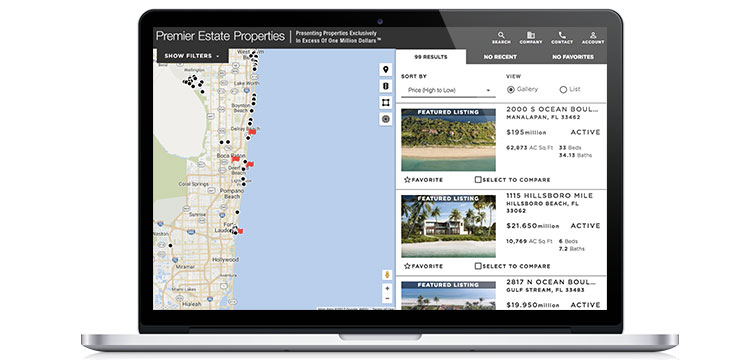 We are thrilled to introduce our cutting-edge map search feature, which enables users to view properties in the South Florida market. Combining the latest mapping technology with an easy-to-use design, searching for luxury properties in a designated area is easier than ever
Community Pages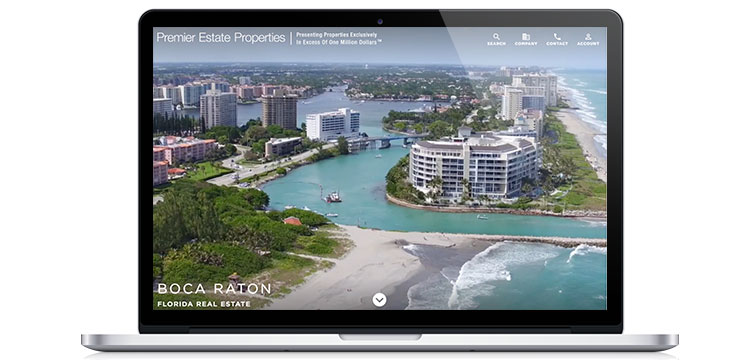 As a boutique brokerage with strategic offices in five South Florida coastal communities, we have created dedicated pages for the communities we serve. Most pages feature high-resolution videos highlighting the area…and provide detailed information about points of interest, population, safety, commute times, weather, and real estate data. We also provide content tailored to each community for further insight into the lifestyle landscape of each area.
Individual Property Websites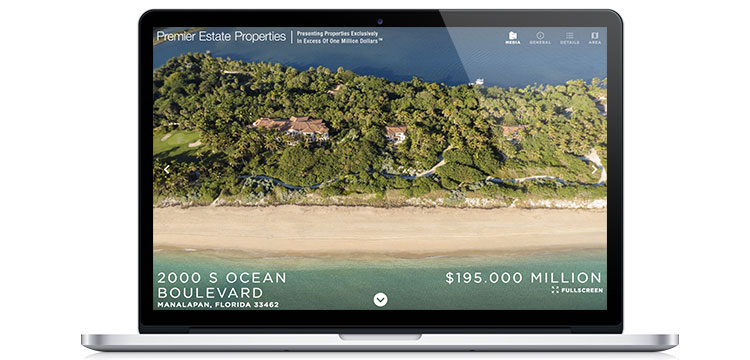 To showcase our impeccable properties, we offer individual property websites that includes full-screen photography in a slideshow format and many more impressive features. Each property website has prominent placement of calls to action (such as "Schedule a Showing" and "Request Information") in addition to important details of the estate. You will also find information about the community, which includes population, lifestyle, real estate data, and more.
Emphasis on Our Global Reach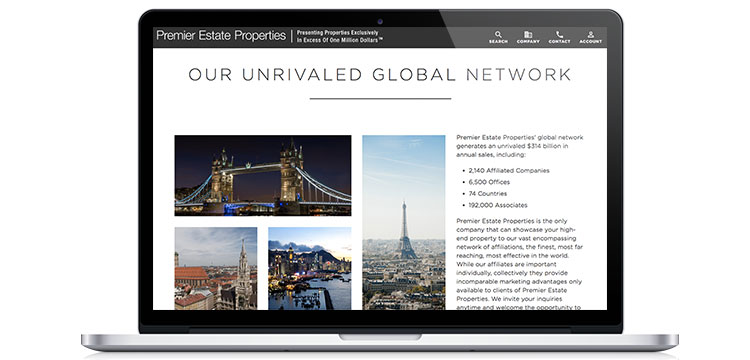 Our Global Network page showcases our affiliation with seven of the most prestigious companies in the world, including Christie's International Real Estate, Luxury Portfolio International and Mayfair International Realty. Because we partner with these influential global companies, our website features instant translation into 52 languages to reach their prospective buyers worldwide
The Ultimate Seller's Advantage for Capturing Buyers
Thanks to our global network affiliation, any sellers who list with our superlative brokers or agents will enjoy targeted global visibility for their important property. Sellers also receive a Market Snapshot with new comparable listings, recent sales and price changes.
New Lifestyle Blog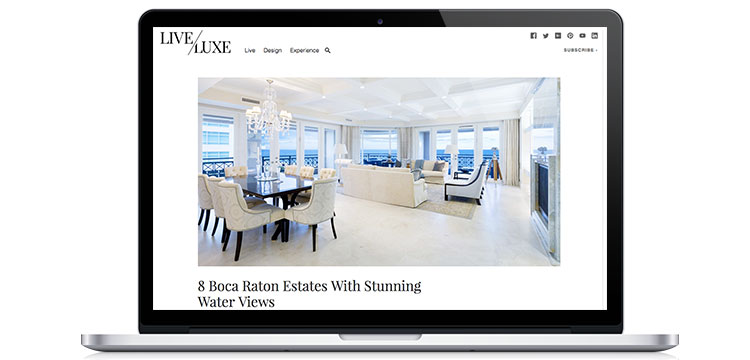 In conjunction with our new website, we are pleased to announce the launch of our new lifestyle blog, Live Luxe. This blog will feature extraordinary homes, interior design trends, luxury travel insights, features of the South Florida lifestyle… and will prove a helpful resource for our high net worth clientele
And Much More…
With virtually too many benefits to mention, we suggest you explore our new website for yourself. Visit us now at www.premierestateproperties.com and experience the ultimate website for ultra luxury real estate.
Create an Account
To get the most out of our new and improved website, be sure to create an account with Premier Estate Properties, so you can save your property searches, connect with local agents, and synchronize your mobile and desktop experience like never before.
Premier Estate Properties is Florida's only boutique luxury real estate brokerage presenting properties exclusively in excess of one million dollars. Since 1993, we have consistently achieved remarkable sales results representing the most extraordinary properties in the South Florida market. This new website enables us to provide our elite clientele with the same level of service online that we offer in person.