South Florida is one of the most accessible and popular ports for yachters, boaters and cruise lines. Perhaps the most accessible destination from Fort Lauderdale is Freeport, the main city of Grand Bahama, an island located in the northwest Bahamas. This lively and laid-back tropical city is not only close, but full of life, culture and luxurious attractions. Take your large boat or yacht into the open ocean waves for a short trip to Freeport, which you can reach in a matter of hours. Once you've arrived, step on shore to discover the many hidden gems of this town — from luxe resorts to boutique shopping, and of course, pristine white sand beaches. Travel Distance: 96.7 Miles Approximate Time: 4–5 Hours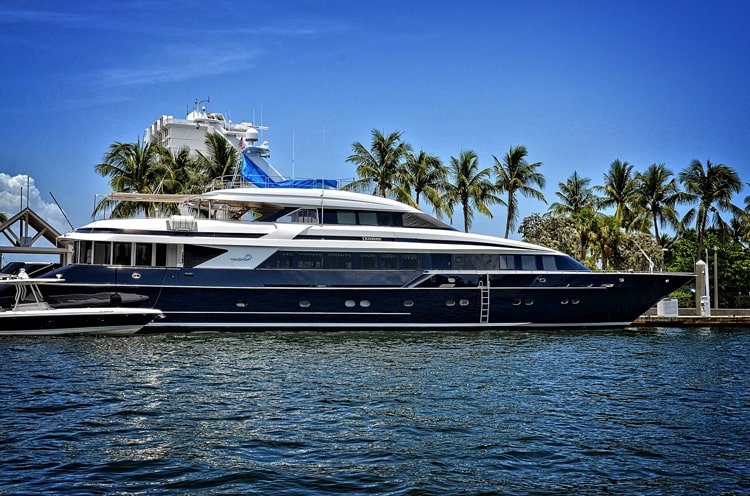 BEFORE YOU GO
Keep in mind that you will need the following items when entering the Bahamas:
Permit (Issued at your first Port of Call in the Bahamas)
Proof of Citizenship for Everyone on Board (Passport)
Fee During Visit With Bahamian Customs and Immigration

$150 per vessel 35 feet and under, for up to 4 persons ($15 per person after the first 4)
$300 per vessel 35 feet and over, for up to 4 persons ($15 per person after the first 4)
Need Repairs?
Bradford Marine is one of the most respected names for yacht repair and maintenance. Their expert staff provides technical support, drydocking, painting and engineering service. You may be familiar with this company, as Bradford Marine's main presence is in Fort Lauderdale.
WHERE TO PARK
There are a number of places you may arrange to park your yacht upon your arrival to Freeport. Make sure you make a reservation in advance to ensure a spot at their dock!

Photo Courtesy of Bradford Marine Bahamas
Port Lucaya Marina: 190 Feet Maximum | Location | Fuel
Ocean Reef Yacht Club & Resort: 120 Feet Maximum | Location | No Fuel
Bradford Marine Bahamas: 400 Feet Maximum | Location | No Fuel
Flamingo Bay Hotel & Marina: 100 Feet Maximum | Location | Fuel (Gas and Diesel)
Grand Bahamas Yacht Club: 200 Feet Maximum | Location | Fuel (Gas and Diesel)
Knowles Marine Yacht Services & Boatyard: 75 Feet Maximum | Location | Fuel (Gas and Diesel)
Sunrise Resort and Marina: 110 Feet Maximum | Location | No Fuel
WHERE TO STAY
If you opt out of spending the night in your yacht, you may enjoy a luxurious getaway at one of the following resorts. Might we recommend…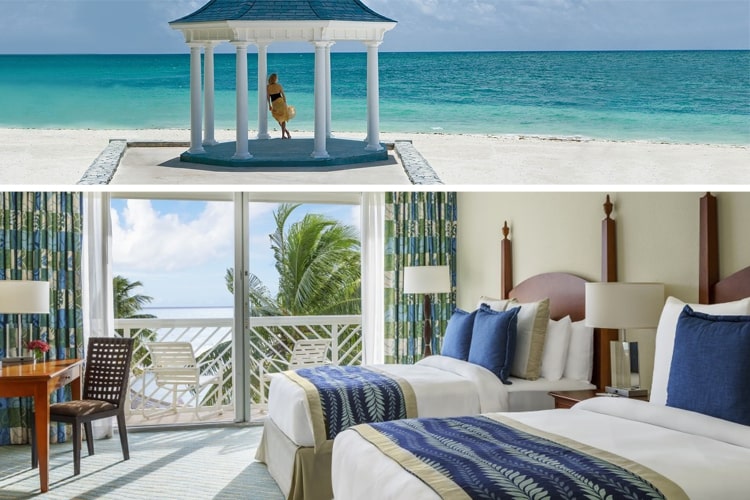 Photos Courtesy of Grand Lucayan Resort
Stay at the Grand Lucayan Resort, located in the desirable Lucayan district just steps from local shops, restaurants and the Port Lucaya Marina. Lighthouse Pointe is the resort's newest all-inclusive seaside retreat, offering some of the best accommodations on the island in an unbeatable tropical setting. Choose from the Grand Lucayan's selection of restaurants and cocktail bars, and enjoy hours of relaxing in the sun, either by the infinity pool or on the warm sandy beach. Relax or rev up your workout at Grand Lucayan's Senses Spa & Fitness Center, featuring a luxurious spa and plenty of recreational options. Take it all in from your upscale room, facing the ocean, marina or land!
Viva Wyndham Fortuna Beach is a spectacular all-inclusive resort located off the beaten path on the northern tip of Freeport directly along the coast. This 26-acre resort is teeming with tropical foliage, natural wildlife and pristine palm-tree-dotted beaches. Luxurious all-inclusive amenities include unlimited food and drinks in upscale restaurants and bars, a freshwater pool and jacuzzi, a theater, lighted tennis courts, a gymnasium, a sauna, boutique shops, a variety of water and land sports, and much more. Each guest room features a balcony or terrace offering breathtaking ocean or garden views.
WHERE TO EAT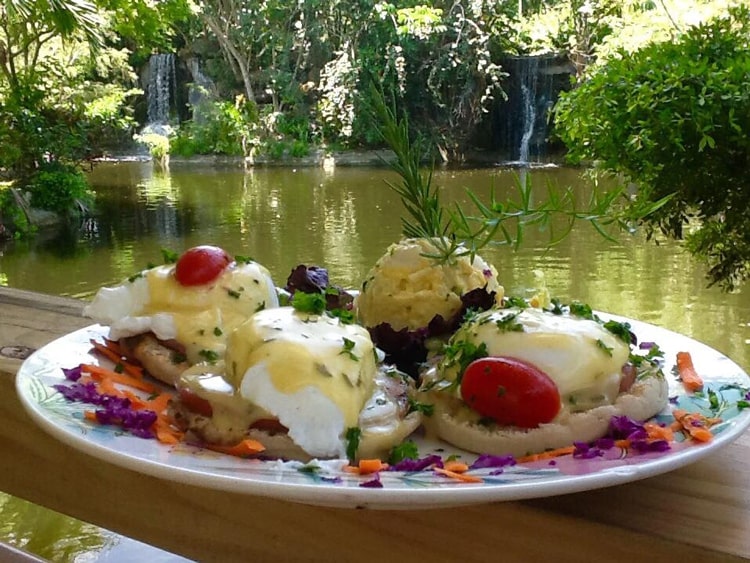 Photo Courtesy of Garden of the Groves
Start your day with a bite to eat at the casual and enchanting cafe at Garden of the Groves. You'll have to switch your mode of transportation from boat to car, as you make a short drive to these enchanting botanical gardens. Enjoy breakfast or brunch amidst a gorgeous tropical setting, as the deck overlooks the ponds and waterfalls teeming with lush greenery and wildlife.
Not only does Banana Bay serve an excellent selection of lunch food, their location is unbeatable. Located on Fortune Beach with miles of white sandy beach all around, this secluded and relaxed atmosphere provides a wonderful setting to enjoy one of their delicious meals, including Bahamian and American cuisine. Make sure you try their homemade banana bread for a special sweet treat.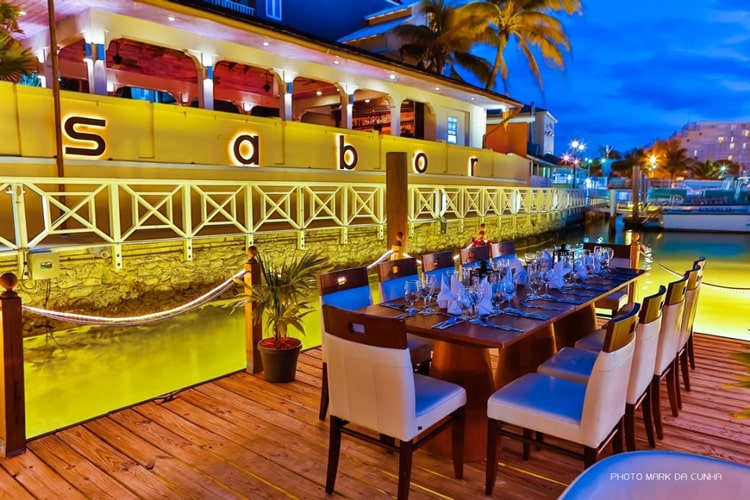 Photo Courtesy of Mark Da Cunha via Sabor Restaurant and Bar
Sabor is one of the island's hottest and most innovative restaurants, with direct views of the yachts lining the Port Lucaya marina. You can expect gourmet meals from this swanky eatery, as their expert chefs create plates using only the best seasonal catches and ingredients. Pair your selection off their innovative fusion menu with a glass of wine, or top off the night with a specialty cocktail. Whatever you decide, dining at Sabor is an unforgettable experience!
WHAT TO DO
Explore the Town
The oceanfront Lucaya district is an eclectic and lively area, with a marketplace hosting local shops, authentic restaurants along the water, popular beaches, upscale resorts and much more. The energy of the marketplace is full of excitement and activity, and the area is extremely walkable. Stroll from shop to shop, grab a cup of refreshing iced tea or a bite to eat, and spend a pleasant afternoon in the Lucaya district.
Go Snorkeling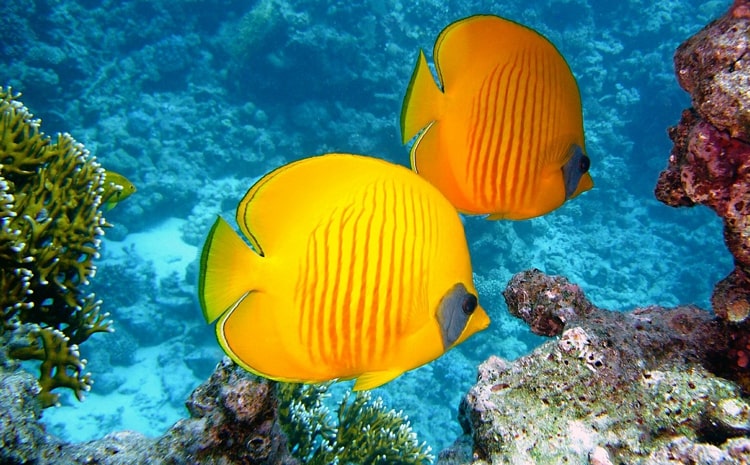 You may have experienced the breathtaking vistas of the ocean from above water, but there is an entire underwater world worth exploring. The clear teal waters of Freeport (and the Bahamas as a whole) create the perfect environment for observing marine life. Paradise Cove is one of the most desirable destinations for underwater adventure enthusiasts. This secluded beach enjoys direct access to Deadman's Reef, one of the area's most popular places to go snorkeling.
Relax on the Beach
While the entirety of the Grand Bahamas island is lined with pristine beaches, there is something special about Gold Rock Beach. This peaceful and secluded beach requires a drive out of town, but the traveling is well worth it. This hidden gem is absolutely breathtaking to behold, and is untouched by restaurants, tourists and other establishments. However, Gold Rock Beach is no stranger to stardom, as parts of Pirates of the Caribbean and James Bond movies were filmed there.
Go Golfing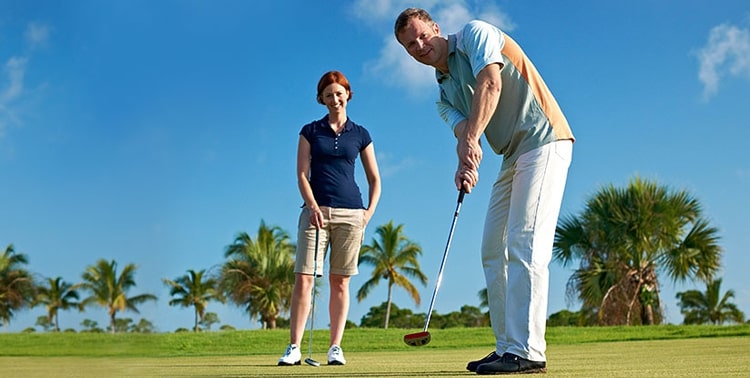 Photo Courtesy of Reef Course & Country Club
The Bahamas is amongst one of the best settings to enjoy a game of golf (with South Florida at the top of the list, of course). Pack your clubs before your trip and hit the course at any of the area's pristine golf clubs. Local favorites include Reef Course & Country Club at the Grand Lucayan, Ruby Golf Course and Fortune Hills Golf & Country Club.
Experience Nature
The nearby Lucayan National Park is a 40-acre national park hosting one of the largest underwater cave systems in the world. Two caves are open to the public, although a special permit is required for diving. Travel the gorgeous park by foot on a network of nature trails or embark on an adventurous kayaking tour. Additionally, you may travel along the path leading to the beautiful Gold Rock Beach (mentioned above) for a picnic, sunbathing, swimming or a sunset walk.