Smart home technology has the ability to take luxury living to a whole new level. Jaw-dropping features and the ultimate in convenience are available at the press of a button — or simply the sound of your voice. Discover some of the latest devices in modern home technology, many of which you may be aware of, and some of which are new to the market. Make your estate more sophisticated and sleek with one of these state-of-the-art upgrades.
Robotic Vacuum Cleaner
Every smart home needs a robot — a vacuuming robot, that is. iRobot Roomba 980 gives you clean floors throughout your entire home at the push of a button. It seamlessly navigates an entire level, keeping track of its location with its advanced sensors. It will even recharge itself as needed. And of course, you may manage your robotic vacuum using the iRobot HOME app so you can easily schedule your cleaning on the go.
Television Disguised as a Painting

Photos Courtesy of Vutec
Disguise a blank television screen when it is not in use with the Artscreen System from Vutec. Inside a beautiful frame, the artwork ascends or descends with the touch of a remote to reveal your television. When the screen is not in use, a museum-quality piece of art is displayed within the frame. Choose from a variety of frame styles, sizes, liners, and artwork choices to find the style that fits your decor. You may even display personalized art, custom artwork or personal photographs to create a more custom Artscreen.
Voice-Controlled Motorized Blinds
Save time and energy with the ultra-convenient, sleek and quiet Serena® Shades, which operate by remote or with the sound of your voice via the Lutron Smart Bridge. You may schedule the blinds to adjust automatically at certain times during the day, or manage them from anywhere in the world through the Lutron app on your smartphone. These attractive motorized shades are battery-powered, which means they are extremely low-maintenance, reliable and wire-free. Imagine effortlessly letting in bright beams of sunshine throughout your entire home before you even get out of bed in the morning.
Ultra-Modern Outdoor Security Camera

Photo Courtesy of Netatmo
There are a number of security systems available on the market, but the Presence Security Camera is one of the best. You may instantly access real-time footage of your property on your phone, and Presence is even able to differentiate between a car, person or animal entering the premises. This elegant and modern aluminum camera installs as an outdoor light and produces excellent high-definition video footage to keep your property safe at all times — day or night.
Transparent Television Screen
Keep an eye out for one of the latest developments in home technology to become widely accessible in the near future. Panasonic recently created a transparent television screen, which appears to be a clear piece of glass until it miraculously turns into a high-definition television with the push of a button or the wave of a hand. Imagine the surprise of guests when a colorful screen appears out of thin air at your next gathering.
Lock Activated By Smart Phone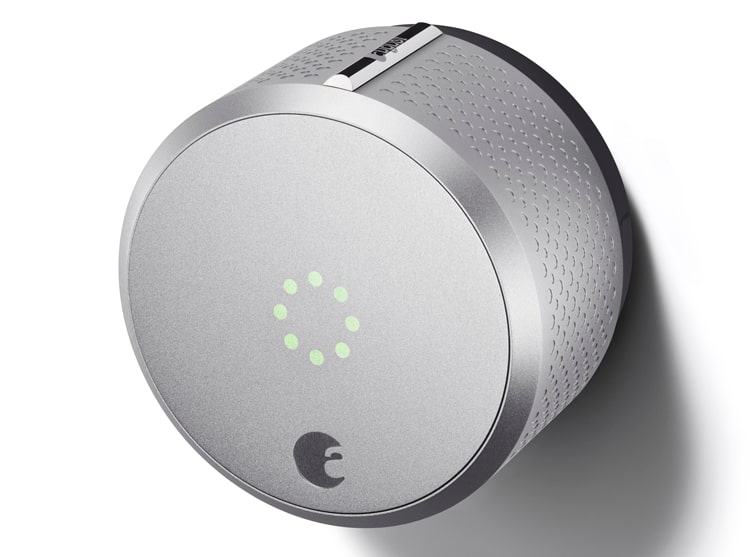 Photo Courtesy of August
This techy August Smart Lock adds convenience for you and your family as your smartphones become a smart key to enter your home. But it adds a touch of sophistication and security when welcoming guests into your property as you can create virtual keys for guests and keep track of who comes and goes. Plus, the door automatically locks behind you for added security, and you can lock and unlock your door (or check its status) from anywhere on your smartphone or Apple Watch.
Thermostat That Studies Your Habits
The Nest Learning Thermostat is one of the more impressive thermostat systems out there. This third-generation model learns what temperatures you like and builds a schedule around your preferences. You can even adjust your home's temperature from afar on the Nest app. Since 2011, the Nest Thermostat has saved over 8 billion kWh of energy in millions of homes worldwide.