Just take one look at the properties in South Florida and it is not surprising that some of the country's most affluent individuals reside here. In fact, the region is home to two of the country's 10 wealthiest zip codes in the United States — one of which we are very familiar with here at Premier Estate Properties. And even more noteworthy, these zip codes land at the number one and number four spots on the list.
According to a Bloomberg report analyzing 2016 Internal Revenue Service data, the number one wealthiest zip code in the country is 33109, a private island just off the coast of Miami called Fisher Island. The average adjusted gross income for Fisher Island is $2,212,500, which is nearly $1 million higher than that of the second-place zip code (94027) in Silicon Valley.
The fourth-wealthiest zip code is 33480, which encompasses all of Palm Beach. The average adjusted gross income in Palm Beach is $1,064,800 (according to the 2019 Bloomberg Ultimate Zip Codes list). This year, Palm Beach swapped places with a zip code in Palo Alto, California, which had been at the number four spot in 2018.
The rankings were established based on the average adjusted gross income of each zip code. Bloomberg only evaluated zip codes with at least 200 tax returns, as of the 2016 filing season, with at least 500 housing units per latest census survey. More than 22,000 zip codes met the criteria to be ranked for this report.
33480: Palm Beach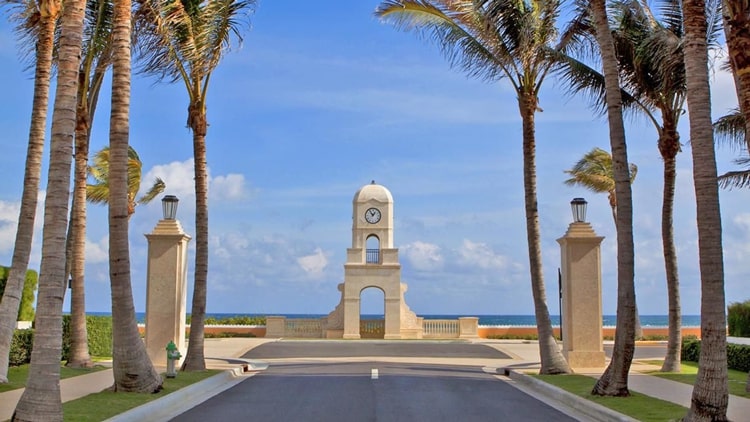 It is no surprise that some of the country's wealthiest people would want to live in Palm Beach. The town has long been the resort community of choice for the social elite, attracting real estate gurus, successful entrepreneurs, wealthy retirees, big-name CEOs and other affluent individuals. With miles of pristine sugar sand beaches, exclusive clubs, incomparable estate compounds, designer shopping along Worth Avenue and Michelin-quality dining, life on this barrier island is unlike anywhere else.
Homes for sale in Palm Beach cater to affluent lifestyles, with many providing exclusive access to private beaches and wide ocean views. Square footage ranges from 1,500 to over 32,000 square feet, and many properties in Palm Beach offer oceanfront or Intracoastal access — and sometimes both.
Some of the Finest Properties in Palm Beach
Explore three excellent examples of Palm Beach real estate. These homes are equipped with the components necessary for resort-at-home living, including extravagant outdoor entertainment areas, ocean views, impressive square footage, and endless amenities and accoutrements.
Historic 1922 Oceanfront Estate
7 Bedrooms | 9.3 Bathrooms | 14,318 Square Feet | $26,950,000
Address: 100 El Bravo Way | Listed By: The Frisbie Team — 866.485.1984
Dating back to 1922, this extraordinary Mediterranean-style oceanfront home has been impeccably maintained and updated. It features a range of ornate details and historic elements, including arched doorways, beautiful millwork, elegant light fixtures, gorgeous tiling and more custom high-end details. This beautifully preserved historic home also offers the latest in modern technology, including state-of-the-art AV and lighting. It is also positioned to take advantage of exceptional ocean views from two east-facing outdoor areas. The configuration lives both casually and formally around a beautifully articulated and protected coquina courtyard, affording al fresco dining, multiple seating areas, outdoor AV entertainment, and a heated swimming pool and spa.
French-Normandy Style Estate
6 Bedrooms | 7.3 Bathrooms | 10,497 Square Feet | $12,900,000
Address: 251 Jungle Road | Listed By: The Jim McCann Group
Located on one of the most highly coveted streets within the historic Estate Section of Palm Beach, this showstopping French-Normandy style estate was built in 2003. Unlike any other, the property features an alluring facade encompassed by enchanting gardens and second-floor views of the Intracoastal Waterway. Fashioned with an intrinsic sense of style and attention to detail, this property captures the spirit of a royal Parisian palace in an enviable setting. With its gracious floor plan, this six-bedroom residence boasts over 7,000 living square feet, exhibiting perfectly scaled rooms with high ceilings and fireplaces, including a fantastic eat-in kitchen featuring top-of-the-line appliances, a formal living and dining room, and an elegant master suite complete with two en-suite bathrooms, oversized walk-in closets, and a terrace. The expansive outdoor space features three separate loggias, an outdoor fireplace, a Coquina-decked pool, and lush landscaping.
Colonial With Sparkling Pool
5 Bedrooms | 5.2 Bathrooms | 6,762 Square Feet | $11,850,000
Address: 1284 North Lake Way | Listed by: Rosalind Clarke + The Jim McCann Group
Situated upon a gloriously landscaped half-acre lot, this stunning Colonial is made up of 6,762 square feet with five bedrooms, five full bathrooms and two half bathrooms. The estate was crafted by renowned architect Gustav A. Maass in 1935 and blends classic architectural design and modern luxurious features. Although the estate has received a number of upgrades over the years, its charm has never been compromised. You feel it in the living room with its wood-burning marble fireplace, built-ins and extensive millwork; in the formal dining room with its French door loggia access; in the graceful circular wood staircase leading to an expansive master suite, three guest suites and a sun terrace; and in the chef's island kitchen open to a family room and breakfast area. Unlike so many estates of its day, this one has an intimate feel, artfully combining elegance with ease.
Looking for more impressive properties in Palm Beach?
Explore our collection of estates for sale in Palm Beach. Properties in our portfolio range from just over $1 million all the way to $25 million compounds, yet they share one thing in common: the fourth-wealthiest zip code in the country.
Create an account with Premier Estate Properties to receive real-time alerts when new listings come on the market, connect with your agent on-the-go, search for luxury listings, receive updated market data around a specific address, and much more. And contact our Palm Beach office if you have any questions about real estate in 33480.