Along the Atlantic Ocean lies the luxurious resort community of Boca Raton. While many travel to this oceanfront town on holiday, there are many who are fortunate to call Boca their home. The city's rich history, elegant Venetian architecture, white-sand beaches, and high-end shopping all embody its lavishness and desirability as a premier destination on Florida's Gulf Coast. Explore some of the most desirable communities in the city, from oceanfront enclaves with private dockage to gated neighborhoods overlooking a lake. These are some of the most prestigious and high-end neighborhoods in Boca Raton and South Florida as a whole.
Prestigious & High-End Boca Raton Communities Include:
Royal Palm Yacht & Country Club | The Sanctuary | The Estates | Por La Mar | 5th Avenue Estates | Le Lac | Long Lake Estates
One of the nation's most sought-after yachting communities, Royal Palm Yacht & Country Club was established over half a century ago, reigning as Boca's prestigious signature address. Throughout history, its residents have led lifestyles synonymous with the vision of Addison Mizner in the 1920s. Enter through the guard-gated entrance of this renowned community to experience first-class living to the fullest, complete with a full-service marina, fitness center, swimming pool, tennis and croquet courts, and a world-famous golf course designed by Jack Nicklaus.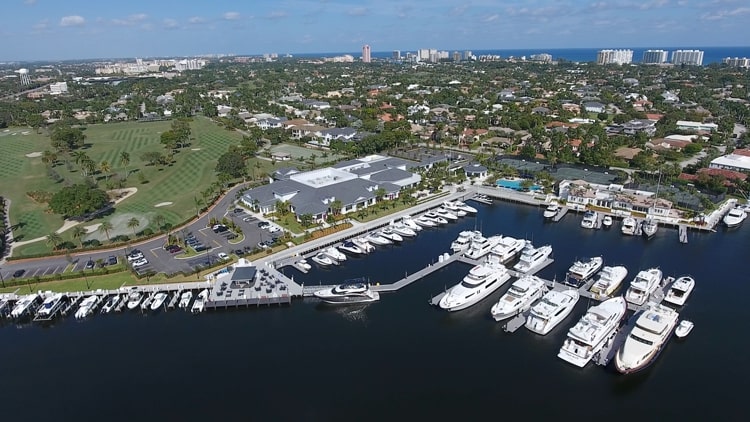 Estates in Royal Palm Yacht & Country Club reside in close proximity to the desirable Atlantic Ocean beachfront, and several are nestled along deep waterways with private yacht dockage right in their backyard. Others overlook the magnificent Royal Palm golf course, enjoying immediate access to this exceptional course.
Distinguished as one of the most prestigious gated communities in the entire nation, The Sanctuary offers the utmost in quiet seclusion in Boca Raton's internationally acclaimed yachting enclave. Exclusive amenities available to residents of The Sanctuary include a 20-slip marina, Har-Tru tennis courts, and a 27±-acre bird/wildlife preserve cloaked in a canopy of pristine woodlands. Privacy and security are ensured with the community's round-the-clock guard-gated entry as well as its own road and water patrol services.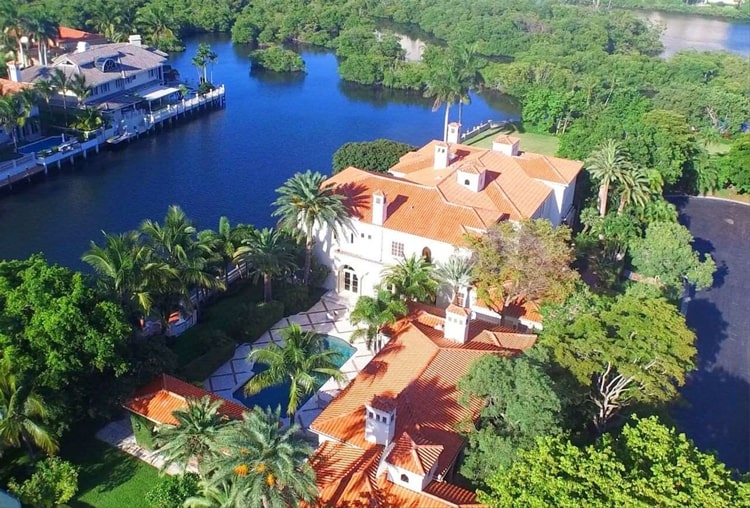 4101 Ibis Point Circle
Estates in The Sanctuary are nestled along winding tree-lined streets and finger isles, often capturing protected views over the tranquil waterway to the lush nature preserve nearby. Many residents enjoy deepwater dockage, while others have properties on expansive double lots with multi-yacht dockage available.
The Estates carries on the glamorous tradition of world-class resort living that Boca Raton is known for throughout the world. This prestigious beachside enclave features an impressive collection of estates surrounded by sumptuous tropical foliage and breathtaking natural surroundings, such as vistas of the glistening ocean nearby. Residents enjoy immediate access to the beach and a short commute to neighboring Boca Raton Resort & Club and the exclusive Royal Palm Yacht & Country Club.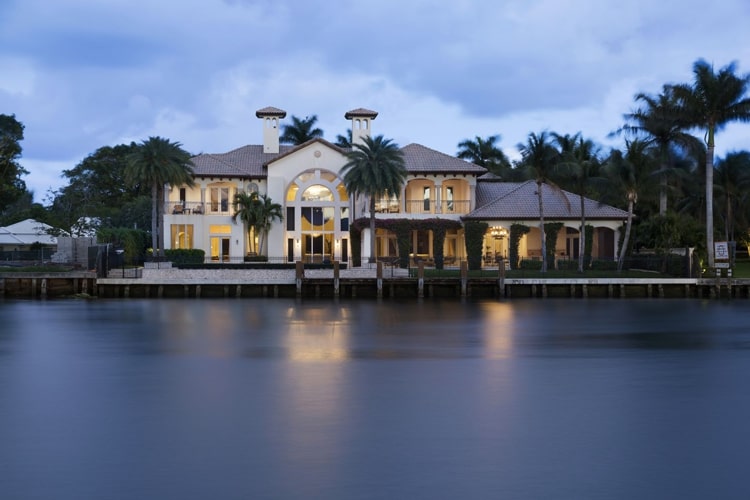 1261 Spanish River Road
Properties in The Estates are true works of art. This historic community features unusually large lots hosting some of the most spectacular properties in all of South Florida. Stately residences along the picturesque Spanish River Road front the Intracoastal Waterway, and interior lots experience the utmost in privacy and seclusion through lush landscaping and private gates. Some properties in The Estates are original 1930s homes designed by the celebrated Swiss-born architect Maurice Fatio in his signature Mediterranean Revival Style.
Tucked between the Intracoastal Waterway and the vast Atlantic Ocean lies one of Boca's hidden gems — Por La Mar. This prestigious neighborhood is one of the oldest in the region, offering a tropical oasis in the heart of Boca Raton. Yachters may park their vessels in the backyard of waterfront properties and access the ocean through the nearby Boca Raton Inlet. While several estates are located along the edge of Lake Boca Raton and the Intracoastal Waterway, all share a proximity to the white sand beaches just steps away.
Por La Mar estates are some of the most sought-after residences in all of South Florida, due to their exemplary design and picturesque setting. There are over 200 luxury properties in Por La Mar in a myriad of styles, including Old World, Tuscan, Mediterranean, and modern.
5th Avenue Estates has been nicknamed "Mansion Row," and rightfully so. This incredible collection of estate homes is quite the sight to see. Estates along 5th Avenue enjoy privacy and seclusion, as nearly each property is situated on an expansive lot with a long driveway and typically, a private gated entry. Residents may access some of Boca's finest attractions, including the sun-drenched sugar sands of the Atlantic, the world-renowned Boca Raton Resort & Club, and the fine shopping and dining of Palmetto Park Road and Mizner Park, also home to the Boca Raton Museum of Art.
5th Avenue Estates luxury homes are some of the most impressive architectural masterpieces around, ranging in style from classic Mediterranean and British West Indies designs to striking modern statements. Nearly each property in this community is located along the Intracoastal Waterway and enjoys protected yacht-dockage in a no-wake zone just minutes from the Boca Raton Inlet. Scenic views and an ideal location make this an especially attractive area for buyers.
Tucked in the central part of Boca Raton around a collection of serene lakes lies the private gated enclave of Le Lac, totalling over 200 acres of land. This exclusive community features breathtaking water views, lush greenery, access to nearby upscale amenities, and some of the most stunning properties in the area. Residents may easily access nearby golf courses, country clubs, and shopping destinations within the heart of Boca Raton.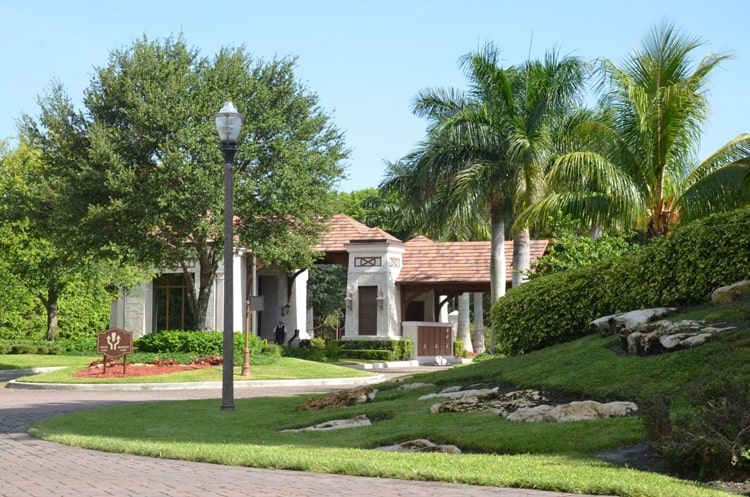 Le Lac hosts 32 estates, each of which is situated on over an acre of land. Many properties enjoy pristine water views, taking in breathtaking scenes of sparkling lakes and tropical foliage. The impressive mansions of Le Lac are completely private due to the security of the community, distance between properties, and the overall secluded feel of the neighborhood.
Long Lake Estates is a prestigious gated estate enclave tucked away on tree-lined cul-de-sacs winding their way among lush park areas and sparkling lakes. Enter through a bridge-like guard-gated entrance to the neighborhood, ensuring the utmost in privacy and security. With expansive properties of at least one acre, Long Lake Estates is comprised of less than 130 residences on the community's scenic 200-acre grounds.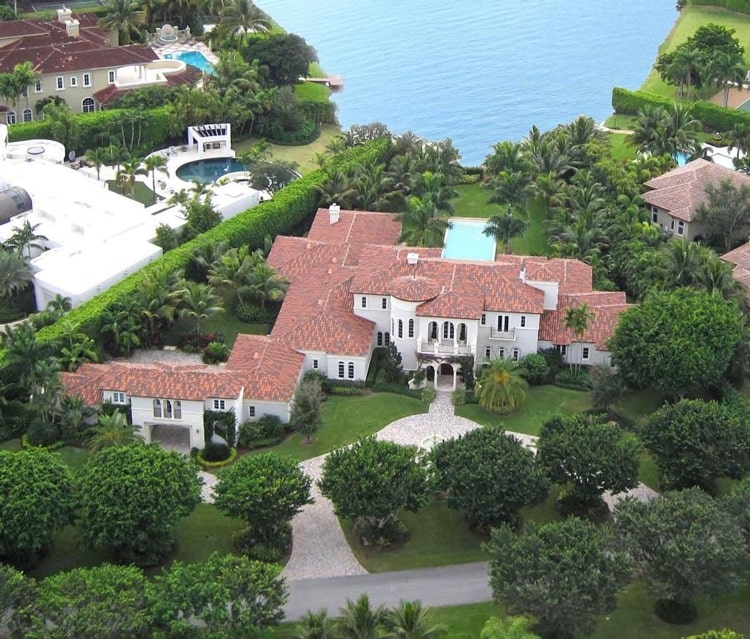 8600 Twin Lake Drive
Some of the most desirable properties in Long Lake Estates are the direct lakefront residences taking in remarkable water views and private boat docks. Each estate is custom-built with unique architectural character and special amenities. Many properties feature luxurious outdoor entertainment areas with resort-style pools and summer kitchens, and some offer the added luxury of private tennis courts.