Boca Raton is known for its many alluring features, including endless beaches, lavish estates, and an overall exotic atmosphere. Additionally, the city is home to some of the most prestigious private schools in the region, and in some cases, the world. As you search for a home in Boca Raton, proximity to an excellent private school may be of the utmost importance. If so, take a look at the most prestigious private schools in Boca Raton. Each boasts a rigorous academic program, competitive athletics, fabulous arts programs and other desirable features.
Pre-K Through 8th Grade
Pine Crest School | PK-8
Independent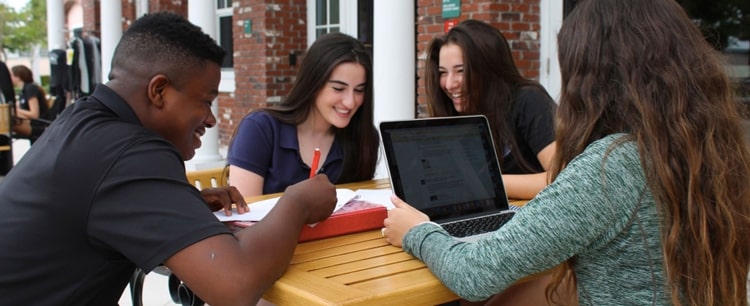 Photo Courtesy of Pine Crest School
With two campuses in both Fort Lauderdale and Boca Raton, Pine Crest School is a renowned institution rooted in academic excellence, complemented by outstanding athletics and arts. It was founded in Fort Lauderdale in 1934 and later absorbed the Boca Raton campus, which was originally Boca Raton Academy, in 1987. The Fort Lauderdale campus hosts students in pre-kindergarten through 12th grade, while the Boca campus serves pre-kindergarten through 8th grade. Pine Crest is accredited by the Southern Association of Colleges and Schools, the Southern Association of Independent Schools, the Florida Council of Independent Schools, and the Florida Kindergarten Council. It has also been named a "Blue Ribbon School" by the United States Department of Education. The Pine Crest campus is spectacular, featuring a LEED-certified Lower School building, swimming pool, tennis courts, gymnasium, garden, and most recently, an reimagined Laurie S. Silvers and Mitchell Rubenstein Library and Mintz Family Innovation Lab extension. Lush foliage surrounds this prestigious private school with stately architecture in Boca Raton.
Christian
St. Paul Lutheran School is a Christian school providing a caring, quality, Christ-centered education for students age three through grade eight. Alongside their daily exploration of the Bible and the Christian faith, St. Paul Lutheran School offers a well-balanced curriculum in the subjects of language arts, mathematics, natural sciences, social studies, fine arts, computer technology, Spanish, and physical education. They have a wonderful athletics program as well, from the physical education program implemented into their curriculum to extra-curricular sports as well. The fine arts program at St. Paul Lutheran School provides an outlet for creative expression through the four disciplines in the study of art: art production, art criticism, art history, and aesthetics.
Christian

Photo Courtesy of Spanish River Christian School
Spanish River Christian School is a rigorous private school established in 1982 as a ministry of Spanish River Church. Their mission is "to educate the whole child spiritually, socially and academically under the Lordship of Jesus Christ." The curriculum fuses a rigorous, well-rounded education with state-of-the-art technology and innovation in the classroom. Students are taught a wide range of traditional subjects that stimulate valuable creative and critical thinking skills. Technology plays a major role at Spanish River Christian School, and the campus reflects that. SRCS has an elementary computer lab, middle school computer lab, an iMac robotics lab, multiple mobile computer labs, iPad centers in the preschool and kindergarten classrooms, Chromebook centers in 1st through 3rd grade, a full media center library, and more. Technology underscores and enhances the curriculum at SRCS, enabling students to leverage new tools and methodologies in solving both current and future problems. The top-notch academic, athletic, and fine arts facilities at SRCS reflects the school's focus on a well-rounded education — both inside and outside the classroom. The emphasis on spiritual life is woven throughout each aspect of the school, as students participate in daily Bible classes, chapel programs, and other various Christ-centered programs.
Catholic
St. Jude Catholic School is focused on providing "a learning experience in which all students have the opportunity to achieve their highest potential, spiritually, emotionally and academically, while growing in the understanding that they are created and loved by God." This outstanding Catholic school provides an inviting experience for every child, whether it is in art, music, computer, and language classes, or out on the playing field with various extra-curricular activities. Students at St. Jude are always discovering, always engaged, and always learning. The faculty and staff is a dedicated, well-trained and qualified group that works closely with each child individually. The values of the Catholic faith are taught and experienced on a parish level, in daily religion classes, at all-school liturgies, and through various service activities, such as feeding the hungry or visiting the elderly.
Jewish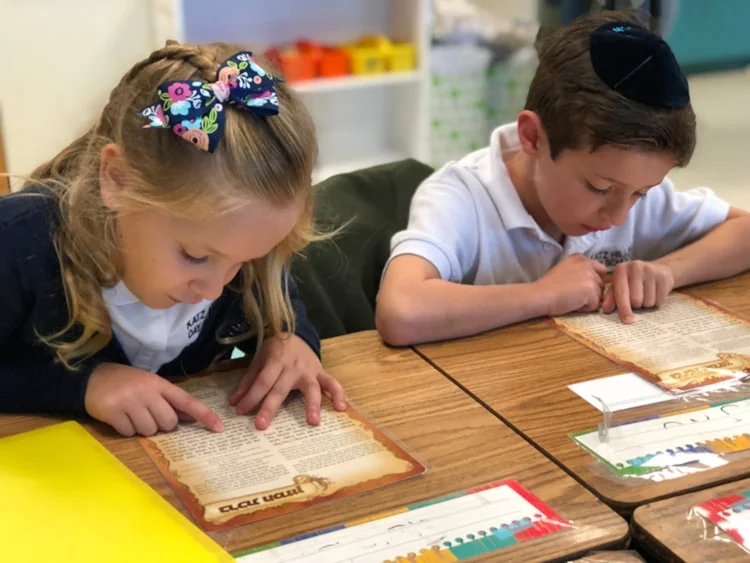 Photo Courtesy of Katz Hillel Day School
Katz Hillel Day School is a Modern Orthodox Jewish Day School with a fabulous modern 15-acre campus adjacent to the Jewish Federation of South Palm Beach County in west Boca Raton. The school maintains "an ongoing commitment to excellence in providing each student with a synthesis of Jewish and general studies and striving for excellence in all areas." The school has seen rapid growth in recent years, and they now have over 500 children ranging from 2 years old through 8th grade. The classrooms have a special environment promoting Derech Eretz (outstanding character), the love of Torah and Mitzvot, academic excellence in all areas, commitment to Israel, and bettering the world in which we live. The teachers and staff at Katz Hillel Day School work in close partnership with parents, ensuring a personalized experience for each child and their individual needs. This prestigious Jewish day school provides a dual curriculum, which includes 50 percent general studies and 50 percent Torah & Judaic studies.
Jewish
This phenomenal Jewish school is one of the fastest-growing yeshiva day schools in the country. Torah Academy of Boca Raton has three distinct campuses, including a southern campus for boys' middle school and early education, a northern campus for elementary students, and a campus for girls' middle school. At each campus, there is an evident energy and excitement for learning. Torah Academy provides a dynamic environment for the learning and understanding of Torah and its system of Jewish values. The school's promise is to "emphasize the highest standards of menschlichkeit, reflecting moral sensitivity, personal refinement, and human decency." Administration, faculty, and parents work together as a team to help each student reach their own personal, spiritual and intellectual potential. For early childhood, elementary school, boys middle school and girls middle school, Torah Academy of Boca Raton is an excellent place for children to grow, thrive and succeed.
9th Through 12th Grade
Catholic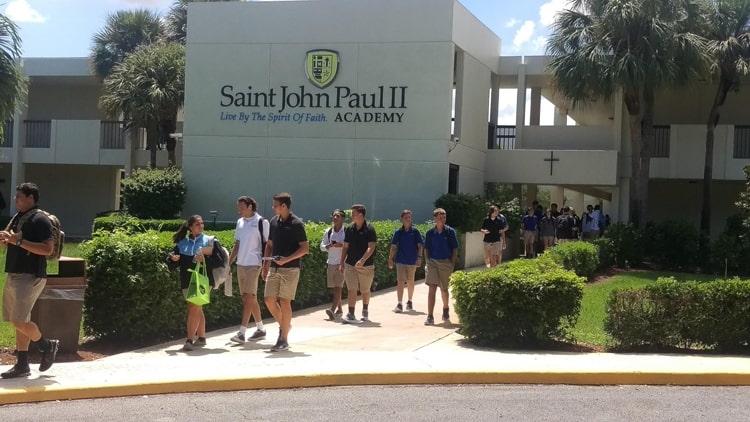 Photo Courtesy of Saint John Paul II Academy
Saint John Paul II Academy is one of the most renowned schools in the region. The school is founded and operated under the jurisdiction of the Diocese of Palm Beach and is formed by the charism of Saint John Baptist De La Salle, the founder of the Brothers of the Christian Schools. The staff is comprised of dedicated and qualified lay teachers who are committed to educating in a Catholic setting guided by long-established practices and traditions. Recipients of a Lasallian education learn to witness to their Catholic Christian identity, stand in solidarity with those who are marginalized by injustice, foster a community of faith, and celebrate the value and dignity of each person. The academy is accredited by the Southern Association of Colleges and Schools. It offers a strong college preparatory curriculum at a variety of educational levels, including Honors and Advanced Placement. Saint John Paul II Academy truly stands apart by providing an environment rich in faith, strong in morals and discipline, and a commitment to excellence in academic achievement and total human development.
Jewish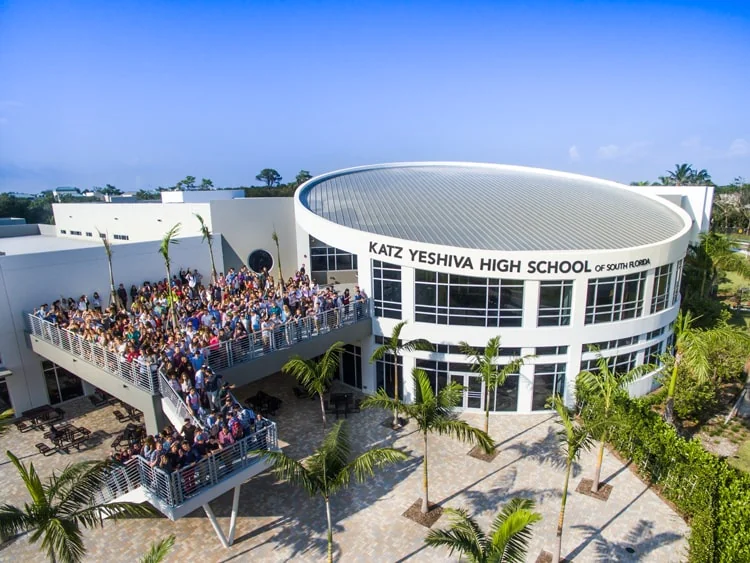 Photo Courtesy of Katz Yeshiva High School
Katz Yeshiva High School is a private Jewish high school providing a Modern Orthodox education for both male and female students in grades 9–12. Hosting over 300 students, the school is located on the campus of the Jewish Federation of South Palm Beach County. The school year at Katz Yeshiva High School is divided into three trimesters, including both religious and secular instruction. Students excel in both Judaic studies and general studies, and many continue their education after graduation at the finest yeshivot, seminaries, and universities in the world. The school is proud that over 90 percent of their graduates choose to spend at least one year of study in Israel before continuing their studies in college. From the classroom to the athletic field, the students at KYHS are actively engaged in their education and development as individuals.
Pre-K Through 12th Grade
Independent / Boarding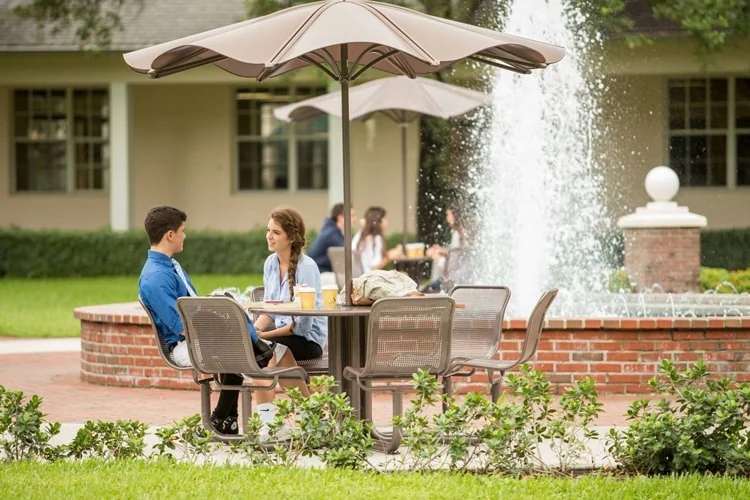 Photo Courtesy of Saint Andrew's School
Saint Andrew's School is renowned as one of the most prestigious preparatory schools in the nation. It is both a private day and boarding school for junior kindergarten students through 12th graders. Saint Andrew's is a member of the National Association of Independent Schools, Round Square, The Association of Boarding Schools, Florida Council of Independent Schools, Florida Kindergarten Council, the National Association of Episcopal Schools, and more. This independent, co-educational school has an excellent boarding school program with robust dorm life, endless extra-curricular activities, a top-notch dining program, and a positive environment for boarding students grades 9–12. The academic program at Saint Andrew's is distinguished by its breadth and depth, its collaborative environment, and the multiple experiential opportunities available for students. Each student is challenged to think critically and solve problems while they learn in a collaborative environment safe for taking risks.
Independent
This independent college preparatory, nonsectarian, co-educational day school was founded in 1997. Enrollment is offered for pre-kindergarten students through grade 12, providing a stable and comfortable environment for growth, learning, and achievement. Grandview Preparatory School provides a unique approach to the typical "preparatory" education with innovative learning experiences and an overall focus on character and values. Inside and outside the classroom, students are encouraged to discover their talents, create their own path, engage in meaningful activities, and give back to the community. This beautiful campus is located in a residential community of Boca Raton between Florida Atlantic University and the Atlantic Ocean.
Christian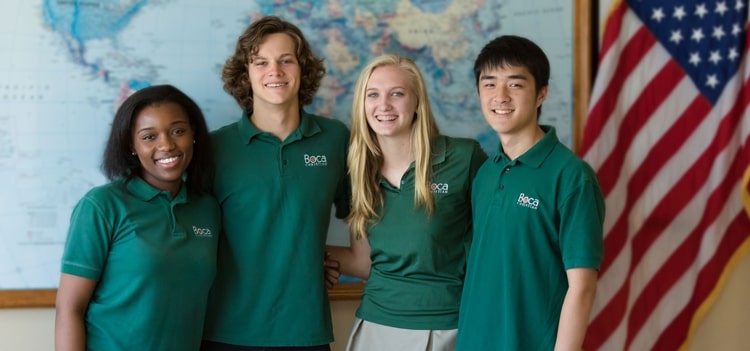 Photo Courtesy of Muñoz Photography via Boca Raton Christian School
Boca Raton Christian School has a vision "to develop Christian leaders of influence for tomorrow." They do so by encouraging children to know, love and serve Jesus Christ in a nurturing atmosphere of academic excellence. Their unique "team approach" incorporates the collaboration of school, home, and church working together to build a strong Christian foundation for each child. The school has twice been recognized as a Blue Ribbon School by the US Department of Education for excellence in education. Since 1973, Boca Raton Christian School has brought knowledge to light by promoting academic excellence in the context of a Christian worldview.
Jewish
Donna Klein Jewish Academy features a diverse and close-knit community of families across the spectrum of Jewish denominations with a common commitment to Jewish identity, heritage, and values. The vibrant energy of this community is felt on campus, located at the 100-acre Jewish Federation of South Palm Beach County — the largest Jewish campus in the country. The community of Donna Klein Jewish Academy unites in the love of knowledge, the joy of learning, and a deep passion for Judaism. The school is recognized as the only Jewish community day school in the world to have been honored as a FranklinCovey Leader In Me Lighthouse School. This honor demonstrates a leadership model of excellence emulated by schools locally, nationally and internationally. DKJA incorporates the practices of The 7 Habits of Highly Effective People in all aspects of daily life, school curriculum, and various learning opportunities.
Independent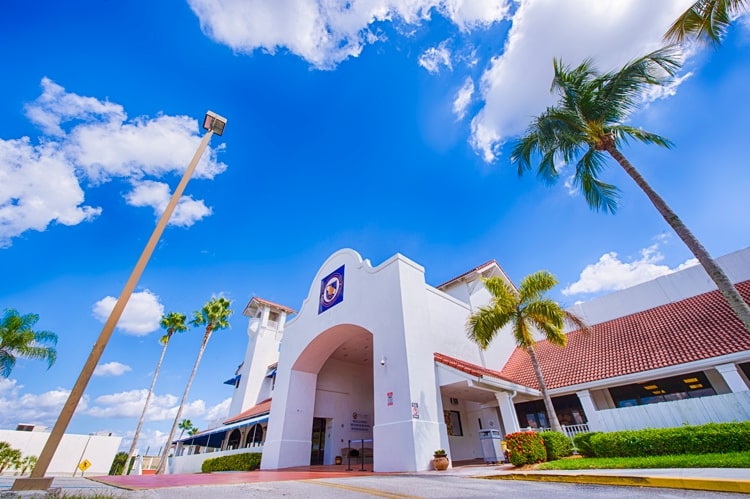 Photo Courtesy of Boca Prep International School
Boca Prep International School is a prestigious IB World School nestled along a waterway in the Mission Bay area. The school offers a full IB program from preschool through grade 12. The school truly caters to international students, as there are over 70 nationalities represented at Boca Prep International School. They are proud members of International Education Systems (IES), which includes schools in England, South Africa, and Hungary. In addition to the rigorous IB academic program at Boca Prep, students may participate in the Boca Prep Performance Program, which includes the Soccer Academy, Swim Academy, Theater Academy, Golf Academy, or any local private academy. This unique program allows students to balance intensive academics with a passion for athletics or the arts. Students may also visit or study abroad in yearly trips organized by sisters schools around the globe, including the United Kingdom, South Africa, Hungary, Panama, Slovenia, China and South America.
What private schools, in Boca, would you recommend?
We would love to know your thoughts! Let us know in the comments below.