While we appreciate a variety of architectural styles, there is something so striking and captivating about a modern home. Don't believe us? Take a look at these modern properties in Delray Beach, comprised of clean lines, high-quality materials, unique shapes, and lots of white space.
Mediterranean With a Modern Twist
Property Located at 655 Pelican Way, Listed By Pascal Liguori
From the curb, this property looks exclusively Mediterranean — but don't judge a book by its cover! The interior has a refreshing modern feel, with sleek marble floors, a loft-style glass-and-steel staircase, and other contemporary features. Access the Intracoastal Waterway just outside, as you hop inside your yacht or boat resting in your own private dock.
Chic Modern Redesigned Estate
Property Located at 10393 El Caballo, Listed By Brian + Bambi Ross
This redesigned masterpiece is nestled in an exclusive estate enclave, and includes a sports court, beautiful private pool, and a meticulously maintained yard. But it's what's inside this estate that catches our attention in particular. Every square inch is a modern work of art — from the bright and chic kitchen to the luxurious master suite.
Luxury Townhome With Intimate Outdoor Area
Property Located at 210 Venetian Drive, Listed By Pascal Liguori
This residence is one of four luxury townhomes in a new development created by the renowned Seaside Builders and architect Richard Jones. Its modern-meets-East-Indies look is so appealing to the eye. This three-level townhome includes a private pool surrounded by an intimate outdoor area with lush landscaping. Plus, beachgoers can walk just two blocks to reach the alluring sugar sands of the Atlantic.
Coastal Contemporary With Rooftop Pool
Property Located at 1017 Bucida Road B, Listed By Judith Lukens + Kim Lekas
This light and inspiring masterpiece by architect Randall Stofft is situated just steps from the sea. This brand new coastal contemporary residence is one of three in this enclave. Highlights include walls of glass, natural architectural elements, a rooftop pool, and seamless indoor/outdoor living.
Brand New Townhome at 150 Oceanside
Property Located at 156 Andrews Avenue, Listed By Pascal Liguori
150 Oceanside is a brand new enclave of six homes in the heart of a vibrant, charming community in Delray Beach. The interior matches its striking modern exterior, with a contemporary upscale kitchen, three floors of open floor plan living space, and a secluded rooftop deck — all accessible via a private, four-story elevator.
Classic Meets Modern
Property Located at 710 SE 8th Street, Listed By Judith Lukens + Kim Lekas
This modern Mediterranean estate is located on a tranquil basin-like waterway, providing a picturesque setting for outdoor entertaining by the sparkling saltwater pool and spa. The interior features a mixture of classic, elegant design and an overall modern, sleek feel. The abundance of white space and natural light creates an inviting and refreshing atmosphere.
Dramatic Architectural Wonder
Property Located at 202 Venetian Drive, Listed By Pascal Liguori
This brand new modern estate was masterfully crafted by Seaside Builders and Richard Jones Architecture. The dramatic architectural flair of the exterior is simply a taste of its luxurious interior complete with sweeping, open floorplans, floor-to-ceiling glass, clean lines, and a three-story foyer.
Stunning New Townhomes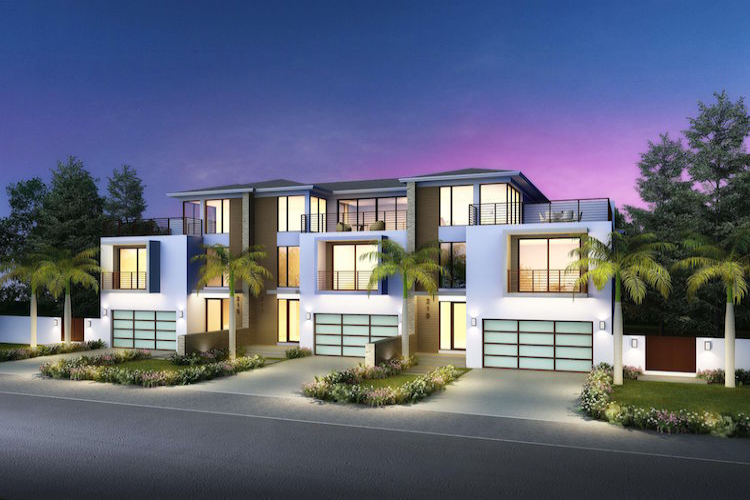 Property Located at 215 Macfarlane Drive, Listed By Pascal Liguori
Seaside Builders is constructing this brand new collection of three modern luxury townhomes just steps from the celebrated beaches of Delray. The two end units are identical, and the middle unit features more square footage and a slightly different layout. However, all three units include three stories, impact-resistant glass doors, a state-of-the-art open kitchen, an interior balcony, a spacious master suite, a clubroom, a rooftop terrace, and more. Every bedroom in all three units has its own private balcony and full bathroom, providing the ultimate arrangement for guests.
Which modern property catches your eye?
We would love to know! Let us know in the comments below.