In addition to all of the activity found in Fort Lauderdale, from vibrant nightlife destinations to luxurious yachting adventures amidst scenic canals, there is so much to do as a family as well. There are plenty of kid-friendly activities in Fort Lauderdale, including boat and trolley rides, indoor playgrounds, fascinating museums, and endless outdoor recreation. Take a look at some of our favorite things to do with kids in Fort Lauderdale, with options to suit all ages and interests!
Outdoor Fun
Hop on board a pirate ship with Bluefoot Pirate Adventures to search for a hidden treasure throughout the Intracoastal! This fun and interactive pirate cruise is designed for kids who can help pirates find a hidden treasure, learn pirate talk, dress like a pirate and ward off attacks of rival pirates with water cannons. This is a fun waterway cruise for the whole family! General tickets for ages 3 and up are $25 per person and $6.50 for Junior Pirates ages 2 and under. Pirate add-ons, including an eye patch, bandana, and sword, are $7.95 per person.
Located just north of Fort Lauderdale, Butterfly World is a popular destination for kids and adults alike. Housing around 20,000 live butterflies, Butterfly World is the largest butterfly park in the world and the first park of its kind in the Western Hemisphere. This exotic park features hundreds of birds in six aviaries, a bug zoo, waterfalls, botanical gardens, and of course — thousands of butterflies from every corner of the globe. Admission to Butterfly World is $29.95 for adults and seniors, $21.95 for children ages 3–11, and free for children under 2. Follow Butterfly World on Facebook and Instagram to stay in the know about upcoming events and other updates!
Everglades Holiday Park is an alligator park in Fort Lauderdale attracting locals and visitors alike. The park operates Everglades airboat tours, live gator shows, animal encounters, boat rentals and much more. This is the perfect day trip for adults and kids of all ages! Climb aboard one of their state-of-the-art vessels and venture into the heart of the River of Grass, where expert captains will take you on a 60-minute narrated tour of the Everglades, pointing out some of Florida's most exotic wildlife. This is an experience you — and the kids — will never forget!
For the future surfer in your family, surf lessons are an excellent option — especially along the beautiful beaches of South Florida. EZride Surf School offers professional surf lessons and ocean education for residents and vacationers from all over the world. They provide surf lessons seven days a week for all ages, at many beaches in the area, including Fort Lauderdale, Boca Raton, Deerfield Beach, West Palm Beach and more. Contact EZride to set up lessons for your little surfer!
Located just west of Fort Lauderdale in Davie, Flamingo Gardens is a haven for visitors of all ages, as there is no shortage of attractions. The 60-acre botanical garden and Everglade wildlife sanctuary feature over 3,000 species of rare and exotic, tropical, subtropical, and native plants and trees. Plus, the wildlife sanctuary is home to the largest collection of Florida native wildlife, including alligators, bobcats, eagles, otters, panthers, peacock and of course — flamingos! This beautiful natural habitat is one of the oldest botanical gardens and attractions in South Florida and has become a popular attraction since its establishment in 1927.
Video courtesy of Funky Fish Ocean Camp
This award-winning program is designed to create a connection between children and the ocean. Funky Fish Ocean Camp is a one-of-a-kind drop-off experience, offering non-stop adventure for kids and a day of relaxation for you. Your child will experience the pool and shallow ocean water through professional snorkeling lessons, skimboarding, boogie boarding, paddle boarding lessons, marine science and repurposed ocean art. Funky Fish Ocean Camp has several locations in the area, including Bahia Mar Resort, Pelican Grand Beach Resort, and Fort Lauderdale Beach Park! The camp operates from 10 a.m. to 3 p.m. 364 days of the year.
Consider a unique form of transportation the next time you're headed to the beach with the kids. Hop on board the Fort Lauderdale Water Taxi, which provides safe and enjoyable transportation alternatives to your destination. Whether you would like to learn more about the city's many mega-yachts and mansions, head to a nearby restaurant, go shopping, enjoy live music, hit the beach, or learn more about the city's history and rich culture, the Fort Lauderdale Water Taxi can take you there!
Hugh Taylor Birch State Park is a scenic sanctuary in the heart of the city. The park encompasses 180 acres of land between the Intracoastal Waterway and SR A1A. Visitors enjoy endless outdoor recreation, including canoeing, fishing, hiking, biking, picnicking, camping and more. This is a fun place to spend the day with kids, whether you want to embark on a canoeing adventure or simply enjoy a picnic in the shade!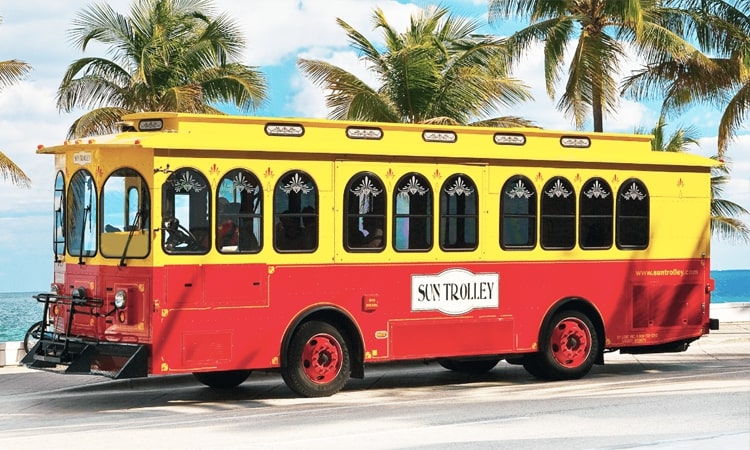 Photo courtesy of John Flanagan via Fort Lauderdale Sun Trolley
A trolley ride is always a fun experience for little ones! The Fort Lauderdale Sun Trolley offers an incredible view of the city — whether you're visiting for the first time or you've lived in the area for years. Boarding the trolley is quite easy. Simply position yourself in a safe spot along any of the trolley's seven routes, wave to the driver much like you would hailing a cab, and get on board! And when you're ready to get off the trolley, let the driver know where and they will drop you off. Track the trolley using their special mobile app or with the desktop tracker. All routes are free except for the Beach and Las Olas link, which is $1 per ride or $3 for an all-day pass.
Indoor Fun:
The Florida Children's Theatre is an educational center for theatre arts, serving children and families throughout South Florida. Founded in 1952 by two mothers and officially incorporated in 1959, it is the oldest documented children's theatre in the state of Florida. Each year, FLCT produces a season of five mainstage productions and year-round classes in acting, creative drama, and other theatre-related skills. Check out the schedule for upcoming shows or enroll your child in a class or camp to expand on their acting skills!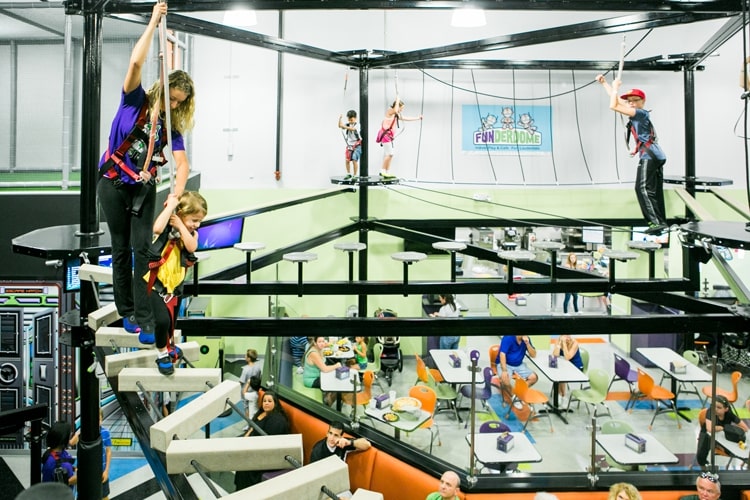 Photo courtesy of Funderdome Indoor Playground & Cafe
Funderdome is an indoor wonderland for kids, offering endless fun for all ages — from a safe and laid-back toddler zone to an action-packed space quadrant laser maze. This indoor playground is open seven days a week with activities for kids ages 6 months through 13 years old. Adults are welcome to tag along or relax in the cafe while the kids get their energy out! Other activities and attractions include a ropes course, a ball blaster arena, a climbing wall, slides and much more.
Visit Mai Kai for dinner and a show. Kids love the excitement and whim of this enchanting restaurant in the heart of Fort Lauderdale! Mai Kai offers a one-of-a-kind Polynesian show while you dine in tropical surrounds, enjoying an array of authentic dishes, including Hawaiian specialties, Thai dishes, and Chinese food. This is a magical experience for all ages, as you're transcended to another universe with the intricate decor, exciting show, and delicious food and drinks.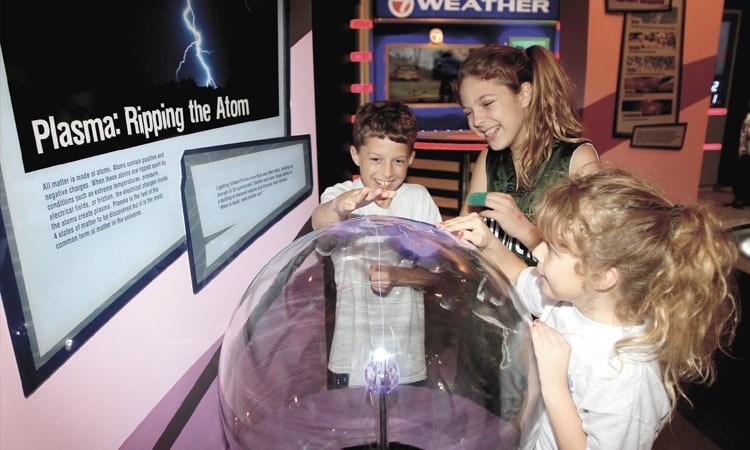 Photo courtesy of Museum of Discovery and Science
Bring education to life with a visit to the Museum of Discovery and Science, one of the largest museums of its kind in Florida. The mission of the museum is to provide experiential pathways to lifelong learning in science for children and adults through exhibits, programs, and films. The AutoNation 3D IMAX theater is a destination all its own — showing larger-than-life films viewers can only experience with special glasses and headsets. Other attractions at the museum include ecoscapes, a simulated ride to Mars, a simulated airboat ride in the Everglades, a MaxFlight airplane simulator, and a number of Floridian animal displays. The Museum of Discovery and Science is open from 10 a.m.–5 p.m. Monday through Saturday, and 12–5 p.m. on Sundays.
There is no shortage of activity at Xtreme Action Park, the largest indoor entertainment venue in Florida. The park offers 200,000 square feet of exciting attractions and event spaces, including go-kart racing, bowling, arcade games, a ropes course, a trampoline park, roller skating, escape rooms and much more! Fuel up for a day of fun at the All-American Cafe and a sweet treat at the Hershey's Shake Shoppe. All activities at Xtreme Action Park vary in price, depending on your interests!
Young at Art Museum is where imagination, education, and discovery come together in exciting and new ways. The museum allows children of all ages to experience a variety of sounds, textures and sights throughout their many exhibits, art institute and the teen center. YAA is a place for families to gather and for children to build a sense of identity through art, architecture, history and culture. Ride a subway, visit a cave, and discover a dig in ArtScapes. Stomp to the rhythm, build sand sculptures, and construct recycled puppets in GreenScapes. Learn about faraway customs around the globe in CultureScapes. And create a masterpiece in every gallery. The possibilities are endless at Young at Art Museum!
Let the kids get their energy out — even on a rainy or gloomy day. Sky Zone is an exciting indoor trampoline park with a number of fun-filled attractions, including a freestyle jump area, ultimate dodgeball, a foam zone, SkySlam, a ladder suspended over a foam pit, and more! This indoor park offers endless fun for all ages — including your littlest ones. This Sky Zone location offers a special Toddler Time on Tuesday, Saturday and Sunday mornings!
The idea for Flippo's Kids Indoor Playground came from one mom's quest to find a safe indoor play facility in South Florida for her two kids. Victoria Kim, her husband, and their two boys brainstormed, researched and built what is now Flippo's, an indoor playground with a myriad of attractions to suit every age. Attractions include the main playground, a laser maze, a toddler area, a ball blaster and more!
What kid-approved activities do you love?
We'd love to know what your little ones enjoy doing — either inside and outside. Let us know in the comments below!