Boca Raton provides an enchanting and luxurious atmosphere for both residents and visitors alike, with miles of sugar sand beaches, lavish estates, and a tropical atmosphere. This sophisticated beach town is a popular vacation destination for these desirable features and many more, including the city's outstanding cuisine. You will find a myriad of dining options in Boca Raton, from fresh seafood to mouthwatering steaks, and everything in between. Embark on a culinary tour as we explore some of Boca's healthiest eateries in addition to a few juice bars for a dose of on-the-go nutrition.
1901 North Military Trail | Make a Reservation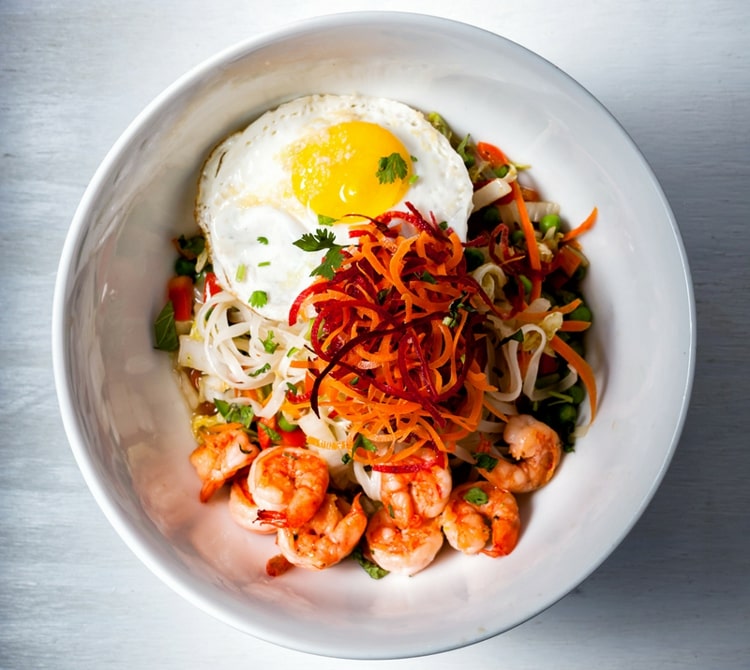 Photo Courtesy of Papphoto via Farmer's Table
Adjacent to the Wyndham Hotel, you will discover Farmer's Table, a healthy and ethically conscious eatery. Absolutely every plate on their breakfast, brunch, lunch and dinner menus has been sourced ethically and cleanly, and you will find an abundance of fresh whole foods without excess salt, fats, antibiotics and hormones. In fact, the long list of ways Farmer's Table is committed to all things organic, fresh, sustainable and local is quite overwhelming — in the best way possible. Retreat to the warm, inviting and rustic interior of Farmer's Table, or bask in the sunshine on their tropical outdoor patio.
399 Southeast Mizner Boulevard | Make a Reservation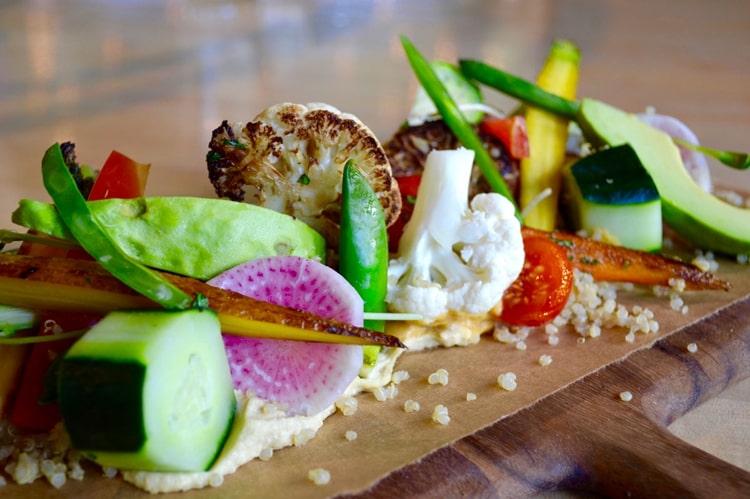 Photo Courtesy of the Farmhouse Kitchen
The Farmhouse Kitchen has crafted a menu designed for clean eating, serving seasonal, sustainable, locally sourced ingredients within creative dishes that exude ingenuity with every bite. The Farmhouse Kitchen promotes a farm-fresh lifestyle in many ways, including their Vero water program, a water purification program providing eco-friendly still and sparkling water to guests in reusable one-liter glass bottles. Their menus are filled with a myriad of tasty options, including fresh salads, sandwiches, burgers and other delicious entrees.
2300 Northwest Executive Center Drive | Make a Reservation
Seasons 52 is a renowned restaurant with several locations throughout the nation, each of which maintains a seasonal focus — and their location in Boca Raton is no exception. Their seasonally inspired menus feature ingredients at their peak of freshness, and their rustic cooking techniques bring out tantalizing, natural flavors. Sit back and relax in the casual yet sophisticated setting of Seasons 52 in Boca Raton with a glass of wine selected from their diverse global wines menu. In addition to their regular menus, Seasons 52 offers options for those who are lactose and dairy-sensitive, gluten sensitive, vegetarian or vegan.
21170 Saint Andrews Boulevard #5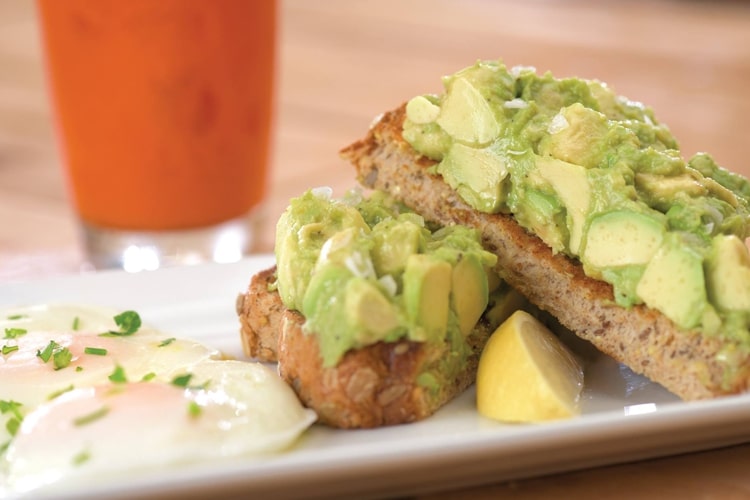 Photo Courtesy of First Watch
Grab a quick and healthy breakfast, brunch or lunch at First Watch, where everything is made to order and freshness is never compromised. While they serve an abundance of hearty options, like pancakes and waffles, First Watch puts an emphasis on their healthy options, such as avocado toast, their superfoods bowl, light wraps and more. Pair your meal with one of their powerful juices, including the Kale Tonic, Turmeric Lemon Aid and Morning Meditation. This laid-back and fresh eatery is the perfect place to kickstart an adventurous day in Boca Raton.
455 East Palmetto Park Road | Make a Reservation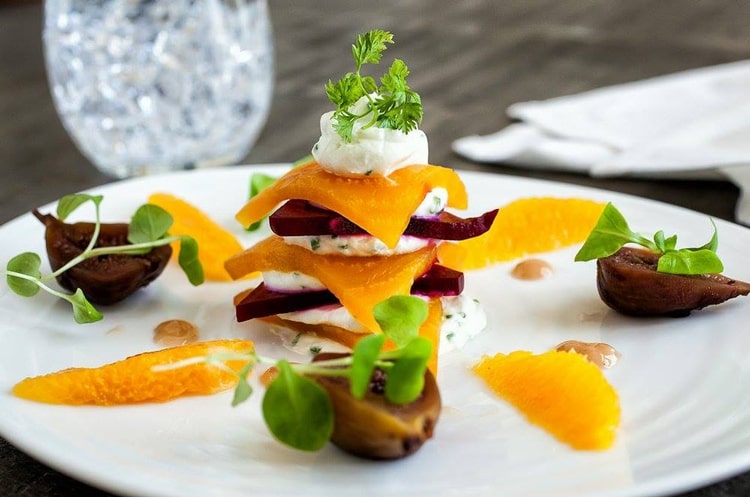 Photo Courtesy of La Nouvelle Maison
This enchanting French eatery has both a stunning, elegant interior and superb, modern cuisine. At La Nouvelle Maison, each dish is meticulously presented in an artful manner, made with local and organic ingredients. La Nouvelle Maison, or "the new house", puts a fresh twist on a traditional French restaurant, providing an unforgettable experience for guests. Dress up and retreat to this remarkable eatery for a date night or to celebrate a special occasion.
5820 Glades Road | Make a Reservation
Pause your shopping trip at the Town Center at Boca Raton for a healthy and delicious bite to eat at Bazille, located within Nordstrom. Much like their quality of clothing, shoes, makeup and accessories, Nordstrom has a lineup of wonderful restaurants incorporating local, organic and healthy ingredients into their dishes. They do not use hydrogenated or partially hydrogenated fats or oils, serve fairtrade and organic coffee, and use environmentally friendly products and packaging. This is the perfect pit stop for a healthy meal while you decide which shoes you want to buy!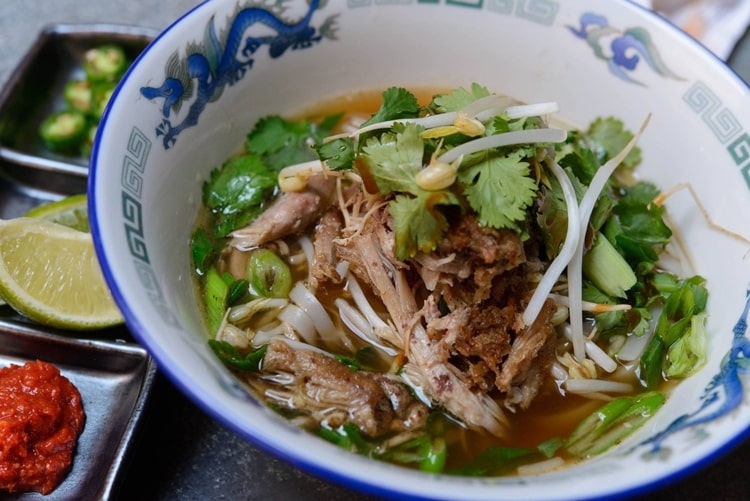 Photo Courtesy of Kelly Coulson via Kapow! Noodle Bar
Stop by Kapow! Noodle Bar in Mizner Park for a refreshing break from white-table establishments. This trendy noodle bar serves some of the freshest dishes around, including Japanese ramen, Vietnamese wings, Chinese dim sum and more. Kapow! is the latest endeavor from South Florida restaurateurs Scott Frielich, Vaughan Dugan and Rodney Mayo. Their restaurant incorporates a unique blend of Asian cuisine with a fun French Vietnamese flair, using fresh, locally sourced ingredients. Dining at this laid-back eatery is an exciting gastronomic experience, and it makes for an excellent pit-stop while shopping at Mizner Park!
6000 Glades Road | Make a Reservation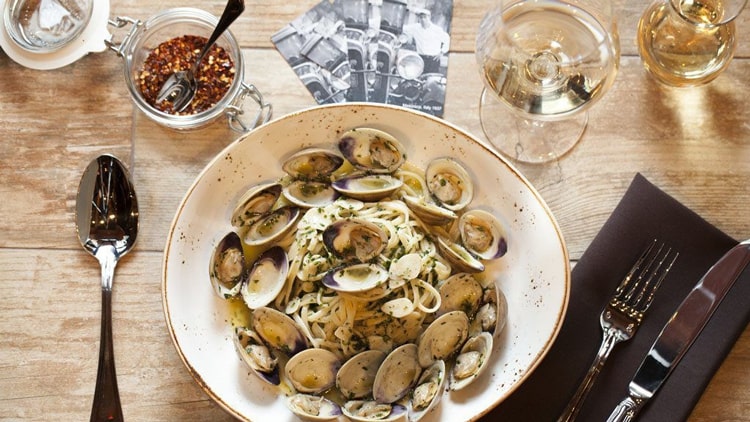 Photo Courtesy of Yulya Opravina via DaVinci's of Boca
It's no secret that when it comes to cuisine, the Italians are doing it right. DaVinci's of Boca is owned and operated by the Carvelli family originally from Mesoraca, Italy. Much like their hometown located between two rivers in Southern Italy, the menu at DaVinci's is divided into two categories — "Classico", featuring authentic family recipes, and "Moderno", showcasing inventive recipes from their chefs, Francesco Carvelli and Chris De Genova. Much like any authentic Italian restaurant, DaVinci's uses only the freshest ingredients and whole foods to create a conscientious and delectable menu. Dine in their comfortable and luxurious interior or out on the airy outdoor patio, while you're swept away to Southern Italy with every bite.
9101 Lakeridge Boulevard | Make a Reservation
This modern French restaurant serves fresh, locally sourced food with an emphasis on Mediterranean flavors. Their bright and comfortable atmosphere provides the perfect setting to enjoy their updated twist on French classics, including Foie Gras Terrine, Moules Frites and Escargots. The local theme continues with their drink options focusing on boutique vineyards, beers from local microbreweries, and hand-crafted cocktails. This fun and refreshing French restaurant is the perfect destination for seasonally and internationally inspired dishes.
---
JUICE BARS
Pause your Boca shopping or beach trip to fuel up with a refreshing and nutrition-packed juice from a local juicery. If you're looking for something a little more filling, each of these juice bars serves food as well! This is the perfect solution for a quick, on-the-go snack.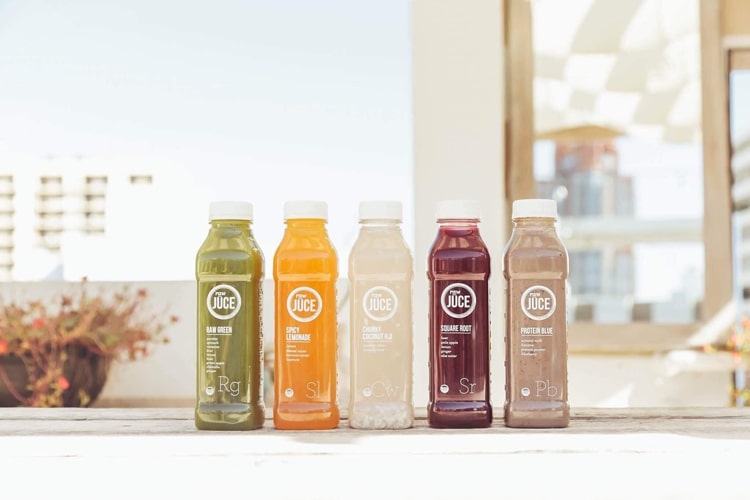 Photo Courtesy of Raw Juce
All the delicious offerings at Raw Juce are created with 100% organic ingredients sourced from local purveyors. Each juice is cold-pressed, ensuring that the vital enzymes, nutrients and minerals stay intact. In addition to their popular juices, Raw Juce serves a myriad of options, including acai bowls, oatmeals, salads and other treats.
If you've visited Juice & Java Cafe and Fresh Kitchen, you will be pleased to discover that the two have now joined forces as J&J Fresh Kitchen. From natural, wholesome juices to delicious made-from-scratch food, J&J Fresh Kitchen provides an array of healthy options. Their commitment to health extends beyond the stomach, as they utilize sustainable practices in their low-impact kitchen.
Grab the perfect snack for your beach trip at 3 Natives, which is located just minutes from the water. Sip on a cold-pressed juice or smoothie, dig into an acai bowl made with organic acai, granola and locally sourced fruit, or choose a flavor-packed wrap or salad. Not only do they offer undeniable nutritional options, 3 Natives believes in protecting the environment and supporting the local economy.
Whether you're searching for a caffeinated pick-me-up, a nutrient-packed juice, or a healthy meal, Apura Juicery & Coffeehouse has you covered. They serve fresh cold-brewed coffee, 15+ cold-pressed juices made in-house featuring exotic flavor combinations, and plant-based cuisine that is minimally processed. Their fresh and creative dishes are so delicious that you won't notice they're raw, vegan and gluten-free!
Which healthy eateries would you recommend?
We'd love to know! Let us know your favorite in the comments below.