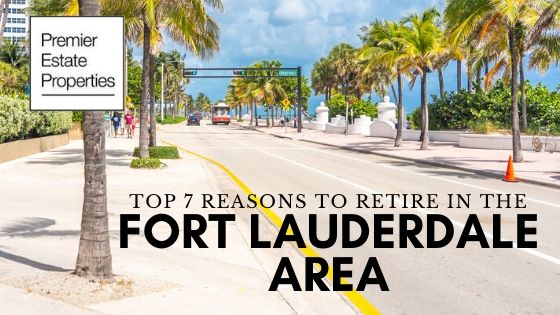 You have worked hard your entire life, and now it's time to enjoy the fruits of your labors. Fort Lauderdale homes for sale are the perfect place to put your feet up and rest by the Atlantic. You are going to need it because there are so many things to see and do in the area to keep you busy in your golden years.
7 Reasons to Retire in Fort Lauderdale
Beautiful Scenery and Plenty of Parks

Fort Lauderdale is one of the most beautiful cities in Florida. There are more than 1,500 varieties of palm trees that fill every park in the city. You can stroll along the beach, take a drive up the Intracoastal Waterway, or enjoy the water on your boat.

All the Activities You Could Possibly Desire

Short of downhill skiing, there is very little you can't do in Fort Lauderdale. You can cruise down the city's many bike paths or play golf galore at the Fort Lauderdale Country Club or any of a dozen other golf courses. You can swim in the surf, fish on a boat offshore, take up a new hobby, or sit back and write your memoirs. If you want to learn to paint or craft a sculpture, you will find one of the most thriving artist communities in the country.

Food, Food, and More Food

Fort Lauderdale is home to everything from the Chima Steakhouse to the delicious delicacies served up at Louie Bossi's Italian Ristorante. In Fort Lauderdale, the dining options are endless and cater to all types of diners.

A Diverse and Well-Blended Community

Fort Lauderdale isn't a retirement community. It's filled with older people and young, singles and couples, families, and friends. Practically every demographic is represented, and you will be welcomed into the community with open arms. The city is one of the most diverse, multi-cultural communities in America, and this is reflected in the arts, culture, and conversations you will enjoy as the city's newest resident.

Warm Weather Year Round

You can leave your snow shovel in your garage when you sell your home. Fort Lauderdale has just under 250 days of sunshine throughout the year. With an average high temperature of 83º and an average low of 68º, you probably won't even need to pack a sweater.

Your Health Will Improve

Fresh air, warm sun, and friendly neighbors will do wonders for your health. You will find plenty of healthcare facilities, doctor's offices, dentists, and others who can help you stay healthy.

Location, Location, Location

The excitement of Miami is down the road, and the family fun of Orlando is just a couple hours to the north. You can head off for a weekend in the Florida Keys, or spend a day exploring the Everglades. Pretty much everything you could want to see or do in Florida is a few hours away from Fort Lauderdale. Best of all, it's easily accessible via a well-maintained network of highways.
Our Estate Agents are always ready to discuss the many reasons you will enjoy retiring in Fort Lauderdale. We invite you to Contact us to learn more about the area and the things you can see and experience when you move into the community.