Whether you prefer savory or sweet, you can certainly agree that brunch is an essential part of any weekend routine. It offers an excuse to enjoy breakfast foods well past noon, sip on a refreshing mimosa, and dine al fresco at some of the city's finest eateries. Delray Beach is packed with a number of popular brunch destinations, renowned for their robust menus, sophisticated surroundings and spectacular drink options. Head to one of these Delray hotspots for an exciting weekend adventure in Benedicts and Bloody Marys.
Saturday + Sunday 11 a.m.–3 p.m. | 200 Northeast 2nd Avenue Brunch Menu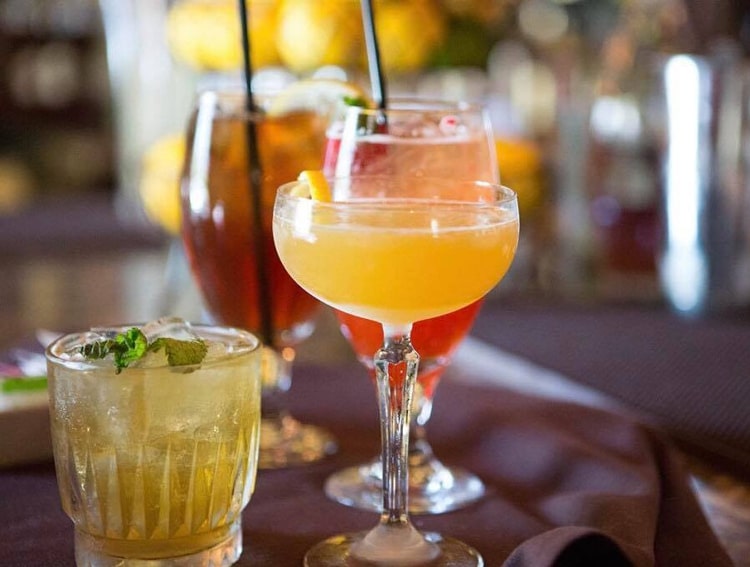 Photo Courtesy of Brulé Bistro
Brulé Bistro believes in locally sourced ingredients, seasonally inspired menus, local craft breweries, eclectic wines, and craft cocktails. It's also clear they believe in serving an exceptional brunch. This New American gem serves a simple brunch menu on Saturday and Sunday consisting of a BLTE sandwich, an omelette, a breakfast club, and more. Pair your selection with a housemade Bloody Mary, a mimosa or a bourbon-based blackberry bullet cocktail.
Saturday + Sunday 10:30 a.m.–2 p.m. | 106 South Swinton Avenue Saturday Brunch Menu + Sunday Brunch Menu
Sundy House serves a diverse collection of classic American dishes, highlighted by fresh ingredients, that are expertly prepared and presented. Don't miss their new Saturday a La Carte Brunch, best enjoyed in their lush tropical botanical gardens, complemented by live music. The most popular dining experience at Sundy House is their Sunday Brunch, costing $75 per person, plus tax and gratuity. The Sunday Brunch includes a delectable buffet menu featuring the freshest ingredients and specialty creations, plus mimosas and Bloody Marys. Reservations are recommended for Sunday brunch at Sundy House.
Saturday + Sunday 10 a.m.–3 p.m. | 50 South Ocean Boulevard Brunch Menu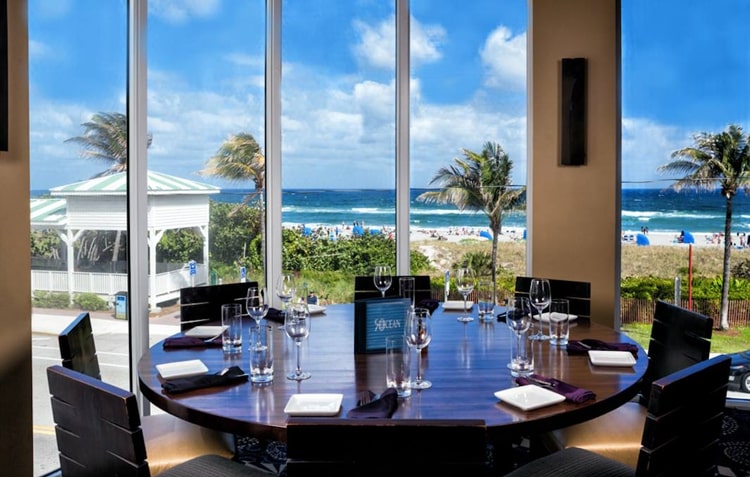 Photo Courtesy of Papp Photo via 50 Ocean
Brunch at 50 Ocean is made all the more enjoyable due to its location directly along the Atlantic. Take in endless views of ocean vistas as you explore their exceptional brunch menu, available both Saturday and Sunday from 10 a.m. to 3 p.m. Each brunch features a "build-your-own" Grey Goose Bloody Mary Bar with over 30 ingredients, including pickles, olives, sweet chili asparagus, pepperoni, cheeses, hot sauces and more. Or opt for Endless Mimosas during your brunch feast! Their contemporary menu is packed with excitement and robust flavor, from the lobster avocado toast to the blueberry quinoa pancakes.
Saturday 11 a.m.–3 p.m. + Sunday 10 a.m.–3 p.m. | 213 East Atlantic Avenue Brunch Menu
Located in the heart of all the activity in Delray Beach, City Oyster serves some of the freshest seafood in the area, with a full sushi bar and a rotating selection of fresh oysters from the East and West Coast. Their brunch menu covers a wide range of subjects, whether you're craving a salad, a sandwich, a simple pastry, waffles or pancakes, or their famous seafood dishes. Pair your selection with unlimited mimosas or endless Bloody Marys, each available for $13.
Every Day 7 a.m.–3 p.m. | 34 South Ocean Boulevard Brunch Menu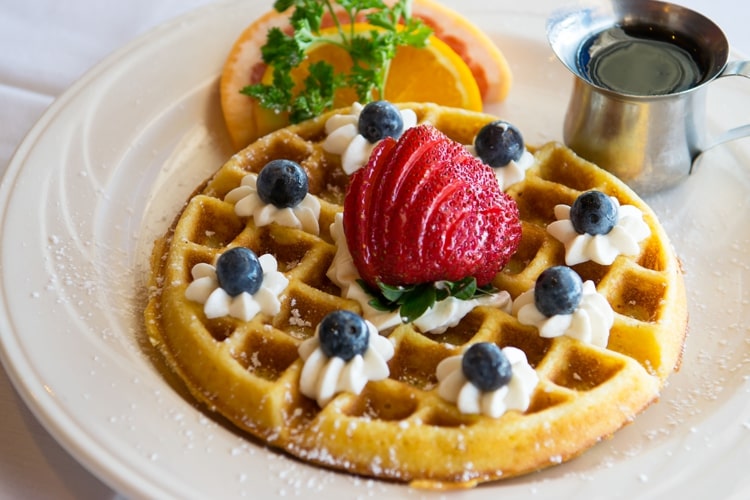 Photo Courtesy of Caffe Luna Rosa
Caffe Luna Rosa is a longtime favorite eatery for Delray residents and visitors alike thanks to their delicious offerings, idyllic location, and of course, their daily brunch. That's right — you can order brunch at Caffe Luna Rosa any day of the week between 7 a.m. and 3 p.m. You can't go wrong with anything on the extensive menu, featuring an array of benedict specials, omelettes and wraps, pancakes, waffles, French toast, seafood, sandwiches, salads, and other entrees.
Saturday + Sunday 10 a.m.–2:30 p.m. | 169 Northeast 2nd Avenue Brunch Menu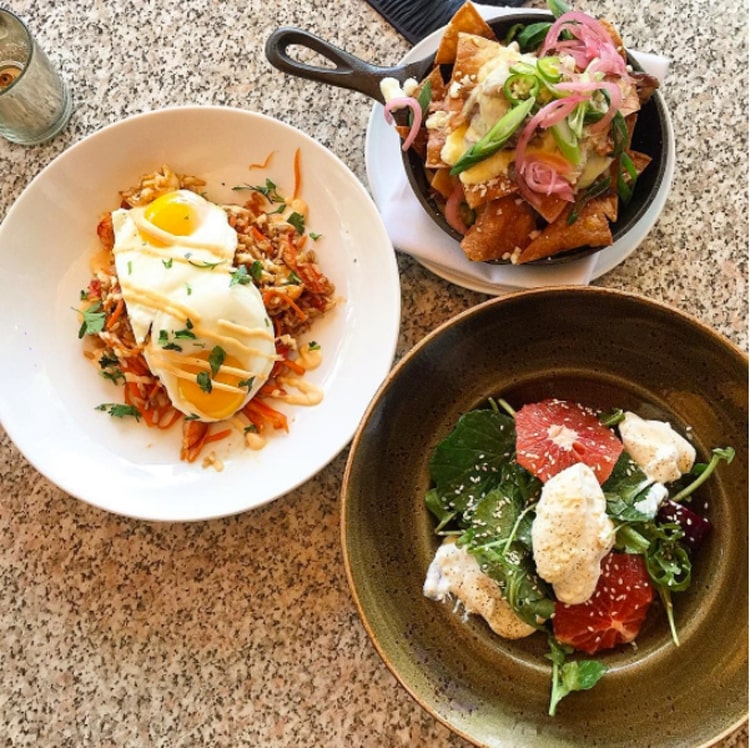 Photo Courtesy of Max's Harvest
The iconic brunch at Max's Harvest should not be missed. Kick things off with their unlimited interactive Bloody Mary and champagne cocktail bar for $15. Then delve into their simple yet well-rounded brunch menu, serving everything from fresh greens to a hearty chicken and waffles dish. This stylish and laid-back eatery offers both indoor and outdoor seating, providing the perfect environment for savoring your weekend brunch.
Saturday 11 a.m.–3 p.m. + Sunday 10 a.m.–3 p.m. | 32 Southeast 2nd Avenue Brunch Menu
Park Tavern is an excellent destination for flavorful and innovative fare any day of the week — especially on Saturdays and Sundays during brunch. This comfortable and laid-back eatery has a refreshing industrial feel, and is situated right in the heart of all the activity along Atlantic Avenue. While their brunch menu features a wide array of unique twists on brunch must-haves, from sweet potato pancakes to deviled eggs with blue cheese and bacon bits, it's their drink options that has us doing a double-take. You can get bottomless mimosas or Bloody Marys at Park Tavern for just $9 while brunch is served, or $12 for an unlimited combination of the two!
Saturday + Sunday 10:30 a.m.–2 p.m. | 840 East Atlantic Avenue Brunch Menu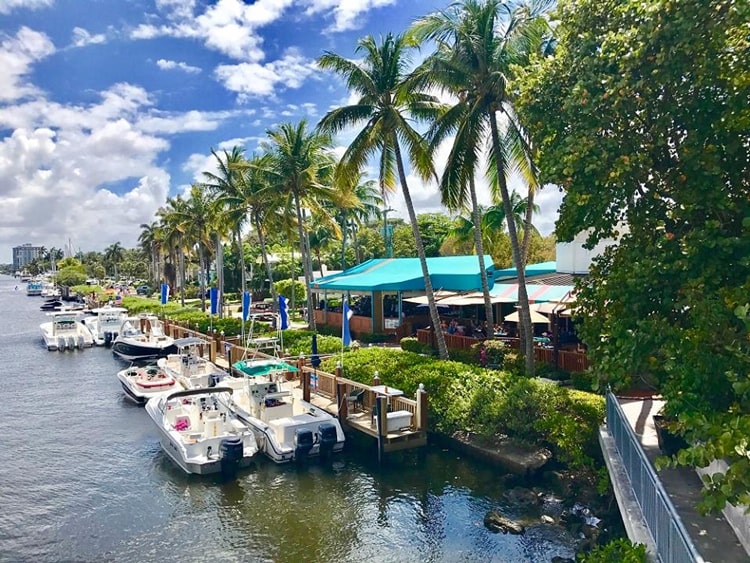 Photo Courtesy of Deck 84
There is nothing quite as quintessential to Delray Beach as dining along the water's edge. Voted one of the Top 100 Al Fresco Dining Restaurants in American by OpenTable for a number of years, Deck 84 brings casual waterfront dining to the heart of downtown Delray Beach. Savor their brunch menu filled with all the classics, such as Eggs Benedict and huevos rancheros, while boats pass by along the sparkling Intracoastal. You can even arrive at Deck 84 by boat and take advantage of 150 feet of easy-access dock space. If you bring your catch, they'll cook it for you!
Gary Rack's Farmhouse Kitchen
Saturday + Sunday 9 a.m.–3 p.m. | 204 East Atlantic Avenue Brunch Menu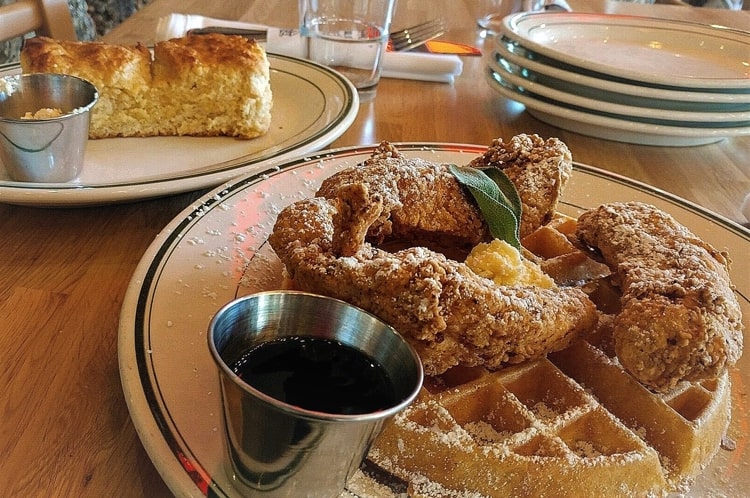 Photo Courtesy of Gary Rack's Farmhouse Kitchen
Gary Rack's Farmhouse Kitchen is serving up some of the freshest and healthiest food in the region — at both its Boca Raton and Delray Beach locations. Specially designed for clean eating, their farm-fresh menu features seasonal, sustainable and locally sourced ingredients that form crave-worth dishes. The freshness continues with their brunch menu served on the weekends, featuring everything from a simple yogurt parfait to steak and eggs, and everything in between — including a number of gluten-free, vegan and vegetarian options. Order bottomless mimosas or Bloody Marys for $14 per guest during their brunch hours!
What would you add?
What Delray Beach eateries serve your favorite brunch? Let us know in the comments below!