We hear your birthday is coming up! There's no better way to celebrate than with a large-scale gathering with friends and family. Take the pressure of hosting at home off your plate by booking an event space in Boca Raton this year. Whether you are hosting a major celebration for a milestone birthday or an intimate seated dinner with your family and closest friends, these event venues in Boca are sure to impress. Take a look at the many expansive event venues and restaurants with private dining spaces in Boca Raton.
EVENT VENUES: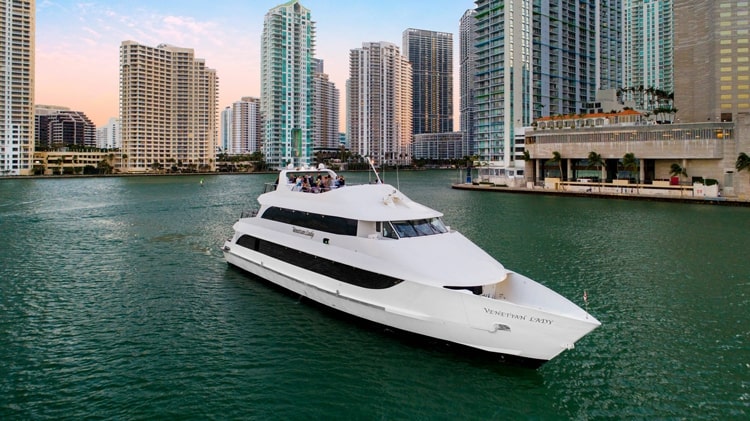 Photo Courtesy of Biscayne Lady Yacht Charters
Consider taking your birthday party off dry land with Biscayne Lady Yacht Charters. Their fleet of luxury yachts and boats is docked at the Boca Raton Resort & Club. From small groups and intimate gatherings to swanky affairs with hundreds of guests, the fleet can accommodate up to 400 people. No matter the occasion, Biscayne Lady will offer unparalleled luxury, comfort and first-class service to ensure your event goes off without a hitch.
Pavilion Grille is considered one of the finest venues in South Florida for dining, nightlife, and special celebrations. The spectacular indoor atrium area is dotted with tropical fountains, palm trees, and a canopy-covered 2,500-square-foot dance floor — the ideal space for weddings, birthday parties, anniversaries and other large celebrations. Plus, the Grille Room seats up to 60 guests for smaller family celebrations and the Atrium Bar is ideal for networking events or a more laid-back happy hour setting.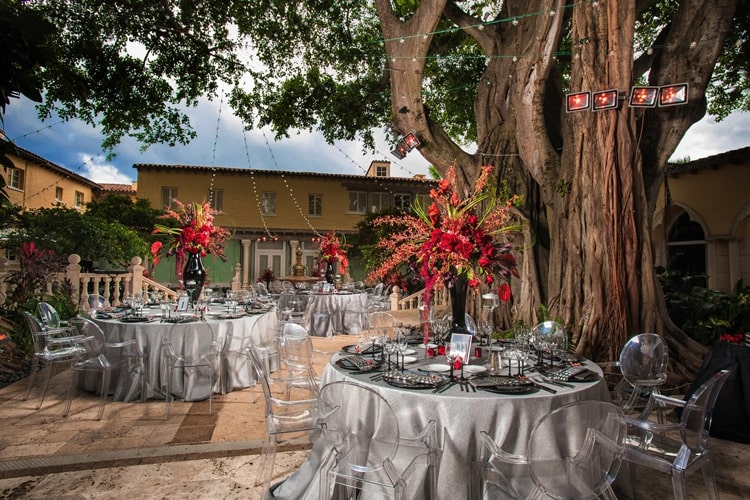 Photo Courtesy of Munoz Photography via The Addison
If you've been tuned into the social scene in Boca, it's likely you've attended a party at The Addison, considered the premier event venue in the city. The expert team has full-service event planning capabilities to ensure no detail is overlooked. Plus, The Addison can create a highly personalized menu to suit your taste and budget. No matter which room your event is in, the historic estate setting provides a gorgeous backdrop that will dazzle your guests.
The Loft at Congress is an excellent choice for a large-scale celebration. This 5,000-square-foot venue can be completely customized to suit your event needs, with wide open and transformable event space. Amenities include white perimeter draping, LED surround lighting, and a number of a la carte services you may add on.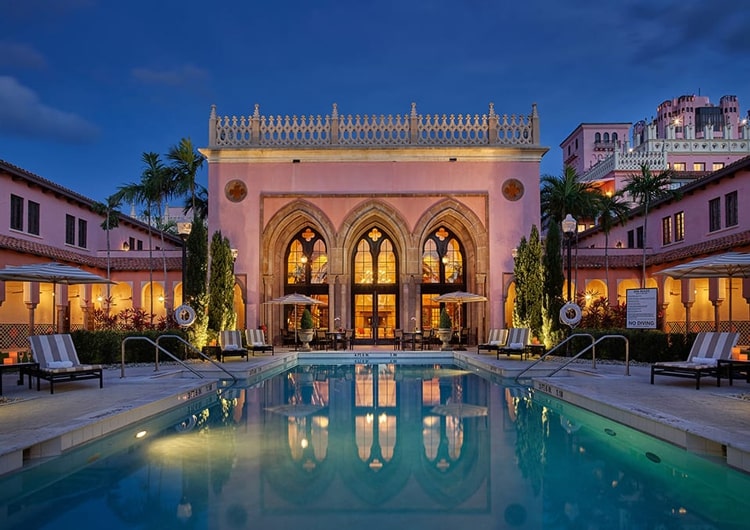 Photo Courtesy of Boca Raton Resort & Club
For a diverse array of luxurious settings, look no further than the many event spaces at Boca Raton Resort & Club. This private resort open to members and resort guests only is home to several event venues to suit any occasion, from an intimate dinner party to a grand wedding with hundreds of guests. Choose from waterfront locations, grand ballrooms, poolside bars, lush gardens and more. With an in-house planning service, Boca By Design, the possibilities are endless and the event planning stress is eliminated.
The Lakeside Terrace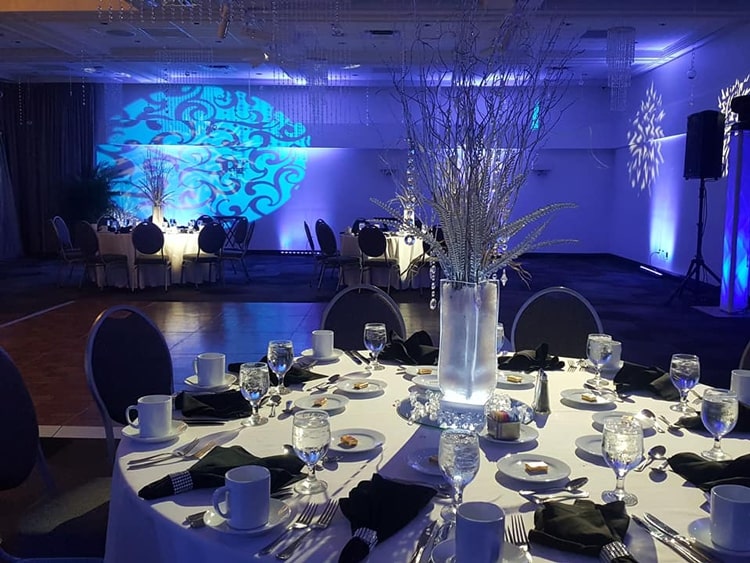 Photo Courtesy of The Lakeside Terrace
The Lakeside Terrace is a full-service private lakefront event space that can accommodate any event! They provide everything you might need, including custom catering, bar services, tables, chairs, AV and lighting, decor, staging, a dance floor and parking. Event planning is a breeze with their complete inclusive packages, plus a dedicated event manager. This private, freshly renovated venue is complete with a fully air-conditioned patio overlooking the sparkling lake with brilliant fountains.
RESTAURANTS WITH PRIVATE DINING ROOMS:
Dating back to 1983, Arturo's Ristorante is Boca's oldest Italian restaurant. Choose from three private rooms, each possessing its own style and experience — from the Cantina (wine cellar) to the Tuscan room or the Saletta. For several years, Arturo's has been the choice for a variety of occasions, from wedding receptions to birthday parties. Additional amenities include floral services, a private bar, and customized menus.
Experience the taste of Italy at Matteo's Ristorante, a refined Italian eatery in Boca Raton. Matteo's offers a variety of unique private and semi-private event spaces for groups of all sizes, from seated dinners to cocktail-style events. The indoor and outdoor spaces can accommodate between 20 and 150 people. Simply contact the banquet managers at Matteo's to begin planning the birthday party of your dreams!
The private dining space at Casa D'Angelo can accommodate between 10 and 60 guests. The dining room offers a view of the wine cellar, providing an elegant and refined atmosphere for your birthday party or social gathering. The expert staff at Casa D'Angelo will work with you to create the perfect meal for the evening, course by course.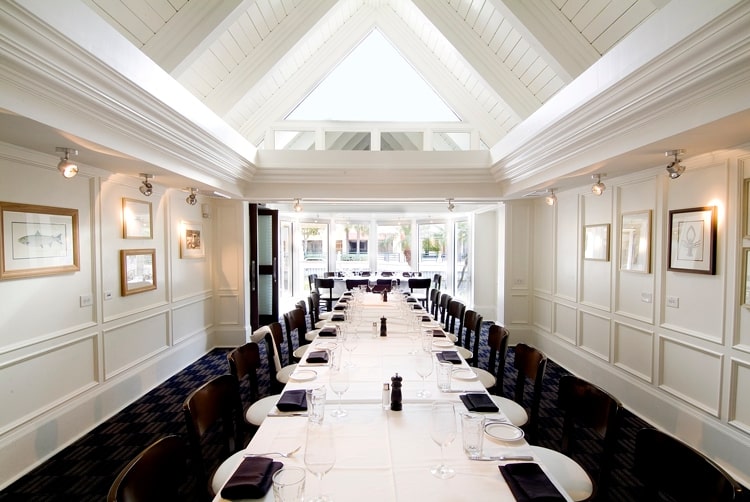 Photo Courtesy of City Fish Market
In addition to having one of the best outdoor patios in Boca, City Fish Market is an excellent place to host your next party. The restaurant has three private dining venues that can accommodate between 48 and 140 guests. Choose from one of the many menu packages for either sit-down service or buffet-style dining. This airy seafood restaurant is situated along a sparkling lake and has an inviting blue and white interior, which ensures beautiful views no matter where you're seated.
Cocoon Lounge at Tanzy offers an intimate 700-square-foot enclave available for secluded lounging or private parties. Guests may mingle over meticulously handcrafted libations and order passed appetizers from Tanzy's events menu, curated by James Beard Award-winning chef Sherry Yard. The setting creates a relaxing ambiance, complete with nature-themed design, earth-tone decor, wooden touches, and intertwined branches. The lounge is accompanied by two patios available for use, both of which feature an array of couches, cocktail tables, booths, and bar seats.
Take your birthday party to the next level at this fancy steakhouse venue. The main private dining room at New York Prime can accommodate individual or community-style table options for both social and corporate events. Plus, full menu and prix fixe menu options are available. The elegant and sophisticated space at New York Prime is the perfect setting for a high-class celebration.
Open the sliding barn doors at DaVinci's to unveil the private event space, designed with a coffered ceiling hewn from beams of various woods. The space is flexible and may accommodate 40 seated guests or over 100 for cocktail parties. Large picture windows open onto the patio and the room has its own separate entrance from the outdoor lounge. The private dining room is the perfect place for an intimate gathering with friends and family!
The Capital Grille is ideal for an event of any size and style, from an intimate birthday party to an important business meeting. You can expect a comfortable room, an elegant table setting, a customized menu with world-class wines, and dedicated staff. For each private dining event, the Capital Grille offers a personal event coordinator, complimentary valet parking, a full media setup and more.
Happy Birthday!
What event venue(s) in Boca Raton would you add to the list? Let us know in the comments below!