Boca Raton hosts some of the most refined eateries in the region, whether you're looking for fresh seafood or a fine steak dinner. With the incredible weather we enjoy year-round in South Florida, it's only right to dine al fresco to take in surrounding scenery, feel the cool ocean breeze and soak up the warm sunshine. Take a look at these restaurants in Boca Raton with outdoor patios in order to maximize the beautiful weather. Some patios offer water views, others are completely shaded, while some are designed to soak up the sun — but all provide an idyllic setting for dining al fresco!
Photo Courtesy of City Fish Market
Considered one of the best fine dining destinations in Boca, City Fish Market provides an idyllic setting for dinner — both inside and out. This airy seafood restaurant is situated along a sparkling lake and has an inviting blue and white interior, which ensures beautiful views no matter where you're seated. They offer an array of menus, including lunch, dinner, retail and catering, happy hour, private dining, and of course, a cocktail and wine list. Whether you are ordering a large selection of food for a private party or you're celebrating an anniversary with your significant other, City Fish Market will make your experience extravagant in every way.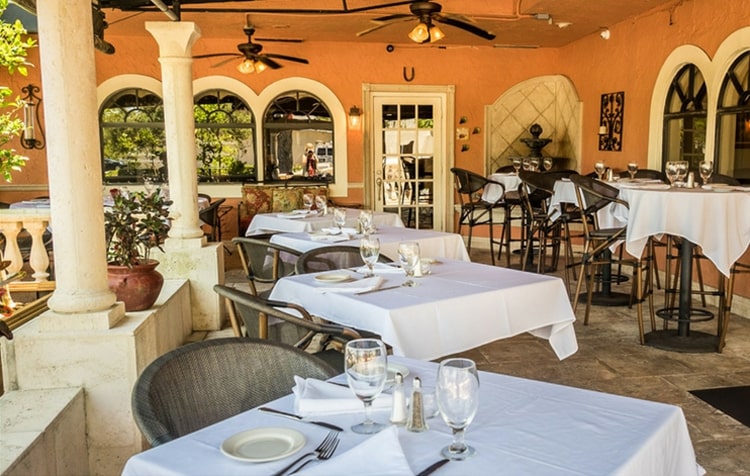 Photo Courtesy of Novello Restaurant and Bar
This cozy Italian eatery near Highland Beach serves an incredible selection of authentic dishes, including soups and salads, pasta, risotto, seafood, and of course, an incredible wine list. The rustic, traditional interior provides a comfortable and romantic setting for dinner. But, you can opt for the shaded patio to enjoy the warm summer breeze while you sip on your wine of choice. No matter where you dine, you won't be disappointed with the selection and quality of service at Novello Restaurant and Bar.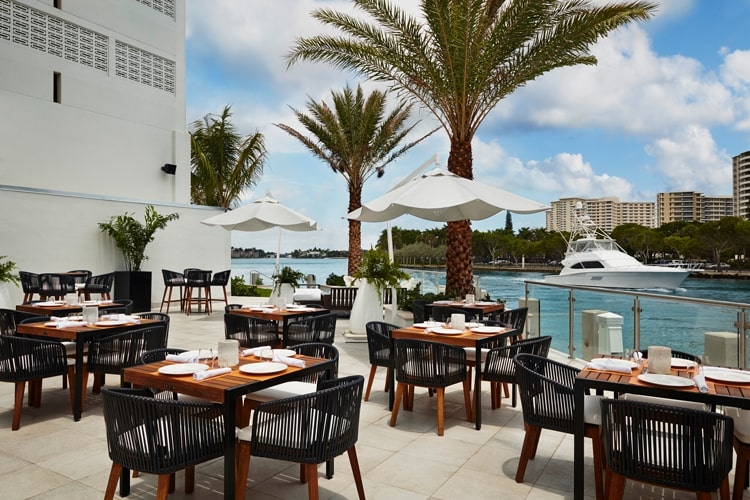 Photo Courtesy of Brantley Photography via Waterstone Resort & Marina
Take in exceptional views of Lake Boca at either of the two Waterstone Resort & Marina restaurants, including the Waterstone Rum Bar & Grill. This easygoing waterfront bar and grill serve local cuisine and high-end rums in a light and airy atmosphere. The outdoor patio is the perfect place to enjoy their menu, whether you're stopping by for lunch, dinner or the weekday happy hour from 4–6:30 p.m. This is an ideal destination for after-work drinks with friends as you lounge by the pool.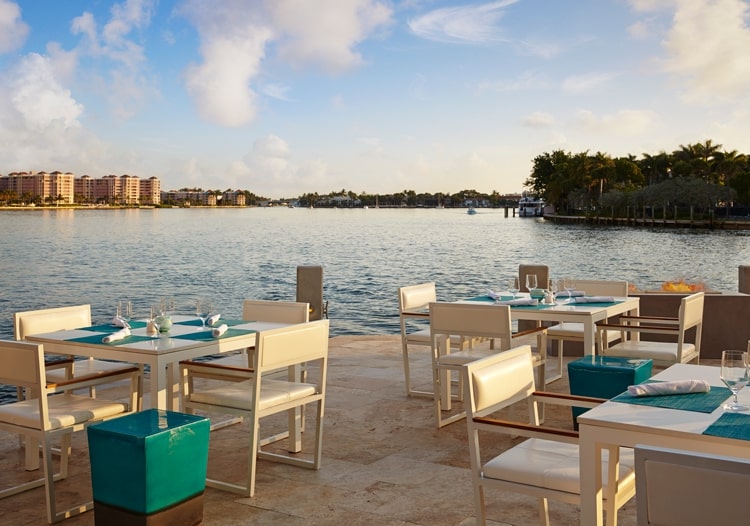 Photo Courtesy of Brantley Photography via Boca Landing
Boca Landing is another wonderful option for outdoor dining at the Waterstone Resort & Marina, whether you're a guest of the resort or a local resident. The modern dining space of Boca Landing flows effortlessly from the interior to the exterior. Chef Matthew Mixon creates imaginative cuisine debuting the region's freshest seasonal flavors, which perfectly complement the selection of handcrafted cocktails and fine wines. From a bountiful European breakfast to a grilled steak or local seafood dish, Boca Landing has it all. Take in stunning Intracoastal views on their outdoor patio or escape the heat in their gorgeous interior.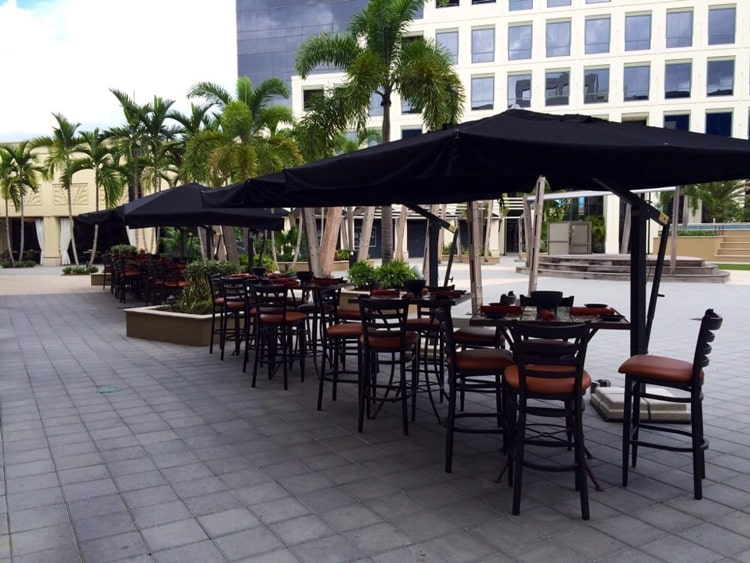 Photo Courtesy of Rocco's Tacos & Tequila Bar on Yelp
One of the best settings for enjoying tacos and tequila is outside. This refreshing combination perfectly complements the warmth of summer. Thankfully, Rocco's Tacos & Tequila Bar provides the ideal setting for this glorious combination to take place. Order guacamole prepared table-side, sample from 425 varieties of tequila, grab a couple of tacos, or order a margarita with a sour mix made on site — all in the comfortable interior or out on the covered outdoor patio. This casual, tropical restaurant in the heart of Boca should not be missed!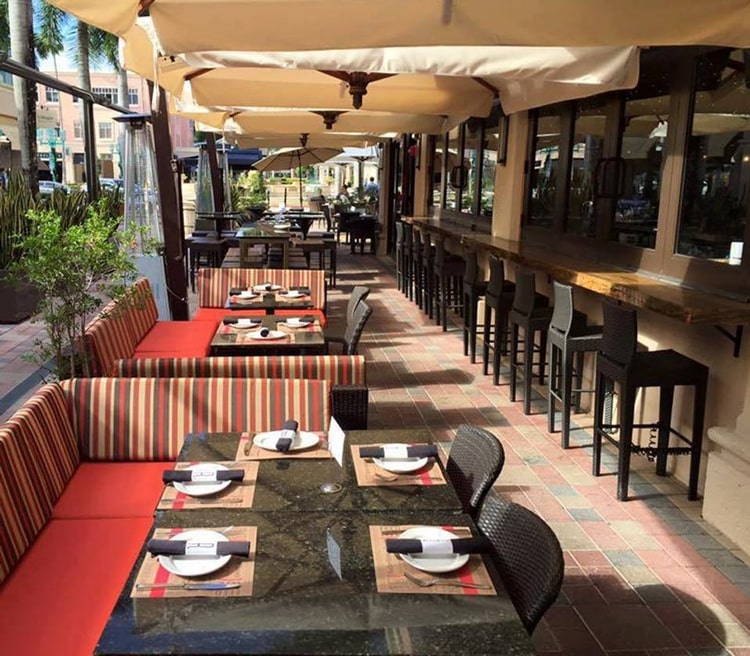 Photo Courtesy of RACKS
Enjoy hearty and approachable American food in an exciting and contemporary setting at RACKS. The indoor space of RACKS seamlessly flows to the outdoor patio, as the bar has windows that open to the outdoor bar with comfortable lounge seating nearby, all protected from the sun's rays with umbrellas. Escape the heat and grab a drink at the vibrant bar or sit down for a meal and some drinks — inside or out. Whatever you do, don't miss the daily happy hour at RACKS from 4–7 p.m., which is available at all bars and outdoor high tops.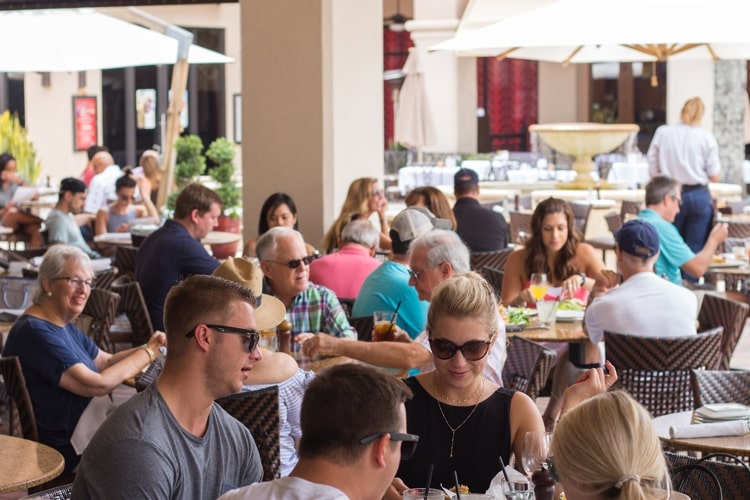 Photo Courtesy of Max's Grille
After a busy day of shopping at Mizner Park, stop by Max's Grille for a bite to eat or a drink. Their bar seamlessly extends from the inside of the restaurant to the beautiful patio, where you'll find more seating either under the shade or in the sun. The elevated New American dishes and robust drink menu at Max's Grille are made all the better by airy surrounds and an overall classy atmosphere.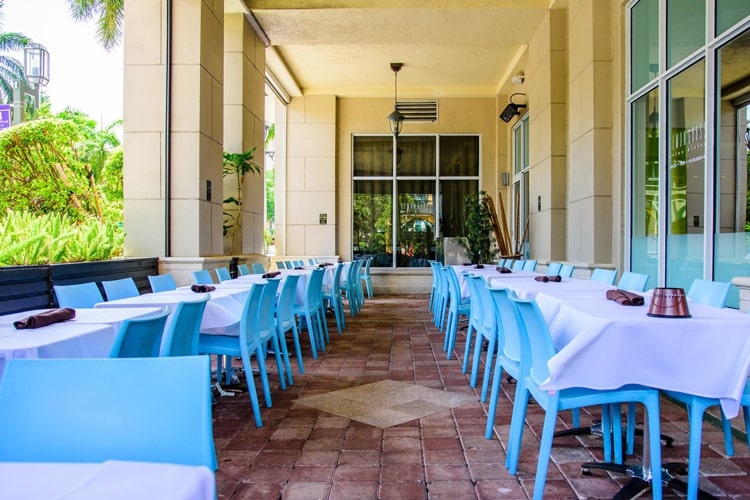 Photo (and Header Photo) Courtesy of
Lemongrass Asian Bistro
With four locations in South Florida, Lemongrass Asian Bistro is a well-loved eatery throughout the region. The Boca Raton outpost has a chic and modern interior, plus an inviting outdoor space so guests can enjoy their fresh seafood with a side of fresh air. The stylish design of Lemongrass is enhanced by an exceptional menu, featuring sushi, noodle dishes, curry and other specialties.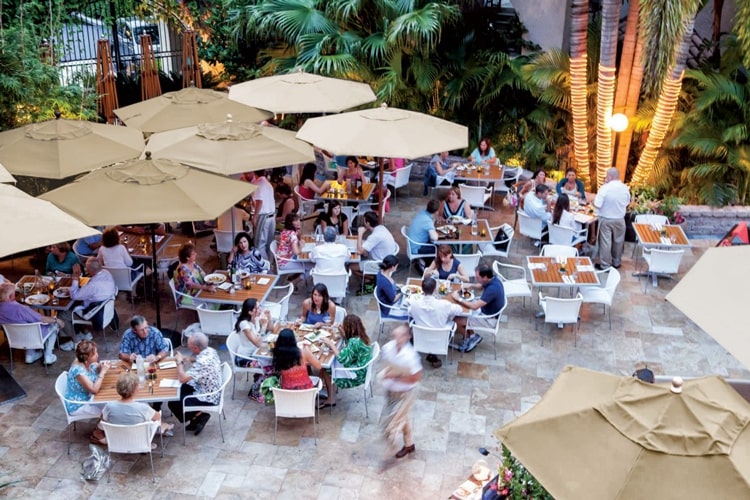 Photo Courtesy of Farmer's Table
Freshness is the name of the game at Farmer's Table, an eatery focused on locally sourced ingredients and whole foods. So, it's only right that this vibrant eatery provides a space to dine immersed in nature. The tropical patio at Farmer's Table has plenty of seating for the ultimate al fresco dining experience, whether you want to stay cool in the shade or enjoy the sunshine. The patio overlooks the sparkling pool at the Wyndham Boca Raton, providing a serene summertime backdrop as you enjoy your meal. The elegant interior does not disappoint either, so you can't go wrong no matter where you're seated at Farmer's Table!
What patios do you frequent?
Let us know what Boca Raton eatery has your favorite outdoor patio! We'd love to know.