When it comes to fine dining, you want to get it right. If you're spending ample time (and money!) at a restaurant, you want to ensure the highest quality food, expert service and an inviting atmosphere. Consider one of these upscale eateries in Boca Raton for your next special occasion, romantic date night or corporate dinner. With extensive wine lists, classy interiors and flavorful dishes, these fine dining destinations in Boca Raton are sure to impress.
Seafood | 17940 North Military Trail #700 | Make a Reservation
This seafood eatery is truly a hidden gem in Boca Raton. Ke'e Grill is both tropical and fancy simultaneously, providing an ideal setting for any special occasion — or lack thereof. Their menu is packed with flavorful, creative dishes, with an emphasis on seafood. However, they have an array of non-seafood options, including salads, steaks and other dishes. Enjoy your selection in the inviting and comfortable atmosphere at Ke'e Grill!
Chops Lobster Bar
Steakhouse + Seafood | 101 Plaza Real South | Make a Reservation
Chops Lobster Bar is a sophisticated and elegant restaurant nestled in Royal Palm Place. The eatery serves Boca Raton's best quality USDA Prime meats and a wide selection of pristine seafood. It has two separate levels: Chops, a luxurious steakhouse, and Lobster Bar, a chic seafood bar with an extensive raw bar. Executive Chef Sean Thompson has more than 13 years of hospitality experience and more than eight years working at different restaurants within the Buckhead Life Restaurant Group. Let Chef Sean and his team take you on a culinary journey you won't soon forget!
Steakhouse | 2200 Glades Road | Make a Reservation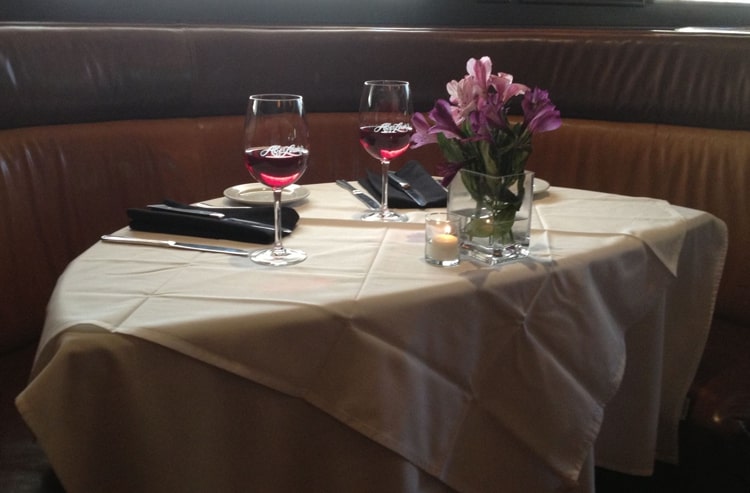 Photo Courtesy of Abe & Louie's
Nestled in the heart of the city, Abe & Louie's provides a quiet escape from the activity in Boca Raton. This classic American steakhouse offers unparalleled flavor combinations and undeniably superior service. Abe & Louie's was first established in Boston in 1965 and has consistently exceeded expectations at both its Boston and Boca Raton locations. Peruse their menus for brunch, lunch or dinner, and pair your selection with one of their 600 wines available. Abe & Louie's cellar is stocked with wines sourced from respected vineyards across the world, ranging from modern blends to aged vintages.
Italian | 171 East Palmetto Park Road | Make a Reservation
Casa D'Angelo is full of family traditions. Chef Angelo Elia created the authentic Italian eatery using recipes handed down from generations of passionate Italian cooks. He has added personal touches and brand new recipes to his repertoire of traditional dishes, creating an authentic yet modern taste of Italy. The design of Casa D'Angelo's interior reflects this unique blend of vintage and modern. Whether you are dining at their Fort Lauderdale or Boca Raton location, you are sure to be satisfied and mesmerized by the robust menu, sophisticated wine list, and inviting environment of Casa D'Angelo.
Seafood | 7940 Glades Road | Make a Reservation
City Fish Market is an airy seafood eatery situated alongside a beautiful, sparkling lake. Boasting gracious service, lake views and a wide selection of fresh seafood, City Fish Market provides a superb fine dining experience. They offer an array of menus, including lunch, dinner, retail and catering, happy hour, private dining, and of course, a cocktail and wine list. Whether you are ordering a large selection of food for a private party or you're celebrating an anniversary with your significant other, City Fish Market will make your experience extravagant in every way.
European | 112 Northeast 2nd Street | Make a Reservation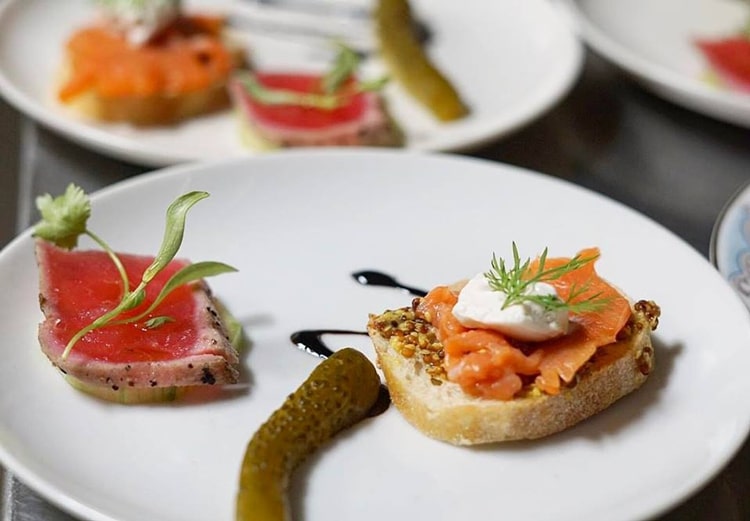 Photo Courtesy of Six Tables
A visit to Six Tables is a truly unique and unforgettable experience. As the name implies, Six Tables hosts just six tables situated in an intimate and comfortable environment. There is only one seating each evening, which begins at 7 p.m. Guests are guided through an elaborate five-course prix fixe menu, which includes champagne upon arrival, an appetizer, salad, soup, a dinner entree, and dessert. This dining experience lasts about three hours and is ideal for a larger group dinner!
Italian | 5751 North Federal Highway | Make a Reservation
This family-owned and -operated eatery has been a staple in the community for more than 20 years. Josephine's has an elegant, airy interior reminiscent of an Italian garden courtyard. They serve authentic Italian cuisine with signature dishes such as Dover Sole, Osso Bucco and an arrangement of traditional Italian favorites. Josephine's extensive wine collection beautifully complements their menu and their fully stocked bar features a range of popular liquors. Escape to the peaceful and enchanting atmosphere of Josephine's for your next date night or to celebrate a birthday, anniversary or other significant event!
French Mediterranean | 9101 Lakeridge Boulevard | Make a Reservation
La Ferme is an undeniably unique dining option in Boca Raton. This eatery has an elegant interior with extravagant chandeliers and plush white cushions, complemented by funky accents and art pieces. Their modern French Mediterranean fare also sets them apart from the pack. Visit their wine bar, where you'll find a vast selection of drinks, from champagne and bubbly to a diverse array of reds and whites from all over the globe. Explore their diverse dinner menu with options ranging from escargots to filet mignon. Top of the night with a selection from their delectable dessert menu!
New American | 141 Via Naranjas #45 | Make a Reservation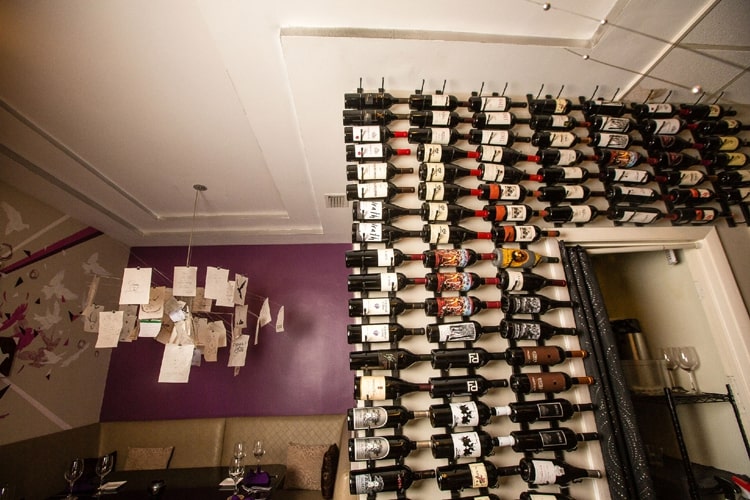 Photo Courtesy of Libby Vision Via twentytwenty Grille
Considered the best restaurant in Boca by many — or at least Robert McBride with Boca News! — twentytwenty Grille offers some of the most creative and flavorful dishes in the city. The world-famous, internationally acclaimed Chef Ron Weisheit wows guests with his innovative dishes and personable service. The trifecta of food, atmosphere and service is achieved at this exceptional eatery tucked away amongst other shops and eateries in Boca Raton.
Trattoria Romana
Italian | 499 East Palmetto Park Road | Make a Reservation
Trattoria Romana is a wildly authentic Italian eatery situated near the renowned Boca Raton Resort & Club just steps from the sparkling Atlantic Ocean. The restaurant originated in 1993 and has since established itself as the best in Italian dining this side of the Adriatic. Experience the romantic Romanesque atmosphere of this cozy restaurant and savor their signature dishes, including homemade gnocchi, tender veal chops, and fresh yellowtail snapper. Visit the adjacent Bar Sorana, named after the owner's hometown, that resembles an authentic Roman-style taverna. The taverna hosts a full bar serving specialty cocktails such as the "Via Veneto" and the "Gianduia Chocolate Martini," plus an international wine list.
Italian-American | 39 Southeast 1st Avenue | Make a Reservation
Travel back to the simpler days of the 1950s at Frank and Dino's in Boca Raton. This newly established location so eloquently captures a vintage Italian-American culture. The swanky and sophisticated interior provides a superb atmosphere for enjoying their offerings, whether you're visiting for lunch, dinner or a drink. Every day from 4:30–6:30 p.m., you can get two-for-one drinks at their bar for happy hour. And from Tuesday to Sunday starting at 6:30 p.m., Frank and Dino's has live music playing in the bar and dining area.
French | 455 East Palmetto Park Road | Make a Reservation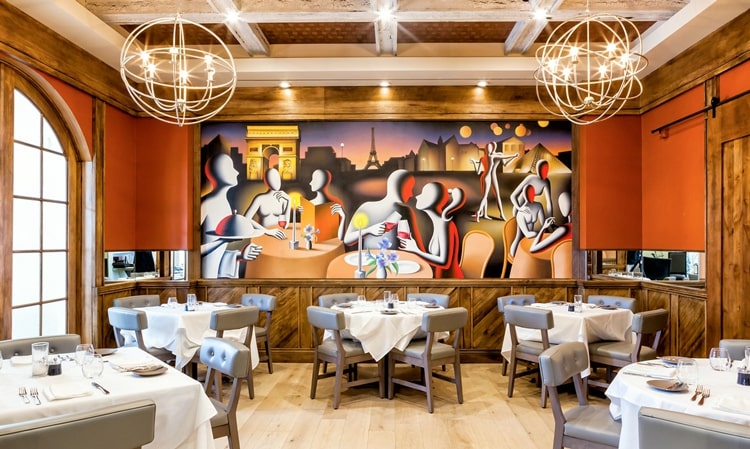 Photo Courtesy of La Nouvelle Maison
This enchanting French eatery has both a stunning, elegant interior and superb, modern cuisine. At La Nouvelle Maison, each dish is meticulously presented in an artful manner, made with local and organic ingredients. La Nouvelle Maison, or "the new house," puts a fresh twist on a traditional French restaurant, providing an unforgettable experience for guests. Dress up and retreat to this remarkable eatery with refined French entrees, delicate desserts and an extensive wine list.
French | 5030 Champion Boulevard | Make a Reservation
This family-owned and -operated bistro-style restaurant is truly a treat to encounter. Whether you are dining inside the cozy interior or out on the airy patio next to the beautiful fountain, you are treated like family at Chez Marie. Enjoy French classics like escargots, beef bourguignon, duck à l'orange, crème brûlée or crêpe suzette, and pair your selection with a glass of wine from their wide selection!
New Latin American Fusion | 499 South Federal Highway | Make a Reservation
The Locale is a new restaurant concept providing a culinary experience unlike anything else in South Florida. Classified as "New Latin American Fusion," this vibrant and refreshing restaurant creates rich, bold dishes made with the best quality ingredients available. Start with a small bite and a handcrafted cocktail and make your selection from the variety of entrees available on their dinner menu.
Steakhouse | 2350 Northwest Executive Center Drive | Make a Reservation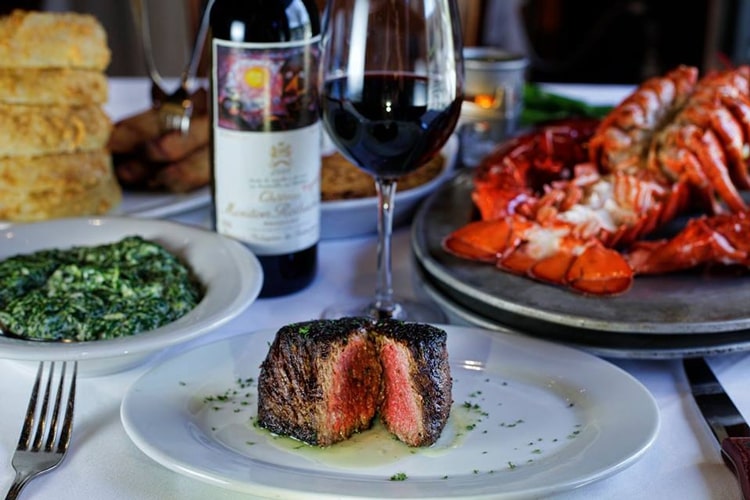 Photo Courtesy of New York Prime
This high-end steakhouse focuses on USDA Prime beef, colossal seafood platters and classic sides. While it may appear to be your typical steakhouse, New York Prime has some extra special surprises in store. You may just encounter a visit from Big Red (the largest lobster in the tank) while he gets wheeled around in a Radio Flyer wagon for guests to see up close! For more than 20 years, New York Prime has been a desirable hotspot for a night out, thanks to the lively bar, excellent menu and award-winning wine list.
DaVinci's of Boca
Italian | 6000 Glades Road Suite 1229 | Make a Reservation
Skip the airplane ride and travel straight to Italy with a visit to DaVinci's of Boca. The Carvelli family operates this authentic Italian eatery, bringing the recipes and spirit of their hometown of Mesoraca, Italy to South Florida. Every recipe, from their classic dishes to their more innovative offerings, is crafted from scratch using homemade fresh pasta and other high-quality ingredients. In fact, even the olives at the bar are stuffed by hand! Experience the warm, inviting atmosphere and friendly service at this mainstay in Boca Raton.
What upscale dining destination do you love?
Let us know in the comments below! We can never have too many options for date night.