Renowned as "the Venice of America," Fort Lauderdale is one of the most luxurious cities in the country. The city boasts endless white sand beaches, lavish waterfront estates, fine dining and entertainment, and an overall upscale feel. Additionally, the city is home to some of the most prestigious private schools in the region, and in some cases, the entire state of Florida. As you search for your dream home in Fort Lauderdale, proximity to an outstanding private school may be of the utmost importance. If so, take a closer look at the best private schools in Fort Lauderdale. The list was comprised of the top five rankings on Niche's list of the 2019 Best Private Schools in Fort Lauderdale, based on test scores, college data, and ratings collected from millions of Niche users, in addition to data collected from the schools directly. Each of these private schools in Fort Lauderdale boasts a rigorous academic program, competitive athletics, fabulous arts programs, state-of-the-art facilities, and other desirable features.
PK-12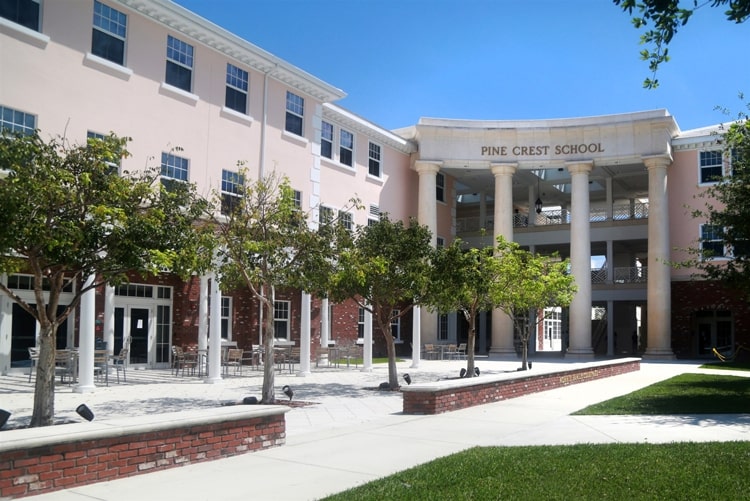 Photo Courtesy of Pine Crest School
Pine Crest School is considered one of the finest private schools in Fort Lauderdale — and the entire state of Florida. In fact, the school is at the number one spot on Niche's list of the 2019 Best Private Schools in Florida, based on factors like test scores, college data, student-teacher ratio, and student and parent reviews. For more than 80 years, Pine Crest has provided an educational experience rooted in academic rigor and excellence, complemented by outstanding athletics and arts programs. The school has over 2,600 students in PK through 12th grade with an impressive student-teacher ratio of 5 to 1. Pine Crest has two locations, one in Fort Lauderdale and another in Boca Raton. The school was founded in Fort Lauderdale in 1934 and later absorbed the Boca Raton campus, which was originally Boca Raton Academy, in 1987. The Fort Lauderdale campus hosts students in pre-kindergarten through 12th grade, while the Boca campus serves pre-kindergarten through 8th grade. Pine Crest is accredited by the Southern Association of Colleges and Schools, the Southern Association of Independent Schools, the Florida Council of Independent Schools, and the Florida Kindergarten Council. It has also been named a "Blue Ribbon School" by the United States Department of Education.
9-12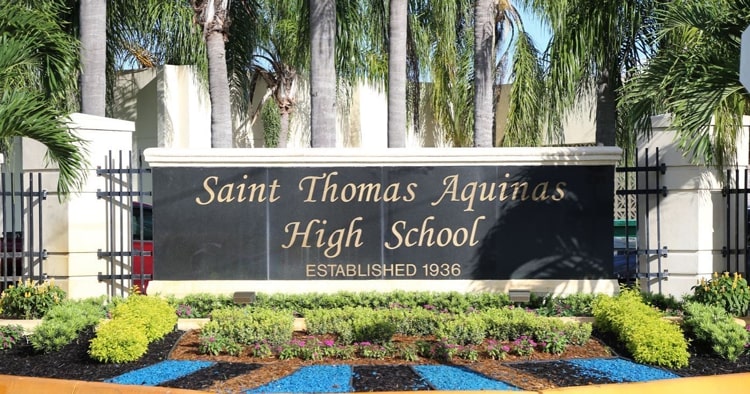 Photo Courtesy of St. Thomas Aquinas High School
St. Thomas Aquinas High School is a Roman Catholic, co-educational, college preparatory school in Fort Lauderdale. Since its inception in 1936, the school has received national recognition for academic and athletic excellence. St. Thomas Aquinas High School is committed to the philosophy of its namesake, Saint Thomas Aquinas, defining learning as the simultaneous and harmonious developments of the human personality. The school has over 2,100 students and a student-teacher ratio of 17 to 1. Teachers challenge all students to think critically, embrace state-of-the-art technology, and explore global trends. Plus, the school is designed to help students mature in their faith, as it focuses on morality, social justice, and making a difference in the community and the world. St. Thomas promotes an appreciation for the arts and participation in a wide variety of clubs, cultural events, and athletics. Because of the school's rich history dating back to 1936, there's an overwhelming sense of honoring tradition and the many alumni who attended this legendary school. St. Thomas encourages their students to "honor the past, embrace the present, and envision the future."
PK-12
Westminster Academy is a Christian college preparatory school focused on academic rigor and faith formation. Since its founding in 1971, the school has been mission-driven, and firmly committed to Christian scholarship and kingdom impact for the glory of God. The academy educates and equips students to be exceptional thinkers, lifelong learners, and influential leaders with a biblical and scholarly perspective. This relatively small school has over 800 students and a student-teacher ratio of 11 to 1. The school maintains a well-rounded approach to education, with a robust athletics program, focus on the arts, and of course, rigorous academics. Graduates of Westminster Academy have received an impressive number of college scholarships, with the most recent graduating class receiving a total of $8.5 million in offers. Westminster Academy uses the Bible as the foundation for all aspects of study, fusing faith and intellect in a unique way. They offer age-specific, integrated Bible curriculum, weekly chapel services, and spiritual retreats for Upper School students to reinforce a spiritual foundation for all students.
PK-12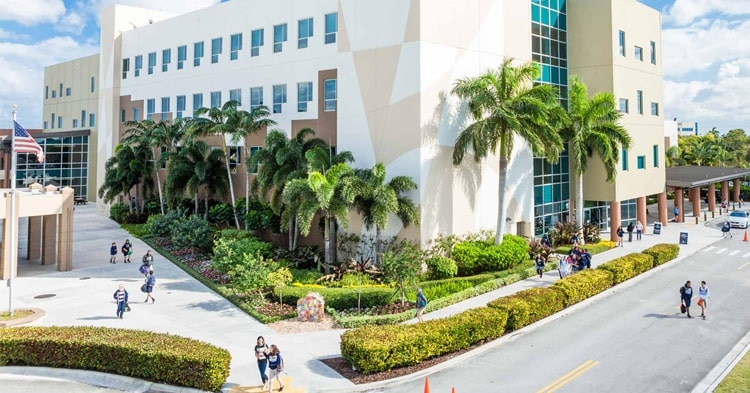 Photo Courtesy of Justus Martin via Calvary Christian Academy
Calvary Christian Academy is a prestigious Christian school serving pre-kindergarten through 12th-grade students in Fort Lauderdale. This relatively new school opened in 2000 and has since garnered attention for their commitment to excellence. Their goal is to engage, encourage and inspire each child — spiritually, academically, and socially. The rich learning environment at Calvary Christian incorporates academics, athletics, arts, science, technology, and leadership in innovative ways. Spirituality is the foundation for all aspects of Calvary Christian. Students will learn foundational elements of the Christian faith through biblical curriculum, discipleship, and service and outreach opportunities. Faith permeates the classroom, where students receive premier education with a well-rounded curriculum, opportunities for specialized study, state-of-the-art facilities, and attentive teaching staff. The school has nearly 2,000 students and a student-teacher ratio of 12 to 1. And socially, students are encouraged to serve others in love and are able to practice loving and serving others through community involvement and outreach.
9-12
This highly esteemed Catholic college preparatory school is "dedicated to providing [their] students with a strong formation of Catholic values, academic excellence, lifelong learning and a commitment to service." Named after James Cardinal Gibbons, Cardinal Gibbons High School is an Archdiocese of Miami Catholic School. It is rated number 8 on Niche's list of the 2019 Best Catholic High Schools in the Miami Area. The school was established in 1961 by Archbishop Coleman F. Carroll, who appointed Reverend Thomas A. Dennehy the first supervising principal. For nearly 60 years, Cardinal Gibbons High School has been committed to excellence in all aspects of education — including academics, athletics, the arts, spiritual life, and student life. The school encourages students to embrace honor and try to do the right thing every time, which includes helping the poor and needy, respecting one another, and serving the Lord through serving others. The high school has over 1,100 students in grades 9-12 with a student-teacher ratio of 18 to 1.
School is in Session!
Which private schools in Fort Lauderdale would you recommend? Let us know in the comments below.